Shimano Calcutta D Series Casting Reels - $339.99 to $379.99
Shimano is proud to introduce the new Shimano Calcutta D Series Casting Reels - the next generation in round reels. Featuring a whole new design, the new Calcutta D Series Reels combine the classic performance of the originals with some key new features and enhancements all their own. Delivering serious cranking power, they also provide the rigidity and durability to stand up to season after season of use - whether you fish in freshwater or saltwater. Shimano's new X-Drag also provides the ultimate in fish fighting force, and each reel now comes equipped with Shimano's X-Ship technology for better free-spooling, as well as, Shimano's 'S Compact Body' for better ergonomic comfort in your hands. The new Shimano Calcutta D Series Casting Reels are leading the new Round Era for anglers looking for quality, function, design and longevity.
Brand new for 2012 - the Shimano Calcutta D Series Casting Reels are the next generation in round reels. They combine the classic performance of the originals with a host of key new features and enhancements.
-Cold Forged One Piece Aluminum Frame and Sidepiece
-A-RB (Anti-Rust Bearings)
-Variable Brake System (VBS)
-Super Stopper with Assist Stopper
-X Drag Dartainium II Drag (Washer A), Dartainium Drag
-Cold Forged Aluminum Spool
-Non-Disengaging Levelwind System
-Septon SV Handle Grip (300D/301D, 400/401D)
-Septon PV Handle Grip (200D/201D)
-Metal Series
-Super Free
-HEG
-Platinum Service Plan
-X-Ship
-S Compact Body
Comments: Best Calcutta ever!!!! I have the B and the TE but this Calcutta is amazing. Basically never gets tangled on the cast. It is so strong I branch in a 60 pound White Sea bass in under 20 min.

From: Newport Beach, Ca, USA
Comments: Got this Calcutta 301d mated with a G Loomis samr1084c. Caught a 50 inch sturgeon with it and was impress how strong and smooth this reel perform. With the handle inside and the star drag ouside does make a different. Would be nice to have sideplate but it didnt have it. You just got to take this reel out on the river, lake, or ocean and try for yourself. Don't take other people word for it.

From: Tommy: Sacramento, CA

Comments: I have a 101 D and it's perfect for fast moving baits like cranks and spinnerbaits, it's powerful, smooth and has an excellent drag system

From: Lot: Italy

Comments: This reel is an absolute work-horse. It's quiet, smooth, and is the meaning of power. I'm currently using the 200D as an A-Rig reel and it doesn't disappoint.

From: Cantley: VA

Comments: This reel is amazing! I only have 4 brakes set and it's fine casting into wind with 1oz to 2oz swimbaits! Feels like I'm reeling nothing! Very durable, smooth and powerful! Get one! It's worth every penny!

From: Jeff: TX

Comments: talk to a shimano rep at a fishing show. he said that the te and d is samething with a different design. well he right about one thing, the design. nothing like te i have. the star drag outside is pretty cool but it takes time to get use to. it's very smooth when reeling in cranks and spinners. the gears on here are amazing but not the cast control setting is not. dont have have explain about breaking it down just for setting and adjusting the break tabs. looks like other people have the same problem. im only 13 and not a pro. but my dads old shimanos and my old shimanos are still around and running. we have nothing but love for shimano products in the past. but these new citicas,curado g's and calcutta d's are a let down. not a reel i want on my xmas list this.

From: Justin
Comments: Another well loved & respected shimano reel series canibalized & watered down- just like the curado & chronarch series. Thanks for ruining the Calcutta name shimano. No access to the brake pins & plastic drag star lmfao. Can't wait to see what they do to the Calais series. If you want a Calcutta, do yourself a favor and grab a TE or jdm conquest, they won't be available much longer.

From: Big John

Comments: one of the best looking reel, it's solid and the drag star idea is brilliant... but in my opinion there is e BIG mistake: spool brake access, Shimano guys have to change it , and the price has to be reduced

From: Lot: Italy

Comments: This reel is inferior to the TE series and aside from the heg, is no better then the B series. Casting wise it does not cast as far as either of the old calcuttas. This is after completely degreasing all spool bearings and using ts301 for lube. The drag is better stock then the b series and equal to the te series. I must admit that the reel is smooth though. The side plate is made if very thin metal and the gear housing plastic feels very cheap. Also having to take out side plate screws to adjust brake is unreasonable in a reel of this cost. This is a 200 buck reel, not worth the 330 bucks. Daiwa Luna is the better reel, although a bit heavier has a superior build, drag and casting

Comments: this thing is the bomb I bought all of them and sticking pigs at cataic on big swim baits stripers up to 15 pounds get with ease

From: Mieger: Castaic, CA

Comments: They need to make a DC version for casting. Adjusting the 2 break taps out is standard for me. But on windy days I need 3 or 4 out. Taking this reel apart for this reason sucks. So a DC or dialing break system on side would be nice. I havent backlash yet. But its problem waiting to happen. Other than that the reel is so smooth. Retrieving big baits is nothing. The outside star drag is nice. Keeps the reel balance when fighting a big fish. Also the frame helps you palm the reel comfortable. I have both the 200 and 300. Really nice reels besides the breaking system.

From: Luis: Mexico

Comments: I purchased the 400 for BIG swimbaits(3-7oz). I purchased it the week it came out. This thing is a beast! I love this reel! the palm plate is a hair smaller than the older 300's - really nice! the extra long handle is really nice as well, as well as the X-drag - kinda gives you the feel of a swept handle. Casting and retrieving those big baits is effortless. Lock down the drag and you could get those bigguns porpoising toward you. As for the brakes, open up the reel when you receive it, turn on 2 blocks, maybe upgrade a couple bearings while you're in there, put it back together, spool it up, go fishing, and use the tension control to adjust the rest.

From: Cheng: MN

Comments: The whole design is nice. Adjusting the breaks is a pain in the butt with this reel. Once adjusted it cast the same as all Shimano reels. When I got mine I didnt even mess with the breaks and it cast great out of box. But theyre is people who do adjust the breaks for whatever reason. I know I do sometimes especially casting light lures on windy days. If you have a TE it would be the same just adjust the cast contrl knob. I use 200d for all my crankbaits. So I never have to adjust the breaks just the knob. And I know people who I fish with dislike the Calcutta D. I ilke it. So people are titled to their own opinion. Im a Shimano head so I like whatever Shimano puts out. Good luck

From: Jose: Waco, TX

Comments: I've owned "a few" Shimano reels. Curados, TEs, Calcutta Ds, Cardiffs; I can go on. Get the brakes set, use the cast control knob to adjust for lure weight and wind, cast a mile; be done with it. How many times have I had to adjust the brakes on my TEs? None! I rarely play with the brakes on my Curados. Two brakes out or one brake out. I really don't see the big deal here. Use the cast control knob..........works killer!

From: AC: CA

Comments: Just bought this reel a few days ago. Castes it for the first time last night and it casts awesome. The drag is super smooth, and it feels like nothing's there casting lures all night long. Haven't had to take it apart yet to adjust breaks, and hoping I won't have to. Wish they kept that THE on the market. That thing was a tank. But this will be good enough until they bring it back!

From: Ontario, Canada

Comments: WOW the break adjusting sounds like a pain in the butt! I want to spend time fishing not playing with screw drivers. $340 for a reel that requires you to open it up every time you wanna use a new lure? NO THANKS.

From: Shake Dat Bass: Orange County, CA

Comments: You know I have to agree with these guys on somethings. To adjust the breaking for casting is a hassle. have to take it apart just get to your cast control settings. Its not like other reels where can pull spool out and adjust it. No the D you have to take it aprt. But after that it cast like butter. Until you have change lures or something. Feels very smooth. The fame feels nice in the hands. Its nice a reel. Not better than the TE's.

From: Franky: FL

Comments: Very disappointed with Shimano. I bought this reel with all the hype. Shouldve waited for another sucker to review this. Dont get me wrong the looks great and feels nice. Has alot of plastis pieces on it now. I know Shimano making reels cheaper so people can afford them. But man come on for $340 they should have made it some what like the TE not the B. The star drag on the outside is a good idea. OH YEAH! And now to get to breaking system to adjust ur casting breaks sux. I have to unscrew the side (cheap screws) then pull out the spool and other stuff. It's a hassle doing this just to adjust the break tabs. And to top it all off I drop 2 in the water while I was on the boat. I feel like returning this so bad. Im going to miss the TE's. Its a dame shame Shimano put all this work on this reel and it still needs improvements. Come on Shimano get with program.

From: Ricky: South Texas

Comments: Ok. Got to try out my new calcutta d 200 this morning. Bought it because I need serious power to keep bass from going into trees, 60 yds out in a lake where I can't put a boat. First off, this reel casts different than all my other shimano's. I usually just use one brake block, then use the cast control from there, and I'm good. Since I need to hit a target 60 yds out, casting performance is extra important to me.
The problem with this reel is, you have to unscrew the sideplate, and remove the spool to get to the brakes. You will need a screwdriver to do this, they don't give you one. So I had to take it apart 3-4 times til I got it set up the way I wanted which was a pain. Also, 1 block isn't enough with this reel (maybe due to xship or more inertia from the taller spool?), but 2 is a little too much braking for me. Wish it came with an extra set of lighter blocks like core 50. If you are not going to give me access to the spool, at least give me more options so I can dial it in perfectly.
The drag knob would be better suited on a courser adjustment. This drag is so infinitely adjustable that you turn that little knob 20 revolutions before you get it where you want it. Once you get it set, it is smooth. Don't expect to mess with it while fighting a fish (I don't know why someone would do that, but I'm sure someone does). I was able to water ski a 4 1/2 lber, 150 feet to keep it out of the trees. This really isn't much of a test because I do this regularly with the old calcutta b. Though it did seem smoother and more effortless. When I hook an 8+ I will know if this reel is the deal because this is where the 200b keeps failing me.

From: Carphugger: Indianapolis

Comments: This reel is awesome. I had a chance to use one before they hit stores. They had a few demos at a tourney I was in. This thing could reel in a truck. All you guys that love big crankbaits and the Alabama rig should invest in one of these.

From: Josh: Childersburg, AL

***Note: If you have questions about this product or need assistance with an order please email your questions to info@tacklewarehouse.com
View Large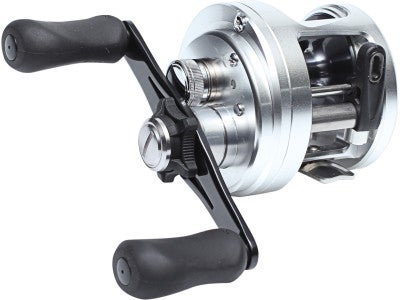 Place Your Order
More Shimano Reels Casting