Shimano Calcutta TE DC Casting Reels - $529.99
Calcutta. Total Efficiency, Digital Control. That is what the CalcuttaTE DC stands for. You're familiar with the Total Efficiency reels from Shimano; precision-cut, oversized gears for the smoothest easiest cranking you'll ever experience. But the Digital Control is brand new from Shimano and found in no other reel on the planet.
Standard mechanical or magnetic braking systems always put a drag on the spool from the beginning to the end of the cast, slowing the rotation of the spool and not allowing you to cast to your full potential. The CalcuttaTE DC virtually eliminates any drag on the spool, which allows it to ramp up to an incredible 30,000 RPM, 50% faster than the 18-20,000 RPM attained by other reels. This translates to line coming off the spool 50% faster, which obviously means a much farther cast with the same effort from you. Sound like backlash waiting to happen? That's where the Digital Control comes in. This reel has a computer chip built in that monitors the speed of the spool and gives precise magnetic braking adjustments 1,000 times per second so your cast glides smoothly from start to finish.
For the bass angler, this means you can reach places you've never reached before and more importantly, where no other angler has ever put a lure! It also means when you pull up on a point or flat you can be much more efficient and fan cast the entire area without ever moving the boat. It will also allow you to cast to spooky, shallow fish long before they ever know you're there. 5:1 gear ratio and an incredible 10 stainless steel A-RB bearings and one roller bearing makes this reel a dream to cast. For the ultimate casting experience the CalcuttaTE DC will take you places you've never been before and no other reel can match.
Weight 9.9oz 165yd 8#, 130yd 10#
Reel Specs
CTE100DC
Bearings: 10+1
Line Cap: 8/115, 10/95, 12/80
CTE200DC/CTE201DC
Bearings: 10+1
Line Cap: 10/135, 12/115, 14/95
CTE250DC
Bearings: 10+1
Line Cap: 10/165, 12/140, 14/115
Comments: i bought one of these a few years ago..just the best..30mph winds..no problem..hit a dock no problem..only down side..out of the box on the older ones if you get stuck in a rain storm..the chip will go bad..but shimano replaces free...great customer service...best reel i have..long cast..from 1/8 - 1 oz.

From: Big John: Stafford, VA

Comments: very smooth and easy to cast a mile. I use this for all my crank baits and smaller swim baits. You got to try it. It's worth the price tag. I would replace all my bait casting reels for this one if i could afford it.

From: B: Elk Grove, CA

Comments: The best just got even better and i mean the best.

From: Ron
***Note: If you have questions about this product or need assistance with an order please email your questions to info@tacklewarehouse.com
View Large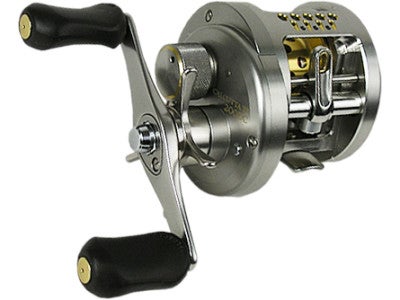 Place Your Order
More Shimano Reels Casting