Shimano Chronarch 150 CI4+ Series Casting Reels - $269.99
Weighing in at only 6.5oz, the Shimano Chronarch 150 CI4 Casting Reel takes reel performance to a whole new level. Lighter and more advanced than ever before, its CI4+ construction allowed Shimano to greatly reduce its overall weight, while still maintaining incredible rigidity and strength. Actually 250% stronger than the original CI4 material, CI4+ is also over one-and-a-half times stronger than Shimano's normal XT-7 graphite and is over 20% lighter as well. Since CI4+ does not contain any metal, it is impervious to rust, making the Chronorch CI4+ a great choice for fishing saltwater or brackish water.
The patented X-Ship Gearing also increases cranking power more than 205 to help you tame the hardest fighting fish. Its eight S-ARB bearing system (7+1) keeps things running smoothly, and its new SVS Infinity Casting System delivers a wide range of precision brake adjustments, consistent brake force, and easier access. Winner of the 2013 ICAST "Best of Show" in the Freshwater Reel category, the Shimano Chronarch 150 CI4 Casting Reel delivers the high-end performance anglers have come to expect from Shimano.
2013 ICAST "Best of Show" Freshwater Reel Winner, the Shimano Chronarch 150 CI4+ Series Casting Reel is packed with Shimano's latest technologies, including X-Ship Gearing, CI4+ material, and the SVS Infinity Casting System.
-CI4+ Frame
-CI4+ Side plates
-Recessed Reel Foot
-High Efficiency Gearing (HEG)
-Super Free Bearing Supported Pinion Gear System (SF)
-X-SHIP
-Dartanium II (Cross Carbon) Drag Washers
-7 Bearings
-6 S A-RB BB
-1 A-RB Roller Clutch Bearing
-SVS Infinty Break System
-Magnumlite spool
-Septon PV Grips
-Disengaging Levelwind System
-QuirkFire II Clutch Bar
-Made in Japan
-Approved for use in Saltwater
Comments: I Combined the CI4+ with the 13 Omen Black and have been using the combo in Lake Ontario and tributaries Kayak fishing for Salmon. The smoothness and lightness of this reel makes is a real treat for chucking hardware all night long. I have not had any backlash in fishing for a couple of months and during Salmon season I fish at least 5X a week and mostly in the pitch black of the night. Considering that I use a relatively thin line by casting reel stds (20 lb Suffix Braid) and tossing some fairly light crank baits and some large J-13 in the dark in sometimes windy conditions and no birds nest in over 2 months that speaks volume. I can't say that about my other reels and I've often relegated to spinning reels when the darkness sets in. The new braking system and adjustments for Shimano is excellent and very versatile. You can simply open and turn on 2 internal pegs and forget about it or if you want to fine tune for every lure the option is there - I mentioned this due to some on-line comments I've read that it's too complicated and over-engineered and it's NOT. I'm extremely happy with this reel and finally Shimano simplified their braking system. I've landed over a dozen Chinooks this season with the CI4+ and 2 were over 25 lbs and the drag system is super smooth. If you're looking for a superior casting reel in this price range then it's imperative to consider the CI4+ as your primary option. Thanks TW for the excellent service and timely delivery - 10/10 for consistency.

From: Roberto: Ontario, Canada 10/18/14

Comments: I picked up two of these from TW. First thing, the range of adjustments you can do for the reel are nothing like any Shimano I have had before. I think this is a good thing because rod actions are evolving and the ability to fine tune is necessary to cast each bait effectively. I have not had them very long, but I am very impressed. I broke down the reels to do a little degreasing, adding of carbontex drag washers and BigGreenFish bearings as I do with all my reels so I can accurately compare them to my other reels. I fished a weightless senko on a Falcon CCM-6-1610 and a hand-tied 5/16th ounce jig on a Falcon MMC-5-172. I could cast either as far as the wind would allow and only backlashed twice in the two days of the tournament. Once you get the reel setup it is far superior to my other Shimanos, Revos, Exos, and Lews. Will be replacing several reels for these in the future, but I am going to abuse these two for a few months first. Worth the money IMHO.
From: Matt: Broken Arrow, OK 10/15/14

Comments: great reel. After our whole season of use this reel is still as smooth as the day I bought it, this reel is so good that I bought a second one a few months ago. Lightweight and casts great
From: Josh: Brampton, Ontario Canada 10/13/14

Comments: Have had this reel for 4 months and used it for Pitching jigs and beavers exclusively. when I would cast a jig out(to swim it) with all the settings backed off, the reel would make a clacking noise. I never thought much of it until A day ago when i cracked a 6lber and my handle spun backwards making clacking noises. i caught the fish but I pulled on the line after and around 7lbs of pressure the reel would clack and the handle would spin backwards. Its a shame cause I really liked the reel. I took it in to Bass Bloww Shops ;) and exchanged it for a CURADO I. It feels like a stronger reel and balances as good as the Chronarch Ci4 on my 7'6" heavy duckett.
From: Matt: FL 10/7/14

Comments: I think this one of the best everyday reels on the market for this price at the moment! Is it that good? Yes it is! It casts a mile, its strong, the braking system is phenomenal, its light weighted and its... Shimano... Only 1 little downside, the CI4 scratches easily.
From: Michael: Capelle, Netherlands 10/2/14

Comments: I just bought a new C14 Shimano and a Revo Premiere 3 series. I spooled 15 lb. fluorocarbon on both, I then alternated casting them with a 5 eights shaky head with worm on a 7ft, MHX high mod rod medium heavy fast action that I built, The Revo was much easier to adjust as you did not have to adjust internal brakes. Three out of four cast the Revo out distanced the Shimano by an average of eight feet. They both were very smooth and weighed within half ounce of each other. Final impression is that the C14 is a fine reel but a bit over engineered for me. I could see a lot of wasted fishing and tournament time having to adjust internal brakes for different wind and lure types and weights. As far as durability I will have to get back with you as only time will tell!
From: Jim: Huntsville, AL 8/10/14

Comments: love this reel,smooth powerful,great casting,good feel in hand while palming it.I jumped on the lews bandwagon after reading many reviews on them. curiosity got the best of me and i decided to try shimano brand, boy i am glad i did ,this reel ,and the 4 curados i bought out class them, the first shimano i bought was 200g6 and it even outclassed the lews, as far as smoothness and drag goes.the new chronarch and 200i series curados smoke lews,bb1 pro,tournament,tournament pro, and bb1 inshore i had all those lews reels key word Had! I learned a lesson you cant put to much stock in reviews!! After spending alot of money i found what i was looking for, lews are not bad there just not in the same class as chronarch, curado, in my opinion, one side note got a lemon from shimano and a lemon from lews took a month for shimano, lews has 3 day turnaround on warranty issues. Buy the chronarch its great!
From: Scott: Little River, SC 8/5/14

Comments: I love this reel! This reel has everything I could ever ask for in a reel. I've used Curado's for years, but once I picked up this reel, I don't think I'll ever go back. Heck, I even picked up a second one of these reels because I was so impressed. The size of this reel is great. It looks good and it's lightweight. Paired up with the right rod and it balances out perfectly. It casts really far, and far surpasses my old Curado's. It can even handle lighter weight lures much better than other reels I have used. I love the new SVS braking system. Thumbs up to Shimano for this new design. I love being able to adjust on the fly with the click of a wheel. If you're on the fence about whether to spend the money on this reel or not, just do it. You won't be disappointed!
From: Seth: Pittsburgh, PA 6/27/14

Comments: I was skeptical about this new coronary at first, and it took a while to get used to the svs braking, but man am I glad I bought it. 6 months later its my favorite reel to pick up. Casting is effortless with no backlash, the reel is smooth, and paired with the right rod, its a pleasure to hold all day. Shimano did good with this one.
From: Daniel: Statesboro, GA 6/18/14

Comments: My wife got this for me for my birthday. I love this reel. Smooth retrieve, excellent drag, and cast extremely well if you set the brakes right. Well worth the money.
From: Bronson: Sacremento, CA 6/7/14

Comments: I bought a left hand retrieve (151 model) that was supposedly brand new from the Shimano booth at the last Bassathon. The first weekend I used it, it sounded and casted like crap, so I sent it in to Shimano... they said there was nothing wrong with it, lubed up the brake to help with the noise, sent it back, and it still casts and sounds like crap. I don't know if I just got a defective unit, but I'm happy with my two other previous version white 201 Chronarch's.
From: Dave: CA 6/7/14

Comments: Ergonomics: very easy to hold and control when not palming, and then palming brings out the great ergonomics of the body shape. Handle grip material is septon, and their shape is fine. It's as light in weight as you can want; Winding is very smooth, though I only have a few months worth of use right now. Drag: close-or-on-par with other carbon or greased carbon drags that I own. Casting: excellent and predictable. It's better than the Curado 50E when dialed in, (dialing it in takes a bit of work. Maybe that's because I'm new to the SVS system whereas the VBS was less-choice-so-less-fiddling). Throws lightweight lures well enough that it doesn't matter in bass fishing. I don't quite like the new SVS (especially the fact that Shimano recommends you lube the friction ring every now and then), but it works fine enough. Overall this is a much-better-than-good-to-great reel, well worth the money.
From: Joe: NJ 6/2/14

Comments: after owning this reel now for the end of last season (oct, nov) to now the beginning of this season I can say at first I wasn't that impressed with this reel. I own exos bb1 pro, revo , and used just about every other high end reel. But a I started to use this thing more and more only one word can describe it effortless.. It may not be the smoothest but it casts sooo damn good who cares I barely flick my wrist and it zoomed a 3/16 shakeyhead 30 yards it's unbelievable.. My favorite reel wish I could change all my reels to this one
From: Peter: NH 6/2/14

Comments: The best reel I ever used. I like this reels more than all my Curado 200E. Very smooth, strong and light. Use it's with G.Loomis MBR 844 GLX an BCR853. Excellent combinations for senko and punching.
From: Alex: New York City, NY 5/23/14

Comments: All I can say is wow I took the reel out today right after I got and caught I 6ib and a 5 with a frog this thing cast smooth and far it's ridiculous love this over any of my lews and abus going back next week and getting 2 more it's worth every penny.

From: Matt: Cumming, GA 5/8/14

Comments: I have the chronarh CI4+ in 7.6:1 gear ratio put on St. Croix legend tournament bass pitchin light flippin rod and 18 lb sunline shooter. Just caught my first two bass of the year with it. Best combo I own. Fartherest casting Shimano, I like it more than the core. Tight lines and God bless.
From: Shane: MI 4/18/14
Comments: This reel was nice until the spool got all rusted. How did this reel win icast for best freshwarer reel. The curado 200 I is 10 times better and not even made in japan. C'ome on shimano! Im so disappointed. Send it to shimano for a new spool. Hopefully, hopefully mine was a lemon.
From: Luis: TX 4/5/14
Comments: When I first got this reel I was in love with it, it was the smoothest reel I've ever had the pleasure to use.afther 12 days it lost it's smoothness I've oiled it just as it says, and even sent it in for maintenence. It was still the same so I returned it for another, when I got the new one it was the same exact story, the rubber piece on the cast button even piped of. As stubborn as I am I got another but just after 4 trips I had the same issue. I love my old chronarch and it's still as smooth as when I got it. I think IM just going to return it, and gather my money for a mentanium.
From: Emilio: Tampa, FL 4/2/14
Comments: bought the reel at $139.99 brand new in box. havent got the chance to test it out yet but then overall it feels light and fits perfectly in my palms.
From: JD: WI 3/30/14
Comments: This is one amazing reel. Super light and tough with amazing casting distance. I have alot of reels mostly all lews abu and shimanos with a couple diawas. It amazes me how shimano always seems to come up with something different and 99% of the time alot better. If you buy this you wont be disappointed.
From: Ryan: Minneapolis, MN 3/24/14
Comments: I recently bought the new Chronarch and I'm amazed at the smoothness of the reel. I own two of the white Chronarch and this reel is a step up. My 12 year old son loves the new reel and he has claimed the reel as his own. Caught several largemouth and hybrid bass over the weekend and the extra casting distance was definitely a plus. I was thinking about the Lews, but decided to stay a Shimano man and happy I did.
From: Hubie: Greenwood, SC 3/16/14
Comments: Old chronarchs are WAY better. these ci4's felt light but cheap I returned it and got a BB1 pro. I have a bunch of the old white chronarchs and they are great. and to the guy who said lews are junk, look at the reviews for lews reels it is hard to find a bad review anywhere TT, BBC, etc... they are priced way better than any other brand. IMO the BB1 pro is the best new baitcast reel available. I hate extreme brand loyal people. I don't care about the brand, I just want the best for my money and for almost $300 get a lews team pro or bb1 pro. I own abu revos, shimanos, and lews. I have been disappointed with shimanos new offerings. love the older E series but for anything $300 and under cant beat lews.
From: Will: MI
Comments: This reel is awesome. Works fine with 50lb braid, which is what I currently have on it (Swimbait rig). I don't know what the deal is with the few negative reviews on here, but it does say in the instructions that you need to oil the braking system after every use. I've only had to do it after every third outing with it. I LOVE THIS REEL. I will be buying another, and another...
From: Shawn: Tampa, FL
Comments: I received one of these as a Christmas gift, being from Iowa, I won't get to use it for a while, but my first impression was that this is a well made reel. The handle turns very smoothly, I have it on a 13 Omen rod and it balances and palms perfectly. All the lines are clean, and the fit and finish is excellent. Can't wait to get this out on the water to see what it'll do.
From: Keegan: IA
Comments: I received the chronarch ci4+ for Christmas this year. right out of the box it is running terrible. not smooth whatsoever and makes a terrible noise when I attempt to crank the handle has anyone else had this problem and what should I do to fix it

From: Dan: Chicago, IL

Comments: I AM A SHIMANO MAN BUT IM ALSO A POWER PRO BRAID LINE MAN AND MY CHRONARCH C-14 DOESNT DO WELL WITH 50lb BRAIDED LINE.. But other than that it's a light weight stud!!!

From: Boudreaux: Gramercy, La
Comments: Lots of lew's guys on here dissing shimano reels. I've used daiwa, shimano, lews, abu, and quantum reels. And have to say when it comes to being durable and a reel for life, it has to be shimano. And 2nd to that has be daiwa and abu. Daiwa and abu garcia make good reels but when it comes to saltwater fishing my shimanos have out lasted both. Lews and quantum are a joke and way over priced. Theyre smooth out the box but in the long run break down on you. As far as my Chronarch ci4+ it freaking amazing and is smoother than what I thought. The drag is so smooth. Had a 39" bull redfish dogging this reel like it ain't no tomorrow. But it pass the test over and over and got ever fish in. I'm going to do my regular 1 year service like all my shimanos. This reel is built like a beast and priced just right for budget anglers like myself.

From: Juan: Galveston, Tx

Comments: Bought this reel on 10/22 and only used it till first week of november, was frog fishing with it on the 151hg model, had to send it in for repairs, gears started to grind and you can feel them rubbing during the crank, I was disappointed, I frog all summer with my lew's and didn't have to same outcome, I love shimano reels, I got 3 of them before even buying the lews, I hope they fix the problem, because I'm willing to give it another try but will probably not frog with it anymore, I think I've only caught 5-10 fish with it only in the 3-4 pound ranges, cover wasn't too heavy either, reel was straight smooth out the box though and .2 oz lighter than my lews pro, I definetly like this reel, just that it failed on me way more sooner than I expected

From: Seng: San Diego

Comments: Full disclosure: I got this at the end of the season, and was only able to fish four consecutive fishing days with it. I have a pretty diverse collection of reels that I'm fond of: Lews, other Shimanos (Chronarchs & Curados), Pflueger Patriarchs/XTs, etc. That said, it is new chronarch was better than I expected. It's undoubtedly the finest baitcaster I've used to date. I have it paired with a new red Cumara crankbait rod, and used it for crankbaits, spinnerbaits, biffle-hardheads, and other things. I know reels cast best when new, but this is still superior to every reel I've ever touched. The casting is effortless. The new cast control system simplifies everything, and makes micro adjustments a snap. The down-side of using it is that I didn't want to throw anything else. I'm glad the price point isn't up there with the Core, but its still pretty pricey...but I guess you get what you pay for.

From: Brian: Oak Forest, IL

Comments: i have had 2 of these reels for about 2 months.got them when they first came out.the first time I used them I was really impressed with casting distance it was great.this reel will cast with the best of them.most of the time I give a rod or reel 6 months or more before I write a review. but after yesterdays catch on 10/17/13 here it is.one reel on a denali 7 ft med hvy 14 lb gamma line fishing with a chatterbait caught plenty of bass from 3 lbs to 7 lbs.second reel was on duckett micro magic 7 ft med hvy same line with 1/2 ounce rat l trap caught bas to 3 lbs and snagged a 20 lb in the top dorsal fin. both reels handled the fish like a champ.with the carp the drag was perfect and he burned line I mean to tell you it was one hell of a fight.the chronarch 150 ci4+ has quickly become my favorite baitcaster and I own all kinds of baitcasters.this reel will take your fishing to a whole new level.mine are flawless.

Comments: very smooth,casts great,so far its a great little reel.as far as the negative comments go you cant make everyone happy.there always that one person thats in the minority that you cant make happy.enough said

From: Jeff: Orland park,il

Comments: This reel is the cream of the crop. I had used mine everyday for the past couple weeks. Easy to fine tune and casts like a dream. Bar non best reel I have used!!!! Sooo good I just ordered a second in the other gear ratio. Reel is well worth every penny and more!! Way to go Shimano!!!!

From: Darren: Warrenton, Va

Comments: Good reel so far. Light weight, smooth cranking, and a smooth drag (upping it a couple more pounds would be nice!). I haven't used it for bass fishing yet so I can't comment on the the casting capabilities. Broke in this reel with a 15lb chrome salmon in the feather and it handle the fish fine. No complaints so far.

From: bay area, ca

Comments: To the guy who said that the negative reviewer must work for lews i doubt it. It more like the others reviewers work for shimano. This reel is not worth the money. After a few uses its lost its buttery smooth feel. Mine also makes the ticking noise on the retrieve but all my shimanos have done that. Good luck to the guy planning to get years of service out of this reel. Maybe if you fish 10 days a year.

From: Nick: Chicago

Comments: Review:AMAZING! casts a mile and a half with ease brake system is incredible and it's extremely light. i had a lew's speed spool before this and this is a HUGE improvement worth the money

From: Jon: London Ontario Canada

Comments: This is a superior reel. It is light, strong, and controllable with the turn of the dial.

From: Larry: Houston, TX USA

Comments: Great reel! This is the smoothest reel I have ever owned and the CI4+ is extremely light without feeling cheap. I have had this reel for a little over a week now, and enjoy it more everyday. The new casting controls are excellent and I have yet to have a backlash with this reel. I paired it with a Kistler KlX rod and love the combination. I have had no problems with the reel clacking on casts or ticking while reeling, but I only time will tell with the durability issue. I am looking forward to many years with this setup. Super reel, you will not regret this purchase!

From: Shane: Pitts, GA, USA

Comments: it is a solid reel....bought the 7.6 to 1. my only negative comment about it is that when hooking into bigger fish the reel seems to twist a little. maybe its the loomis GL2 I put it on that makes it feel that way but overall a very nice reel.

From: Mike: mpls mn usa

Comments: The guy saying this reel is junk must work for Lews. I'm completely blown away by how this reel casts. Its incredible!

From: Kevin: St. Louis, MO

Comments: once I figured out the braking system this reel casts light lures a mile with virtually no effort best reel I own!!!!

From: John: tamarac, FL USA

Comments: All I got to say is WoW! Smooth light cast a long long mile. Brings the fish in with eaze. Worlth every penny. Good job Shimano. Keep it up

Comments: Ridiculous and over priced. Was hoping shimano would step their game back up but this reel is a hunk of junk. Was impressed with the first cast but then everything went downhill. started clacking on casts, began to tick while reeling and lost its buttery feel. forget about shimano. they've officially stop using metal and switched to plastic it seems. save yourself 150 bucks and get a lews tourny. That's what i switched to. Forget about this reel.

From: Mark: Santee, CA, USA

Comments: The best reel ever made, Shimano has done it again. Don't waste your money on anything else.

From: Glenn: Hammond LA

Comments: INCREDIBLE! This reel is worth the money and it is a pleasure to cast.

From: Allen: Fort Worth, TX, USA

***Note: If you have questions about this product or need assistance with an order please email your questions to info@tacklewarehouse.com
View Large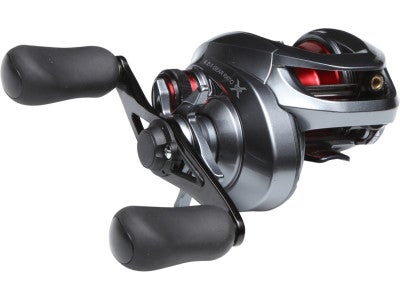 Place Your Order
More Shimano Reels Casting