Shimano Chronarch 200E Series Casting Reels - $199.99
The professional's choice - the Shimano Chronarch 200E Series Casting Reel has been redesigned to deliver a whole new, yet strangely familiar, level of high performance. Built around the popular Curado E platform, it is easily palmable for comfortable, versatile functioning, and it's lightweight aluminum frame and graphite sideplates also provide a lightweight, rigid base of operations. Incredibly smooth as well thanks to its seven bearing system, composed of five shielded stainless steel bearings, one S A-RB bearing and one A-RB roller clutch bearing (6+1), the Chronarch 200E's HEG: High Efficiency Gearing also delivers the cranking power anglers need to tame the biggest bass. Big paddle grips and a sturdy handle also help facilitate incredible power and torque. Whether you flipping into tight cover or launching topwaters a country mile, the Chronarch 200E's VBS: Variable Brake System delivers complete cast control for a variety of applications and fishing conditions. Delivering the aggressive features and performance serious tournament anglers need, the Shimano Chronarch 200E Casting Reel is also available in a range of gear ratio for all your fishing needs.
The popular Shimano Chronarch 200 E Series Casting Reels are the recent recipients of a facelift and some minor adjustments. Now more affordable, they still provide the smooth, lightweight performance that anglers love.
- Aluminum Frame
- Lightweight Graphite Sideplates
- Recessed Reel Foot
- High Efficiency Gearing (HEG)
- Super Free Bearing Supported Pinion
- Gear System (SF)
- A7075 Aluminum Magnumlite Spool
- Dartainium II Drag Washer B
- 7 Bearings - Total
- 1 S A-RB BB
- 5 Shielded Stainless Steel BB
- 1 A-RB Roller Clutch Bearing
- Variable Brake System (VBS) with Reduced Mass Hub
- Super Stopper II
- Assist Stopper
- Drilled Handle Shank
- Septon PV Power Grips
- Titanium IP Line Guide
- 1/8 Turn Easy Access Attached Sideplate
- Metal Cast Control Knob
- Double Anodized Spool and Handle
- Disengaging Levelwind System
- QuickFire II Clutch Bar
- Made in Japan
Comments: I have owned my chronarch 200e7 for a few months now and love it. It is the smoothest most solid feeling reel I own. I have it paired up on a Denali jadewood 7' 6" xheavy and I love it. I have caught hundreds of bass and a handful of pike on it and other than a few paint scratches it's brand new. I love the power grips for. Fishin baits in cover. They allow. You to be able to get a good grip. In the handles for getting fish out of cover. 5 out of 5 all the way on this reel good job shimano. A must have
From: Leo: Burlington, VT 8/31/14

Comments: This is going to be my second full season with this reel, and let me tell you, it's fantastic! It's the smoothest reel I've ever experienced. One thing that jumped out at me is how rugged it is. I've dropped in water and in sand countless times, and all I have to do is take the spool out and clean it out and it's good as new. An amazing reel, more than worth the price!
From: Casey: Hope, RI 6/26/14

Comments: Freakin awesome reel. Seriously the smoothest reel ever. The first time I threw it I was wasting a jig to a tree and threw it way past the tree that's how far it casts. Buy. This. Reel.
From: George: SC 6/24/14

Comments: Unbelievable! Ive caught some big bass with this, drag is great! And the power nobs i have fallen in love with, noting else competes, well worth the money.
From: Blake: Camarillo, CA 5/30/14

Comments: Ive got one for you. Just purchased two of the E6's with tax return. Spooled the reels with 15lb P-line, checked the brakes, it had two out, checked tension. Tied on a 3/32 bullet weight, 2/0 gammy and 6" Zoom lizard and checked tension again and started pitching the lizard 20', easily - with no effort. Cant wait to pitch those 3/8 and 1/2 jigs. Should improve accuracy with less effort. Worth every penny, but I love all my Shimanos any way.
From: Mick: PA 5/2/14
Comments: I have been using the Chronarch 200e for 2 years now. I have more than 10 200e's all together, some are curado's, some are chronarchs, some are skorpion's(Japan version of the 200e). Just like any other reel if you dont clean, oil, and grease the reel it's not going to be smooth. The best thing about the 200e is that its simple and easy to clean and maintain(you can find videos online that show you how). I have curado 200e's that are over 4 years old that still perform like they are brand new(even though they dont look like it). My chronarch 200e's are 2 years old and still perform like they are brand new. The reason why is because I take care of them which means cleaning, oil, and grease on a regular basis especially if your fishing 3-4 days a week like me. This reel is a powerful workhouse and a excellent caster that will last a long time if you treat her right.
From: Erik: MA 3/9/14
Comments: I used this reel for 4 months and finally ended up returning it to the store i bought it at. not a $200 reel by a long shot. I had multiple quality control problems with the one i bought. many things wore out and or had to be repaired in 4 months. not what you want out of a $200 reel
From: Slade: Bat Country 2/27/14
Comments: I was excited about this reel, but after used it for a couple club tournaments I wasn't impressed. It wasn't smooth at all. It had a lot of power just for the money it wasn't worth $200 dollars.
From: Dustin: Moss Point, MS
Comments: i got it for christmas and its pretty good, its not the lightest reel...BUT! the amount of power you feel with this reel is ridiculous. i also got the curado for christams aswell and i got 40lb braid, ive been rippin 6 pounders out of the thickest weeds and slop there is. other reels dont give you that powerful feel you need for fishing heavy cover. i will take the heavier reel with more power anyday, and thats just my opinion, alot of people might not agree but thats how i feel about this reel
From: Evan: USA
Comments: I purchased the 6.5:1 ratio Chronoarch 201 e6 for Steelhead fishing here in the Northwest. I've have the whole series of Curado's from the 101 up to the 301 and I love the way they perform, but, this Chronarch 201 is one super sweet Steelhead and Salmon reel. I bring in a lot of upper teen fish and the drag system on the Chonarch is SUPERB. I've used Shimano's since the early 80's and will continue to have a few in my arsenal. The way that they perform is so much better than say the "Johnny Morris" series of bass pro shop reels, that I still use for some applications up here. I'm going to get the Burner next and will try them out for down rigging Kokanee out of some of the lake we have. If you shop around, you can pick one of these Chronarch's up for about $150.00 like I did. Weather you pay full price or save a few by shopping around, You will not be disappointed. I give this reel a Solid 9.5 and and the Curado's a solid 8. You decide...
From: Tom: WA. St. USA

Comments: Got about 7 of these. Straight Fire.

From: Alain: NJ

Comments: man am I glad that I spent the extra 40 dollars for this reel instead of getting another Curado because the curado is a piece of crap compared to the chronarch... this thing is smooth, casts a half oz rattle trap on a kvd crankin rod 63 yards if u want a quality reel get this reel

From: Kyle: fennville, michigan, united states

Comments: It's an ok reel. It's done the job cathcing monster largemouth, and pulled them out of the slop with no problem. But to be honest Iv'e used other reels that were 40-50 dollars cheaper that worked just as well. I personally prefer the curado to these, but they are a good real

From: Jack: Milford, CT

Comments: After being talked into buying the Chronarch over another Curado G, I was hesitant at first. i was super impressed with my G's, but didn't want to drop the extra 40 bucks on a Chronarch. After I bought it and ran some miles on it, all I can say is wow! What was I thinking not getting one of these. Super smooth, very well built and blows anything else I have ever had out of the water. Since my 200E7 first purchase, I have picked up an E5 and a 50E. I will be a Chronarch man for life

From: Richard: Edmond, OK

Comments: Just purchased two new Shimano's last month I got both the chronarch 200E7 and the curado 200G6 at the same time and I must say I have been missing out! The chronarch is an amazing reel super smooth and it cast a mile! I am going to be selling my EXO and Smoke hopefully in the next few weeks to pick up two more of these and complete my arsenal. Theres a reason Shimano is still on top they make a quality product ... yeah the reel might not be the lightest on the market but at least I know it's made with QUALITY components not cheap plastic like Abu's are. My EXO sounds like an old coffee grinder compared to this reel and the EXO is significantly more expensive. I will be fishing strictly with Shimano for now on!!!

From: CJ: PA

Comments: I bought the Chronarch as my first baitcaster 9 months ago and I wish I hadn't because now I'm spoiled. I recently bought a Citica as a second baitcaster and had to return it to buy another Chronarch. This thing is solid. If you're worried about the price don't even think twice about the Chronarch, just get it. You will not be disappointed.

From: Daniel: San Diego, CA

Comments: for those who say this is an expensive curado e, I doubt very much they know much about reels. It is an upgrade from the curado however, not sure a $200 reel. Far better than an STX. A little back play in the handle and aesthetically, I hate the white. But it is a very smooth reel and casts very nice. I normally Turn all the brakes off and skipping docks with this with one or more no brakes works well with little backlash. I would recommend this to amateur and skilled casters alike. A very good reel but more ljke $170 reel to me.

Comments: All i can say when i cast this reel is WOW!! really WOW!!!! I never owned a Shimano before but got one as a bday gift. Took it out during yesterdays tournament and tied on a KVD 1.5, turned on 3 of the brakes on the reel and adjusted spool tension and just bearly flicked my wrist to cast under a branch. This thing casted that thing like a bat out of hell! And the smoothness!!!! I was smiling the whole time! This reel is CRAZY SUPER smooth and quiet!! I must buy atleast 2 more!! Might be a Shimano guy after this.

From: Jacob: Waco, TX

Comments: bought this reel because a few of my friends bought them and i tried it and loved it. put it on the new quatum smoke micro guide rod and absolutely love that set-up! casts 1/2 oz jigs a mile and weightless senkos a mile jsut gotta tune it right and got me a 5 1/2 pounder with it.. just tune it and keep it lubed properly and she will last longer then you will...

From: Dustin: Spokane,Wa

Comments: I recently sold all my old Shimano Curado CU-200's and Chronarch 100A's to put towards upgrading to newer reels. All my old Shimano reels were upwards of 12-15 years old, had limited work and service done to them and performed like solid tanks. I now have 4 of the Shimano Chronarch 200E's (2 E7's / 1 E6 / 1 E5) and will get more as I get more technique specific rods as the quality is superb. You can complain all you want about these not living up to the Chronarch name and being a knock off Curado 200E. Reality is that these reels are rock solid that will last you for years. They are hands down the most simple baitcasting reels on the market. Out of the box, pop two brake caps out, adjust the tension knob, dial in your drag and you are ready. After you fish with these reels over and over, each cast is like a yo - yo on a string, deadly accurate and rarely backlash (unleash your brakes aren't set). For $200 this is the best value you can get in a baitcasting reel. They are awesome!

From: Blake: Scottsdale, AZ

Comments: This reel is amazing,it is impossible to get backlash with and casts a mile!I highly suggest this reel.

From: Tony
Comments: I have tried just about every single reel out there, s*** you not, from Black Max to a Steez and am now an avid Shimano user and like to consider myself a loyal customer. Hope to one day be sponsored by them, but that is neither here nor there. All I want to say is if you don't have the money to shell out on one of the Core models, stick to the Chronarchs! They're crazy affordable and have a quality about them that is way above it's price tag. That is my 2 cents. P.S. there's a reason Shimano has sold so many of these, just look at all the comments...whether good or bad these reels have a lot of attention behind them(pick one up!).

From: Mike: GA

Comments: Yeah these reels are not known for there lightness but that extra weight comes from QUALITY components. Which can't be said for reels such as..ehhmmm...the gen 3 Revos, when all you pay for is a light frame and literally paper cheap materials. This reel holds tons of line, pull there own weight(and then some), lasts for a very long time and still cast like a dream.

Comments: This is the best reel on the market for two hundred dollars and better than some that are even more expensive. This think can cast lures a country mile and ia butter smooth on top of that. Easy adjusting cast control and maintnence. For all of you who think that this is just a white and black curado you are wrong it has better Components in it and will cast twice as far. just save yourself a hassle and buy it you woll be in love the first time you spool it up and cast it

From: Riley: KY

Comments: I haven't got one of these yet but plan on getting a 5:5:1 on a Duckett Micro Magic 7'6" cranking rod.I have a Abu Garcia
SX 7:1:1 and its INCREDIBLE. It's EXTREMELY smooth and I can cast it a mile.One of my friends has a Lew's Laser MG I think is the name of it and its like my SX,casts a mile and is very smooth. This reel is beautiful and why does it matter if its just an upgraded paint job on the Curado.I don't know or care about how other people think about it but I will pay the extra 20 dollars just because I think its more beautiful. I love the white & black on the Chronarch and hate the dark green on the Curados. According to everyone else's reviews,its a very smooth reel and casts a very long distance.It doesn't matter what reel its upgraded from or anything else,nothing is gonna stop me from wanting or purchasing this beautiful reel.

From: Austin: Bishopville,SC,USA

Comments: hey this reel is legit. its the only shimano reel I'd buy the rest are over priced. you know what im talkin about

From: Snicker: Over Yonder

Comments: i have two of these reels love them both. But one i just recently purchased the spool wiggles when i cast and my first one hase a tick in it any sugjestions on what to do??

From: Zach: Chandler, AZ

Comments: @David, what he said is exactly right..once you first spool these things up and cast it your bait is just going to keep going and going and going you can literally start looking at your spool and watch as your spool walls start to get bigger and bigger. But unless you send it off to Shimano a couple times a year to get it serviced you're rarely going to get that distance again, but the 3-4 week wait period and totally worth it cause as soon as you get it back and get out on the water you'll get that holy crap smile you got on day one. I love mine and if you don't have one of these reels yet you're missing out!

From: -Michael: TX
Comments: Great reel!!!

From: Mase: Central, FL

Comments: Just got this reel. After inspecting it, this reel is exactly what I expected. Another outstanding product from Shimano. Nice drag, super smooth, looks awesome! Overall, great reel thats above and beyond expectations. Great job Shimano. Can't wait to see what's next.

From: Mike: IL

Comments: Just bought two of these yesterday (200E6, 200E7). My first cast with a 3/8oz spinnerbait went so far i thought all of my line was going to come off of my spool. Very impressed so far with these reels.

From: David: Apopka, FL

Comments: break in the casting bearing and the sound will go away

From: Austin: MI

Comments: Had this reel for several months now, and it is a quality reel that casts great and has an amazingly smooth retrieve. The only bad thing I can say about it, is that it started making this high pitched chirping sound when I did a fast retrieve or just when I was reeling in general, it almost sounds like a constant cricket's chirps, if anyone has this problem just drop a couple drops of lube in the exposed teeth that are at the top of the reel and it will eliminate the problem. Other than that, aces!

From: GeorgiaBassin'
Comments: I've always loved shimano cumara rods, but it took me a while to try out their reels. With so many devotees I had to try it, so I got a curado and a chronarch. I was skeptical until I fished them for a season. Now I get it. While this reel is not as light as my revo or my patriarch xt, it casts further/smoother and is easier to tune. It doesn't cast as far as my Lews Tournament Pro, but it seems impossible to backlash and is easier to keep "behaved". It seems to be a "just right" reel...even having an intangible quality that makes it feel and behave like a reel ought to. Its not finicky or temperamental. It seems bullet proof and as versatile as you could ever want. I've noticed that when I'm fishing another reel with another setup, my brain wants it to feel like a chronarch. If I could change one thing, I'd knock off an ounce of weight, and give it "grippier" knobs, but not if any of the other qualities were lost.

From: Brian: Oak Forest, IL

Comments: I've been using this reel for the past 2 years in both fresh and salt, mostly salt though. I fish every weekend and this reel is as smooth as it was when I first opened the box. I know many people say it is the same as the CuradoE7, but I've found that this reel has outlast some my CuradoE7s that I started using at the same time as this reel. I don't know what it is, but the one of my Curados spools tightened up a little.

From: Jeremy: Opelousas, LA

Comments: Just received this reel for Christmas and I must say, I'm impressed. The reel overall is not the lightest theming in the world, but man is this thing smooth and casts a country mile. It at least doubles, if not triples the distance I can cast from a reel such as a caenan. Even with the brakes on this thing is impressive. When I took it out of the box I noticed that it was a little noisy so I purchased some grease, put some 15 pound floro on it, and the problem was solved. Bottom line, if you are on the edge saying "it's not worth 200$" you better believe that it's worth 200$. It's just a great all around reel.

From: Josh: Marietta, GA

Comments: I have used the curado 200e's for years and in the past year I added a few chronarch 200e's to the arsenal. Don't get me wrong here, they are very similar reels if these were painted green a lot of anglers would not notice any difference but after using both reels this past summmer the chronarch 200e is much smoother, tighter, and casts farther. I would say this reel is more of an upgrade from the curado 200e than a downgrade from the previous chronarch. I dont care if it says curado, chronarch, or dingle berry on it, its a damn good reel no matter the name. The frame of this reel is not made with some of these higher end materials you see in the steez or cores but whats on the inside is just as good. The thing that I really love about these reels are the simplicity of them. There is no extra bs you dont need. Maintenance and upgrades are very easy. The bottom line is if you want a high end reel that wont break the bank, easy to use and maintain then the chronarch 200e is the reel you want.

Comments: FAST, QUICK, SMOOTH, AMAZING, TUFF, NEVER BREAKS, UNBEATABLE PRICE, SWEET LOOKS, HOLD ALOT OF LINE, SALT WATER, FRESH WATER, AMAZING REEL, GET IT!!!! CHRONARCH ALL THE WAY BABY.......

Comments: LOVE THIS REEL!!!!! NEVER BREAKS!!!!! CAST VERY FAR!!!!!! UNBEATABLE!!!!!!!! thanks shimano..... glad you bought G.Loomas but you shouldn't of dropped the for life free warranty........ hope to see you guys come out with a new chronarch soon!!!! cant wait

Comments:i love this real ive had it two days and have caught 20 bass on it.. it is worth the money big time

From: Tyler: FL

Comments: Really like this reel, i got the 6.5:1 ratio and it works great it's my all around reel and it's by far the smoothest outta the box and power is excellent! Will be upgradeing to all Chronarchs!

From: Adam: Clayton, NC

Comments: Catching 5 pounders and up with ease. Just like its little bro the Curado E.

From: Juan: N.L. Mexico

Comments: Best way to go. Love my 200e7. I couldnt afford the Curado 200e7 when it was on sale. Buy I got my Chronarch 200e7 which is pretty much the same reel. This Chronarch hands down best reel.

From: Sugar: MS

Comments: Killer reel. These Shimano's are just so great. Saltwater and freshwater use and abuse. I love this 2 tone color than the old curado e. You could ever go wrong with this reel.

From: Andy: ATX

Comments: My 200e7 is best all around reel for me. I use it with almost everything in my tackle box. And this reel has power and smooth drag. Casting mono and braid a country mile. Pulling fish out of any cover you name. Awesome reel for my first Shimano.

From: Brad: NC

Comments: Sweet sweet reels all I have to say. I own E5,E6, and E7. Its all I need for Bassin'.

From: Carl: OKC

Comments: Got the 200E6 and it's an amazing reel for burning crankbaits all day, zero fatigue and makes speed cranking near effortless. The casting is unbelievable. We can try and sit here to explain the smoothness and distance these reels are capable of but until you actually use one you won't understand just how incredible these things are. Chronarch all day!

From: Sam: Sulphur Springs, TX

Comments: I've been fishing the Curado 200 E's for the past three years. Went to Cabelas to guy a couple more and felt the new Curado and it didn't feel as nice as my older ones, so I took a look at the Chronarch 200E7. The Chronarch felt really good and looked pretty sharp. I bought it along tried it out in a tournament this past weekend. The reel will cast a mile. No effort and it went about 30 yards further then any of my Curado's. Will be buying more of these reels in the near future.

From: Matt: Whiting, Kansas

Comments: I have a 201e7 and a 201e5. Amazing reels! Both reel extremely smooth and cast a mile. I plan on adding several more of these to my reel arsenal! Would recommend these to any series angler.

From: Doug: Lake Wylie, SC

Comments: OK i am i die hard Shimano fan and so far this reel is the best band for your buck for me i have it on a 7'6 Duckett Cranking rod and this is one of the baddest set ups for cranking and traps. Trust me its GET A CHRONARCH!!!!!

Comments: I own Revos and now I will be replacing all of my reels with the Chronarch this things is so nice. Casts a mile, LOVE the VBS very easy to adjust and very easy to get used to. Would recommend this to anybody EXCELLENT REEL

Comments: I own 2 curado 200e's and now 1 chronarch 200e. They are essentially the same reel but the chronarch does feel a little smoother and casts noticeably farther then my curado's which are super tuned with abec 5 ceramic spool bearings. I am so happy with this reel that I am selling the rest of my revos and replacing them with the chronarch 200e.

Comments: I have the 201E7 and its my favorite reel! I use it for jigs, spinnerbaits, swimbaits and punchin. I have a 6`6 rod mh and 30lb powerpro braid. A great reel. Thinking about putin flurocarbon on it though.

From: OR
Comments: Great so far! No complaints!

From: Jett: TX

Comments: I just upgrade from my 15 year old Curados to the new 2012 Chronarchs. I paid for my Curados way back when, but I wanted them to last and they did just that. I sold them for $50 a piece to upgrade to these and they were still worth it. I used the Chronarch for the first time this weekend and to say it was the best reel I've every used would be an understatement. I kept reading how it could cast a light crankbait or topwater and I thought lets see. I could cast my RedPepper Jr. three times farther with less effort and more accuracy. Smooth and strong would be my description for these reels. If they last half as long as my Curados I got a great deal at 199. If you want the best on the market without all the gimics and marketing bull, buy the Chronarch and enjoy your fishing like never before.

Comments: i know these are repainted curados but i have a couple of each and they are both awesome shimano has made quality stuff and that is why they have a great reputation no one should be shying away from this awesome reel

From: Nic: IL

Comments: You either love them or hate them,just like the curado g reels,ive had curados and chronarchs for 17 years without a single problem, you dont like the fact the curado g is made in malaysia, 99 percent of reels are made in china or korea, new chronarch is still made in japan for 200.00, ya the curado e g and chronarh e feel less substantial out of the box than earlier models but dont judge them till you have actually fished with one, all are comfortable, throw weightless rubber baits a mile,super smooth,and light, i havent heard anyone saying i used one for a few months and the spool bearings failed like my abu premier or my pfluger paitriarch, just picked up two more chronarch e to replace those serious dissapointments with, shimanos will go the distance.

Comments: I just bought two of these reels and all I can say is WOW!! One of the best purchases I've made in a long time. Casts perfectly right out of the box!! Now to save for a Core!!

From: Paul: Haymarket, VA

Comments: This reel is a great reel I just bought two this year! Would definitely recommend this product! I could have bought them locally, but tackle warehouse has the best customer service !

From: Peter: Acushnet: MA

Comments: same as curado bought a new curado to see the difference perform the same the curado has more features and the chronarch has more graphite but feels more refine and well put together but at $170 its ok I hope they would use the body of the core like the D ver. and metal side covers but well see in 2-3 year

From: Yen Yang: Fresno, CA

Comments: I don't know what these other clowns are talking about. I bought this reel and there is a noticeable difference between the curado E series. This is a much better reel and I love em so much I'm getting one in every speed. I'm replacing my curado 201e7's with these. Well worth the $. Great Job Shimano!!!

From: Ski: Windham, NH

Comments: I own a few Curado 201E7 and now this reel. Beyond all the other tiny differences, the chromarch does not have the "click" on the free spool. That was one of my favorite Curado features! Plus $30 rebate until the April 22nd.

From: Tom: Houston, TX

Comments: This reel is awesome!!!!!!! it cast very easily, its very light, drag is extremely smooth, its completely silent. If you have to 200$, get one of these reels

From: Gussy: Dallas, TX

Comments: I purchased a 201e7 last week, paired it with the 610 mh xf compre (spinner bait) and some 20lb power pro tied on a 1/2oz spinner bait and headed out on the water. I positioned my boat at the mouth of a small bay where I was able to throw my 1/2oz jerk bait almost to shore on a comparable set up. On my first cast with my new set up I had to stop the spool, b/c if I hadn't my bait would have been 40ft up on the shore. I couldn't believe how long this reel could cast, and on top of that it is extremely smooth. Just b/c this reel is similar to last years curado doesn't mean you shouldn't give it a chance. I am certainly glad I did.

From: Stephen: Ontario, Canada

Comments: Anyone with trepidation about trying this reel...trust me it's a masterpiece. I was skeptical at first, and yes it does closely resemble the Curado 200 E and uses the same frame, but that's where the similarities end. I own four Curado E's 3 of them are supertuned with ceramic bearings, and this thing blows them out of the water when it comes to casting...and it's so much more refined on the retrieve you really have to fish one to understand it. I highly suspect that 99% of the naysayers don't own this reel and are just taking the fact that it shares the same frame as the old curado and are talking about a reel they haven't used. This is the best reel for under $400 that I have ever used...when you are flipping 1/4 ounce finesse jigs over 30 feet you'll understand!

From: Sam: Auburn, KS

Comments: I have 16 of these reels, they are better than the older model green Curados from the last couple years and 10x better than the new Curados and Citicas. Everyone who says they are crap, you are crap. You obviously don't know much about quality reels and good engineering.

From: Paul: Raleigh, NC

Comments: shimano pulled the wool over the anglers eyes with this reel,yes its a nice quality reel but they changed the color of a curado added a different name and jacked up the price...way to go for thinking outside the box and for innovation shimano,save your hard earned cash and just get the new citica or curado.

From: Sam: USA

Comments: Anybody crying saying "Oh it's just a curado 200 G" and "This reel feels cheap" you don't know quality when you see it. Don't listen to the negative crap, this reel casts super far, dosen't backlash, and will last forever, it's a shimano!! For those of you who are crying, go to wal-mart, buy you a spider-man fishing combo, and go fish in a mud puddle!!! Leave the big bass for us shimano guys!!!

From: Mrbond007: East Lansing, MI

Comments: This reel is amazing. Just like the Curado 200E.. Smooth and cast the best and dam far.. Its perfect

From: Sonny: East Wareham, MA

Comments: This is a great reel! The best in my opinion. I have fished them all! Revos, lews, Quantum and more. These are smooth never backlash(if dialed in correct) look great and cast very well! I know many are disapointed that shimano basically painted the curado 200E7 white which they did(some differences) but the shimano curados were flawless so why not! I do wish they would have made this the new "curado" and made a better real for the Chronarch series but I think it gets hard for Shimano to keep topping themselfs! I have 3 new chronarchs and 3 of the old 200e7's and hope they last forever cause I love casting them!

From: Matt: St George, Utah

Comments: If you love the Curado 200E7 or 201E7 you will love this the same.. These reels are better in my opionoin than the Curado - G Series.. I love the Curado 201E7 for frogging and jigging.. So it was only right to grab a Chronarch 201E7

From: Sonny: East Wareham, MA

Comments: i think this reel is the way to go, it never gets back lash cast a mile with any bate and very smooth,its deff worth the money, i love it more than any thing i had, i had a smoke and it was marvelous at first but quantums are just really sensitive and not tuff, shimano is the way to go, deff recommend this reel more than anything

From: Daniel
Comments: This was my first Chronarch purchase, I've had half a dozen Curados. This doesn't even feel as nice as the CU200E series. Highly disappointed in Shimano for the new line of reels. Seems like they focused on Rods for 2012, not their reels

From: Alex: CA

Comments: Just got one of the chronarch 200e7 reels. I plan on river striper fishing with it, burning a swimbait with it. I loaded it up with some 30 lb. power pro braid and so far so good. Casts pretty far and is super smooth-was a quantum guy, now it looks like shimano is my new brand to roll with!

From: Eric: Lexington, SC

Comments: Shimano went backwards with this new line up not impressed at all. Once all my other Shimano reels are done in I will be switching over to Lews. I picked up a Lews reel and love it but these new Shimanos are junk compared to their old line up they had not sure what Shimano was thinking here.

From: Lance: Livingston, TX

Comments: First test out in the water and caught two slot reds and a keeper flounder. I use to own a curado E7 and its similar to looks but not in performance. This reel cast at least 10-15' more than the curado E7. I don't mind paying a extra $20 bucks. Matches real well with my castaway ML 6' 9" skeleton.

From: Oscar: Lake Jackson, TX

Comments: Definitely a step up from my Curado 201 e7. It's exceptionally smooth with a nice drag system and a sleak new look. It casts far and skips a jig great, and I'm fishing with 20 pound flourocarbon. It's a great reel for the money. I went out December 2nd and caught 2 fall/winter transition bass and it handled them well, even the fight was smooth. You can't beat a Shimano. It's a awesome reel.

From: Justin: New Jersey

Comments: i dont know what some of yall r talken bout because this thing is a beast smoother than the curado cast a bit farther and it hazs the 651 gear ratio love it dont get me wrong i have a couple curadoss and love them they are amazing but this is better worth the extra 20 bucks can cast and finesse bait a mile and it can handle big cranjs and swim baits my friend caught a 6 1/2 foot black tip shark on one it is a hoss!!!!!!!!!!!!!!!!!

Comments: love it i went fishing with bue turner and he had this on a gloomis mossyback 7.1 mh match from heavven i have a curado but im buying one of these

Comments: My first Shimano reel. I was torn between the outgoing Curado and the new Chronarch, since there is little difference between them aside from the paint job. Is it a great reel? ABSOLUTELY. I'm still new to using a baitcast reel compared to a lot of people, and I love my Revo SX and STX reels.. but the Chronarch leaves them in the dust. Looks-wise, it's gorgeous. Feel-wise, unbelievable to hold in your hand. This is my first reel with centrifugal brakes and I am just blown away. I've got 3 on 3 off and I can cast a MILE into the wind with this thing - can't say that about my Revos, which go 30 feet and then backlash. The price is a bit steep however, when you consider that this really is just a re-painted Curado E with a few new tweaks. None of that matters to me though, I just wanted the best baitcaster I could afford and this was it. I think I'm a Shimano guy now!

From: Sam: MA

Comments: I believe David from the previous post has been misinformed, the Chronarch E and the now discontinued Curado E are in fact the exact same reel. This has been confirmed and that is why there is a slew of backlash from Chronarch faithfuls such as myself. Although I really like the Curado E for a mid-range reel and I am glad to see that their platform lives on in the form of the new E series Chronarch, I am dissapointed that Shimano did away with the Chronarch legacy. When you think of Chronarch you think of refinement, smoothness, a solid feel, strength and a level of connectivity to the lure unmatched by any other Shimano reel under $400, even the Magnesium-based Core 100. The new Chronarch E will be a good solid mid-level range reel as the Curado E was, but a Chronarch D it will not.

From: Brett: White Bear Lake, MN

Comments: I disagree with David. The Chronarch D had an aluminun frame. The Core has a magnesium frame. The diffrence is magnesium which makes for a lighter reel. Core and Chronarch D have higher quality bearings than Chronarch E. The reason Shimano cheapened Chronarch is the Dollar has lost almost half its value to the Yen. It was a business decision. That why we are paying 20 dollars more for last years Curado with Chronarch written on it. It is still a good reel for the money just not what I would expect to see with the Chronach name on it.

From: Jason: Los Alamitos

Comments: Apparently, no one noticed that the Chronarch D was built on the same frame as the Core 100Mg. This is not the first year that Shimano has borrowed from one of its other proven reels to find a niche for the Chronarch. However, the Chronarch D seemed truly disappointing because it was a cheaper version of the Core. Now, we have the Chronarch E series. This E series uses the frame from the Curado E series, but adds a smoother and higher level of performance. I've have the Curado 200E7 and I have a Chronarch 200E7, and I can easily tell the difference in the refinement. The Curado has its own new body style and the Chronarch takes over the old proven body style of the Curado E series and takes it to a higher level of quality. I see this as a win-win situation.

From: David

Comments: Great reel even if it is a rebadged curado.Handled 3 lb fish with no problem.Good looking reel .I use it with the Kistler LS Z-BONE with 14lb Sunline FC sniper

From: Tony: West Chester, PA

Comments: I like the the 6:5:1 gear ratio, I like this reel alot, it's a shimano after all, and I'm a die hard shimano guy, but like everybody else is saying, it's kind of shady they tweeked it a little from the curado and call it a chronarch!, But all in all this is a cool reel!!

From: Mrbond007: East Lansing, MI

Comments: I just received my new chronarch 200e that I ordered without checking the reviews And found that it seams to be a down grade from the curado 200e I just got on sale for $60 less. My curado has a metal star drag and spool tention cap but the chronarch is plastic. Guss i have to swich to Quantum or pay the money for a Core now that chronarch is a lower end shimano reel. Also Read the boxs, the discriptions are exactly the same on the chronarch and curado E series. Same box different name!

From: Jerome: Tempe, AZ

Comments: Just got back from fishing it (201E5) out of the box with a Dobyns Crankbait Rod. All I can say is that it is much better then the junky ABU STX that I thankfully got rid of. This reel is smooth, casts a great distance and when I did decide to let the brakes all that way off the backlash was extremely minor. I am not a pro and have not touched the $300 and beyond reels but this is the best one I have ever fished. I know it is "the old Curado with a new paint job" but that was a great reel and so is this one. Thanks Tacklewarehouse.

From: Dennis: Harriman, NY

Comments: wow!! shimano went out of its way to produce this chronarch series, NOT! this is simply a curado E7 with a facelift and added price of 20 bucks. Good reel none the less but so was curado E7. As far as casting further, i cant tell it. I have 20 curado E7s and 3 chronarch E7 and they are exactly the same reel. the new curado G is not made in japan but mylasia and its missing 2 extra ball bearings ARB bearings as well, I guess now if you want a true curado you now have to buy a chronarch. Still a great reel though.

From: D.M. Toledo Bend, LA

Comments: I agree with you terry..the new chronarch is basically a curado and the new curado is a citica.

From: Chris: CA

Comments: I'm a 20 year Die-hard Shimano guy. I bought my first Chronarch 18 years ago for $200. I sold it on ebay last summer for $150. Smooth as silk, never serviced, and never so much as a drag washer was ever replaced. promise you that won't happen with this line of Chronarchs. I am DISGUSTED with Shimano for taking a Aston Martin and turning it into Chrysler 300. The Curado 200E is a great reel for the money, but it being worthy of donning the Chronarch name is insulting. Shame on you Shimano, such an awesome looking reel. Too bad I'll never own one.

From: Phillip: Meridian, MS

Comments: I also contacted Shimano and they admitted it's basically a Curado 200E, even built on the same tooling. Lots of on-line stores are selling the Curado 200E for under $140.00 w/ free shipping, I say save the $60.00 and get the Curado 200E while they're available. By the way the new Curado 200G has 2 less ball bearings thn the 200E and the drag knob is now plastic...

From: Terry: Houston, TX

Comments: Not a TRUE Chonarch. This basically the Curado 200E with added gear ratios. I checked with Shimano on this and they confirmed. Don't expect the quality and smoothness like the Chronarch 100D had, it's simply not there. You'll also note that they cheapened the Curado this year as well with the 200G. If want quality and smoothness like the Curado 200E had then the Chronarch 200E is your reel.

From: Chase: Moberly, MO

Comments: I have no complaints with the reel and of course I am happy with it, its Shimano. But the reel is exactly the same as the Curado, which is cheaper. Next one I buy will be another Curado.

From: Steve: Chesapeke, VA
Comments: Just paint your old Curado 200E7 and now you have a Chronarch. Come on Shimano. Really? Is new paint really worth $20? This is just a Curado with a new paint job and a higher price tag. Those who think it casts better than the Curado, just wait until it is as old as your Curado and it will be the same. Some people think it is better simply because it says Chronarch on it. By taking the old Curado and changing the colors and calling it a Chronarch, Shimano really dropped the ball and blemished the Chronarch line. Too bad.


Comments: I work at a tackle store, and we have these reels in already. They aren't nearly as good as the previous 100D series , which is sad, because that series was amazing, instead they dropped down to an upgraded Curado. Sad to see...

From: Ontario, Canada

Comments: This reel has the same specs as the Curado 200E, only difference is .2oz's.

From: Tanner: Hurst, TX

Comments: Checked these out already at the local tackle store, they are okay for the price point, but the 100D is a lot better looking and feels a lot better to me than this new model, would buy one if shimano made a 300 size model for swimbaits, but other than that ill just wait.

From: Kevin: So Cal

Comments: Very similar to the Shimano Curado 200E models, I like it. I have only used it once so far(just got it) It handled a 4 pounder with ease. It casts a LITTLE further than a Curado from what I have seen... It seems to have more drag power and looks beast. I use Shimano ONLY.

From: Ian: Longview, TX

Comments: Got the 200e7 and fished with it the first time this past weekend. Paired it with a Kistler ZBone 7'3" MH and Sunline Shooter 16# line. I have 6 of the Curado 200e7s, and this feels just like they do. I think this has an improved drag (found out with a 7lb LM and a 9lb Hybrid). It does seem to cast a 1/4oz jig about 10' farther than my old 200e7s, but they cast a great distance already. I would definitley buy this over the "new" curados they have come out with. I think the curados of yesterday are not as cheaply made as the one's they came out with this year. Two thumbs up for the Chronarch.

Comments: UNREAL, I can cast farther than before and it is TOUGH. Should be sold for 400$ THANKS SHIMANO! Abu who?

From: Big Man: OH

Comments: i agree, i just pre-ordered one and not only is it the best looking reel shimano has ever made but in my opinion the best looking reel ever made, atleast in my opinion. im sure it will perform as well as a curado 200E but more than likely a little better. ill submit more feedback when it is in my hands.

Comments: The absolute best looking reel Shimano has ever made cant wait to get it!

Comments: Price Point, nothing beats Shimano blows everything out of the water. Why buy a 250, 300 or higher reel when you can have the best for under 200! Thank you Shimano!

From: Bill: Ohio

***Note: If you have questions about this product or need assistance with an order please email your questions to info@tacklewarehouse.com
View Large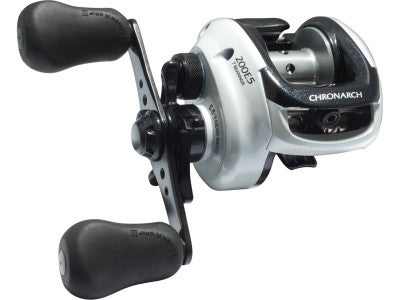 Place Your Order
More Shimano Reels Casting