Shimano Stradic CI4+ Spinning Reel - $219.99 to $239.99
Constructed with Shimano's new CI4+ material, the Shimano Stradic CI4+ Spinning Reel delivers the ultimate in lightweight spinning reel performance. Designed for fishing lightweight fluorocarbon, braided and monofilament lines, it is perfect for a wide range of finesse applications.
The reel's new CI4+ construction is the next generation of Shimano's CI4 material - and 250% stronger. It is also over one-and-a-half times stronger than Shimano's normal XT-7 graphite, and more than 20% lighter as well. And because CI4+ does not contain metal, it is impervious to rust, making the Stradic CI4+ a great choice for fishing in brackish and saltwater environments.
Its X-Ship Gearing increases cranking power by more than 20% as well, and also greatly extends gear life, while its new Magnumlite Rotor lightens up handle rotation for more precise handle control and optimum balance on retrieves. Whether you are drop shotting, fishing a shakey head or small Texas-rig, the Shimano Stadic CI4+ Spinning Reel has you covered.
Featuring Shimano's new C14+ construction which is 250% stronger than the original CI4 material, the new Shimano Stradic CI4+ Spinning Reel is also loaded with Shimano's latest spinning reel technologies.
-Ultra-lightweight CI4+ Frame, Sideplate and Rotor Construction
-X-Ship
-Paladin Gear Durability Enhancement
-Propulsion Line Management System: Propulsion Spool Lip, SR One-Piece Bail Wire, Power Roller III, Redesigned Bail Trip, S-Arm Cam
-Aero Wrap II Oscillation
-SR-Concept: SR 3D Gear, SR Handle, SR One-Piece Bail Wire
-S A-RB Ball Bearings
-Aluminum Spool
-S-Concept: S-Rotor, S-Guard, S-Arm Cam
-Machined Aluminum Handle
-Direct Drive Mechanism (Thread In Handle Attachment)
-Round EVA Handle Grip
-WP Drag (Waterproof Drag)
-Magnumlite Rotor
-Maintenance Port
-Fluidrive II
-Floating Shaft
-Dyna-Balance
-Super Stopper II
-Repairable Clicker
-Approved for use in Saltwater
-Rated for use with Mono, Fluorocarbon and PowerPro lines
Comments: I bought the CI4 when they first came out 3 or 4 years ago . It is by far my favorite Reel, I've caught a lot of LM Bass mostly in the 2 to 5 lb.range it has performed flawlessly . The wife is telling me she is going to buy the CI4+ for Christmas for me , if she has it attached to a G Loomis rod I'll probably stay with her another 35 years. LOL

From: Jeff: Cincinnati

Comments: I have both the Stradic FJ and CI4 sizes 3000 for the fj and 2500 for the CI4. Just bought a 1000 CI4+ and it feels more capable then the 2500CI4 and just the same as the 3000fj. It handled a 10lb silver on a trip up in WA with ease and without flex during multiple long runs on a locked down drag yet so very light!! hopefully itll be as legendary as my FJ which is 3 years old and sill very close to brand new performance even in the salt. So far great reel buying a 3000 for the bigger stuff and leaving that 1000 just for them small trouts;)

From: Luke: San Diego,CA,USA

Comments: I have had a Stradic FJ reel for months and just got a C14. For the money difference, I'd say its worth just going ahead and getting the FJ. Not a whole lot different. Plus, they put a bell-shaped FOAM handle on the C14. The more I use it, the less I like it. That's the connection between you and the line guys. FOAM?

From: Brian: Bismarck, AR, USA

Comments: I will start off by saying that I am absolutely hooked on the Stradics! I purchased the C14 2500 last year and have it spooled with 5lb Sunline FC Sniper and it is just as strong as my Chronarchs. I just received the C14+ in the 1000FA size, and am stoked on it. It has new technology, however looks virtually they same as the regular C14. I bought this reel for light trout fishing as well as thin senkos and drop shots for bass. Also being a resident of California, I ordered the reel yesterday around noon and received it the next day before noon.....for no extra cost. Beyond stoked on tacklewarehouses customer service and products, I will never order anywhere else.

From: Zack: San Diego

Comments: I have the old version and still don't understand why they changed it. The old saying goes " if it's not broken don't try to fix it." Still a Shimano spinning reel fan.

From: Mike: NormanPark,Ga

Comments: Fisrt impressions... Hype, I have the CI4 and its the same reel... This thing has sooo much rotor noise and is NOT smooth at all... I will be out fishing with it today and post how my day went when i get back

From: Dan: SWFL

Comments: I have the CI4 3000 . LOVE IT ! LOVE IT! i dont have a bad word to say about it. It works so well im thinking about getting the sustain . Im a big bait caster fan , but i love this reel. Im a big fan of the handle.

From: Mike: trussville AL

***Note: If you have questions about this product or need assistance with an order please email your questions to info@tacklewarehouse.com
View Large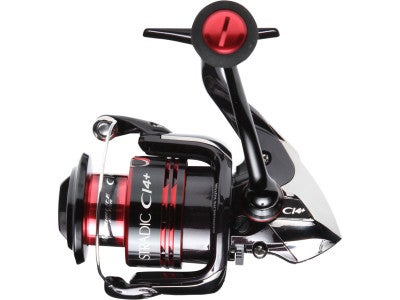 Place Your Order
More Shimano Reels Spinning