Shimano Symetre FL Spinning Reels - $99.99 to $109.99
Offering solid performance and feel no matter what you're pursuing, the all-new Shimano Symetre FL Spinning Reel features Shimano's new ultra-thin M Compact Body design for reduced weight and improved ergonomics, as well as, Shimano's X-Ship technology for solid cranking power. A long-time favorite among spinning reel anglers, the Shimano Symetre FL Spinning Reel is now constructed with graphite in the frame, sideplate and rotor for both freshwater and inshore saltwater.
Additional Features:
- New Varispeed II oscillation
- Durable stamped bail
- Super Stopper II
- Aluminum Cold Forged Spool
- Dyna Balance
- S-Concept
- SR-Concept
- Propulsion Line Management System
The all-new Shimano Symetre FL Spinning Reel delivers solid performance and feel no matter what you're pursuing thanks to long list of Shimano's most advanced features, including Shimano's new ultra-thin M Compact Body design.
Comments: I have always used the Sahara models and decided to upgrade last year to one of the Symetre 1000FJ models to see how they performed. It is one of the best spinning reels I have ever used. This year I ordered 2 of the Symetre 1000FL (this years new and improved model). They came in just in time to spool them up to use in 2 day bass tournament. I found out on the water on the first day that Shimano has downsized the Symetre to the point that there is not enough room between the reel seat and the first bend in the reel leg for fingers. I tried fishing with them but after half a day and a bleeding knuckle I decided that enough was enough. These reels are useless to me and anyone else who was there at the tournament that I had try to hold them normally. I assume that this is the new Shimano M Compact Body Design; and I see that they now use the same design on the Sahara series. It is too bad that changes are made without thought to the end user's needs. They take an awesome reel and cheapen it to where it is not useable. I will be calling Tackle Warehouse about these although they did not change the reel design; Shimano did.

From: Ted: Blackfoot,Idaho

Comments: I have the Symetre 3000 and already plan to get at least 1 more, maybe 2 (I generally just fish 2 spinning combos, and about 8-10 casting but I may go 3 spinning this season). The Symetre is one to buy with confidence...and IMO spending 250-350 on baitcast reels is reasonable if you have hte money. The technology is there and effects the cast; i.e. spool weight, cast control system, bearings, line guide, etc. SPINNING reels on the other hand, I just don't believe the 250$ and up reels have the technology to make them worth spending it on them. I do not think a 250$ reel will outperform the Symetre by 150$ AT ALL. The Symetre is a workhorse...smooth, great looking, tons of Shimano's top features...good light weight...just a great reel. I will stay in the 99-150 range in spinning rods for sure.

From: Tanner: Southeastern, MA

Comments: The Symetre has taken care of my spinning reel needs for the past 4 seasons. No complaints.

From: Jonesy: UP North

Comments: This real is awesome.. Got the 3000 with a TW gift card I received for Christmas and took it out for the first time this past weekend. Paired up with Sunline Sniper 8lb this thing is unbelievably smooth! I was shocked.. Shimano done this one right, and for $99 it is a steal. Don't hesitate to buy this one.

From: B: TN

***Note: If you have questions about this product or need assistance with an order please email your questions to info@tacklewarehouse.com
View Large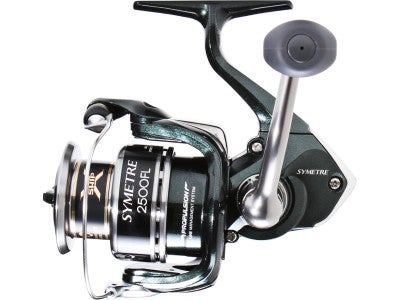 Place Your Order
More Shimano Reels Spinning