Silver Thread Excalibur Copolymer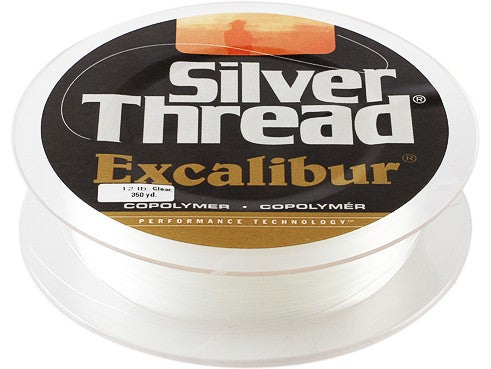 Silver Thread Excalibur the strongest, most abrasion-resistant copolymer line on the market, period! If you're looking for a line to withstand the punishment big fish can dish out in heavy cover, this line is it. Developed by polymerizing multiple nylon monomers, Silver Thread Excalibur is stronger and more stable. Plus, its diameter is consistent throughout the entire spool. What does this mean to you? Better quality, innovative technology and the best heavy-duty fishing line available.
| | | | | | | | |
| --- | --- | --- | --- | --- | --- | --- | --- |
| Line Diameter | 6lb | 8lb | 10lb | 12lb | 14lb | 17lb | 20lb |
| Inches | .010 | .011 | .012 | .013 | .014 | .016 | .016 |
| Millimeters | .245 | .275 | .303 | .330 | .355 | .399 | .416 |
Place Your Order
More From Siver Thread Fishing Lines
Customer Reviews
Comments: My 17 lb. Xcalibibur arrived in the mail last week, installed it on my bait casting reel & used it this week for the first time. I don't know much about breakoffs (no hookups or snags) or water soak ups. What I do know is that it does cast smooth and long & has extremely low memory right off of the shipping spool.
From: Bob: Pine Hill, NJ 5/7/15

Comments: The best copolymer line I have ever used to date. It's number one. It's a quality copolymer line that sets the standards for all the rest.

From: Bigbill: CT, USA

Comments: I personally don't like this line at all. I got a killer deal on a couple spools of Toray Super Strong 20lb mono a couple years ago, and was going to try excalibur since I ran out of the toray, and it's so expensive. I was throwing square bills and topwater with it. When I switched to excalibur, I kept breaking off my squarebills, where I never lost a single bait with the toray. So I figured it would work for topwater. This stuff soaks up water like a sponge. 5 minutes after I started fishing it, I couldn't work a spook any longer. It kept pulling my spook under the water. Maybe it's good in lighter test for spinning gear? I don't know. I tried using it as leader and that kept breaking so...now I just use it as backer.

Comments: Love to use this line as a shock leader when fishing braid. It's kind of springy, which is perfect for leader to braid. Also comes with a nifty elastic band that keeps the line on the spool.

From: Snaildog: Indy

Comments: I have used both the AN40 and Excalibur for at least 10 years now. The best fishing line I have ever used hands down. Its a little hard to find in tackle shops though. I wish it was a litle more available other places than just the big name stores. Well worth the little extra paid for it.

From: Rusty: Sikeston, MO

Comments: this is by far the best copolymer out there, it takes tons of abuse, has great know strength, and is great for senkos, save yourself the time of going through all the other brands and reading how they are "the best'. just buy this line. you wont be dissapointed.

From: Cole: Canada

Comments: I have been using silver thread lines exclusively for the past 10 years and I fish 200+ days a year. All I can say is that you never hear me complain about lost fish breaking fish off or having line problems because it doesnt happen. the excalibur is the best line for topwaters period I wish TackleWarehouse carried super silver thread and silver thread fluorocarbon then they wouldnt need to carry all of the other brands claming to be the best they would have the best. I also wish they carried bulk spools.

From: Ron: VA

Comments: great line the best mono out there gamma berkley lucky craft spiderwire can not beat it no matter what

From: Matt: Lima, OH

Comments: It«s the best copolymer I«ve tested. It«s a pity Tackle don«t order huge spools of this line.

From: Mike
Comments: This line fairs above average compared to many other premium copolymer lines. The best thing about Silverthread Excalibur is the line strength consistency from the beginning of the spool to the end fo the spool. You'll never wonder if your line is lacking in strength. You can expect a 6# line that's breaking in the 9# range spells confidence. You can fish a 20# line over zebra mussels and pull a fish back with the line all scuffed up and continue to fish it without worrying about immediately stripping off that section spells reliability. It's a line that you don't worry, you just concentrate on fishing.

From: Leng: MN

Comments: Best line!!

From: John