Silver Thread Fluorocarbon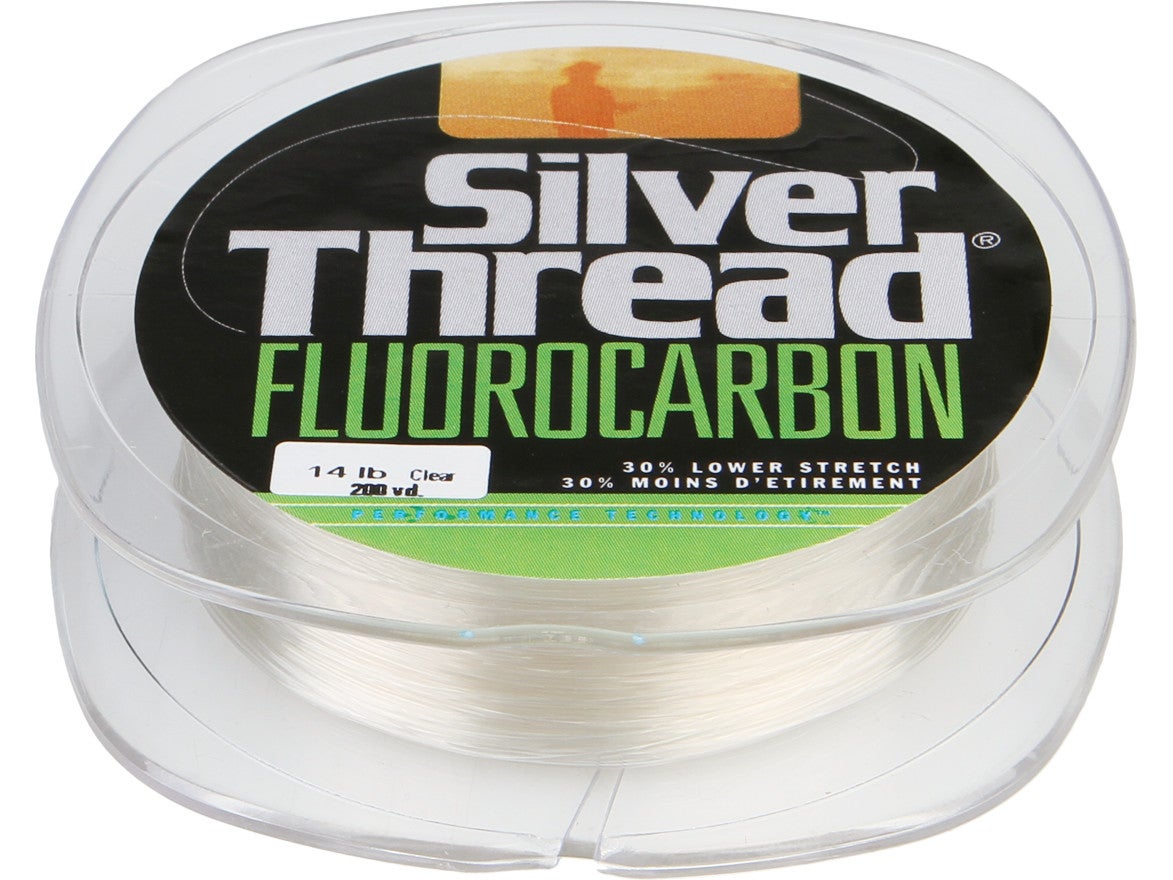 Silver Thread Fluorocarbon is virtually invisible underwater, but still provides excellent visibility above water. Silver Thread's proprietary Fluorocarbon material is incredibly strong and is also very abrasion-resistant. It's perfect for times when maximum strength is needed, but visibility must be kept to a minimum. A great choice as a leader on a Carolina rig, it's also a great braided line leader when flipping or pitching in clear water. Silver Thread Fluorocarbon delivers the sensitivity and low-stretch features not found in other fluorocarbons or monofilaments.
-30% Lower Stretch
-Virtually Invisible Underwater
-Great Casting
-Excellent Sensitivity
"Silver Thread Fluorocarbon is the most incredible line I've ever used. It is ridiculous how good it is. When you catch 30 pounds and you don't even re-tie and your line isn't even frayed or nicked…that's incredible! I've never seen a fishing line that was like that." - Zell Rowland, multiple Bassmaster Tour event winner.
| | | | | | | | |
| --- | --- | --- | --- | --- | --- | --- | --- |
| Line Diameter | 6lb | 8lb | 10lb | 12lb | 14lb | 17lb | 20lb |
| Inches | .008 | .009 | .011 | .012 | .013 | .015 | .016 |
| Millimeters | .210 | .240 | .270 | .300 | .330 | .370 | .395 |
Place Your Order
More From Siver Thread Fishing Lines
Customer Reviews
Comments: When i was younger i had a 3000 yard spool of silver thread mono and it always worked well for me so i thought i would give their new fluro a try. I bought it in 12lb test and use it for shallow to medium cranking. It is stiffer and has more memory than i prefer. I like a more manageable line because my thumb is not as educated as i'd like. When i first got it the memory was so bad that half of the backlashes i got required me to literally strip all of the line off my reel and then reel it back on because after i stripped off all of the line that was involved in the backlash, the line would just keep spooling loose. I never had that issue with seaguars red label. After a little use the line seems much more manageable and actually performs very well.

Comments: Some of the best Floro on the market. I use 6lb on my spinning reel and have landed plenty of 5lb plus smallies and a 9lb 13oz largemouth. I use it on everything but topwaters and it is some of the best line all around that you will find. I am so glad to see tackle wharehouse is carrying it.

From: Wes: West TN