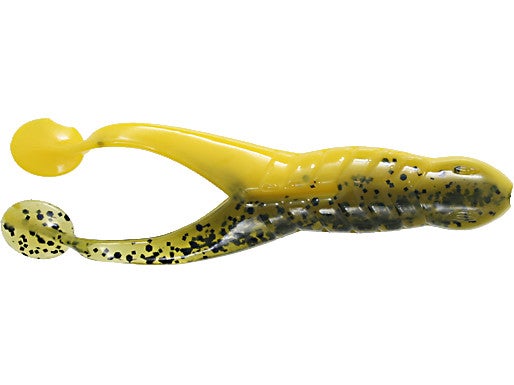 Uncle Josh has always been known for their great pork products, now, they will be known for their great soft plastic baits as well. The Sizmic Toad will produce 'Earth Shattering Action' according to the manufacturer, but one thing's for sure, this Toad will tear up the surface of the water. The Sizmic Toad features swimbait style paddle legs that will vibrate and churn across the surface and a thick, tough body that will hold a hook even when you're dragging the Sizmic Toad through the rough stuff. Rig the Sizmic Toad with a extra wide gap hook, cast it out on a moss mat, in the pads, or on the grass and start cranking it back. The swimming legs will attract attention and when you stop the bait it will slowly sink giving any following bass a chance to tear into it. Sizmic Toad comes in great topwater colors, tie one on and see for yourself!

Click the logo to view their review.
| | |
| --- | --- |
| Length | Quantity |
| 4-1/4" | 6 |
6 Colors
More From Sizmic Soft Baits
Customer Reviews
Comments: one of the best toad style baits I have used. more subtle action than others for the pressured fish in the north. one thing I have noticed is it gets a lot of bites when fished just under the surface. Or dropped in the holes of vegetation.
From: Chris: Mukwonago, WI 11/16/16
Comments: Good action, alot more subtle than a horny toad, very tough plastic
From: Dave: Burnsville, MN 8/21/16

Comments: First day out with this frog & I hooked into a 6lb Northern in the shallow lillies. Biggest one of the year. Like others have said, the size definitely allows for a better hookup as I've had trouble with hookups in the past with other plastic frogs.
From: Snakehead: NJ 10/23/15
Comments: this bait has its own qualities that separates them from alot of other frogs. i use this bait in many applications. bass like the suttle ripples and as it cruises slowly over open water and is durable in heavy algae mats and lilies. vs. the more noisy topwater toads for choppy water conditions. its holds my biggest bass record in wisconsin and is still catching biggins.

From: Scott: America

Comments: My freinds dad is sponsored by this companie so it is only fair for me to use this every time we go together. We use horny toad hooks or 2/0 gamakatsus. 50 lb braid is what we throw this on a black max reel. With a st croix mojo bass topwater.

From: Tanner: Ripon, WI

Comments: This is a resonably good frog. I had no problems with hook ups. $2.39 for a 6 pack is a good price for the action the number of frogs.

Comments: Did not like the quality of these frogs every one of the legs in the pack had one that was molded wrong so only one leg kicked

Comments: The Sizmic toad is my favorite summer muck bait. It's smaller size is a positive factor for our northern largemouths. It does swim best on a weighted Falcon bait jerker hook. The weighted hook provides a nice keel as well as the extra weight. For you swim jig fans, the Sizmic Toad Jr. is a great alternative to the standard grub. It'll float the jig higher as well as providing more action than a grub.

From: Mike: Aurora, IL
Comments: This is a great lil topwater bait. It may look on the small size but that is part of the beauty of it, bass inhale it meaning they get the whole thing in their mouth. You get good hooksets. Which I have found to be a problem with some of the topwater frogs. It is kind of light as far as casting is concerned you may need to use spinning tackle or possibly a weighted hook which I have not tried. But that is its only drawback it has a great gurgle to it and surfaces quickly. The 5.5 " would probably solve that problem which I have not used but look forward to trying.

From: Steve: W. Milford, NJ