Skinny Bear Grizz Flipping Jig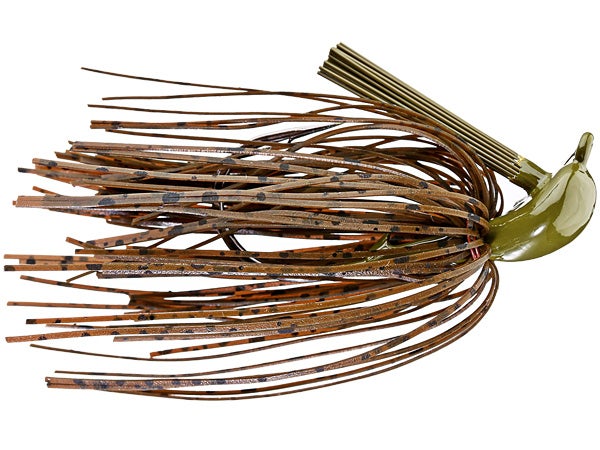 The Grizz Flipping Jig from Skinny Bear takes its name from the biggest, baddest bear around; one capable of getting into the roughest cover and catching it's prey. The Grizz uses a heavy wire 5/0 Gamakatsu round bend hook, ultra-sharp and strong enough to get the toughest bass to the boat. Skirts are top quality rubber and silicon securely tied on with wire so they will positively stay where they belong. The heads are painted with quality chip-resistant paint and the weedguards are thick, allowing you to fish it like it is or trim it down, depending on how thick the cover is you are fishing. The head design will allow the Skinny Bear Grizz to slip through cover and get where the bass live without jamming or snagging. If you're looking for a top quality flipping jig you won't find one much better than the Grizz.
11 Colors
More From Skinny Bear Jigs
Customer Reviews
Comments: The fullness of the skirt combined with the inherent bouyancy of the rubber really helps to slow down the fall rate. Tip them with a trailer that's designed to slow them even more and you'll find that you can use a heavier jig that penetrates cover but still falls nice and slow.
From: Jello: Ontario, Canada 2/15/17
Comments: This is the best flipping jig on the market... period! None of the other manufacturers make a jig so perfectly weighted for flipping and with so much skirt material.
From: Joe: Phx, AZ 7/16/14

Comments: Water was way up this year,Skinny bear jigs have served me very well. No complaints,only confidence in these products.

From: D: RVA

Comments: awesome flippin jig!! have had great succes with it. One of the very few jigs that have straight round rubber and it just gives incredible action. It goes through everything rocks, trees, docks, tullies. One of the best out there.

From: Nicholas: San Jose, CA

Comments: Great jigs for pads and grass. Do not throw this jig in brush unless you want to lose it. Not good in wood at all.

From: Ski: Bradford, MA

Comments: This is an awesome jig at a very reasonable price. The skirt is very lively and natural in the water. I think that is a big part of why this jig is so productive. I like every color as long as it's black

From: Jerry: Ontario, Canada
Comments: The Skinny Bear Grizz Flippin' Jig is, in my honest opinion, the best jig on the market. With more skirt material than your average jig, The Grizz offers a larger profile for those larger fish. My favorite combos out here on the Delta are a brown Grizz with either a 5" Yamamoto single tail grub in color 164, double tail in the same color, or black/blue Super Pork Frog or Senior Frog. On March 16, 2006 I caught my personal best bass at 8lbs. 8oz. on a black Grizz Flippin' Jig. And just two days ago in a tournament on the Delta, I caught a 7.50lber on the brown Grizz.

From: Aaron, Antioch, CA U.S., 3/06