Skinny Bear Signature Pro Series Jigs - $3.39
Skinny Bear Jigs have been a long-time favorite in Southern California. Anglers know they can rely on this bait, especially when the conditions are tough and the fish are pressured. These little 'bug' style jigs will do the job when the bass have lockjaw and they've seen it all and are tired of looking at bigger jigs and worms. The Skinny Bear Pro Series Jig uses the Owner Deep Throat Wide Gap hook which will ensure positive hookups and securely hold your bass back to the boat. The rubber and silicon skirts are tied with a double wrap of wire and feature a weedguard. Try a small pork trailer, like the Super Pork Frog Jr. to really make this little jig a big bass killer.
The 3/8oz and 1/2oz version features a custom round bend 2/0 black nickel flipping hook.
Comments: Neat little jig with great movement. I have had the paint chip from throwing it on wood docks. Only complaint I have is the paint job. Other than that I really like the movement of the skirt.

From: Eric: Houston, Tx

Comments: I really like this jig out of the package. I had a good amount of movement. The quality looked up to par until the first use. The jig performed great and looked fantastic in the water. But the paint chipped off very easily. I was casting around docks and bulkheads. From this mild use the paint on the jighead flaked off. Other than the paint this lure performed great.

From: Eric: Houston, Tx

Comments: Awesome jig!! This skirt really moves on the stand still! Great for lockjaw winter time bass! First flip using this in mid winter I caught a 7 pounder! Great jig!!

From: Ethan: Kansas

Comments: Olive 3/8 with a small lake fork watermelon candy pig trailer. Great combo.

From: Mike: Hermitage, TN

Comments: cool looking jigs, never had much luck throwing them though, and finesse fish 80% of the time

From: Jeff: Jersey

Comments: Great colors, good quality, sharp hook, weed guard works great for all applications, paint on the weight is done very well

From: David: San Jose, CA

Comments: I've great sucess on the Skinny Bear Pro Series jigs I really like the 1/4 oz I fish mine with a Zoom salty pork chunk. I've caught my biggest my bass on them

From: Gary: Los Angeles, CA
***Note: If you have questions about this product or need assistance with an order please email your questions to info@tacklewarehouse.com
View Large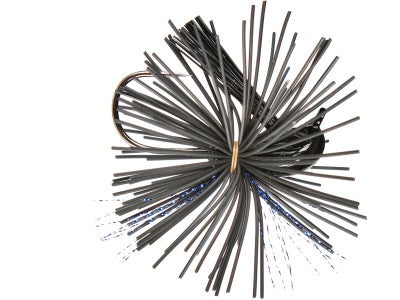 19 Available Colors
More Skinny Bear Jigs