Skinny Bear Swimming Shad Eye Swimbait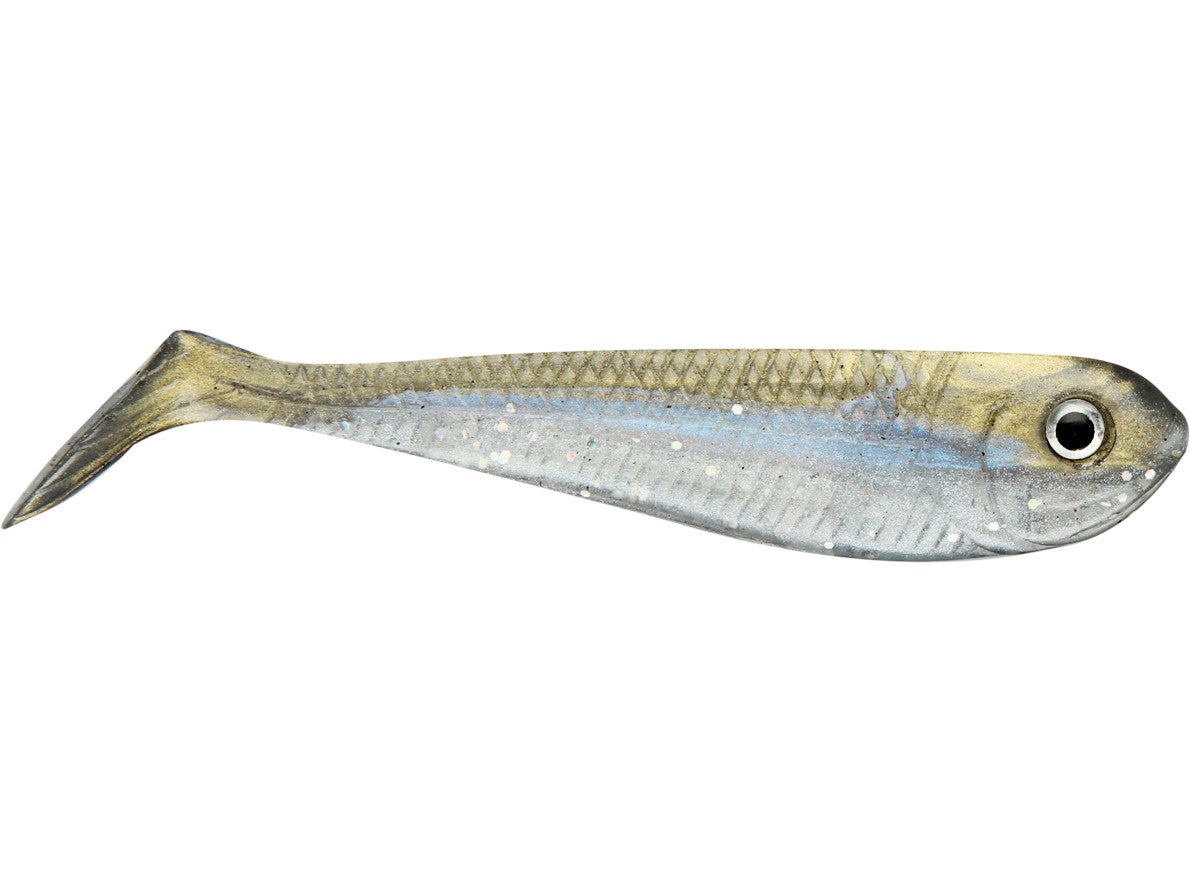 The Skinny Bear Swimming Shad Eye Swimbait is truly like live bait - and it won't die in your tackle box either. From the large holographic eyes, fish-scale pattern and swimming action, the Swimming Shad Eye's life-like bait-fish profile and detailing is what makes this bait a winner. The slit in the belly also facilitates better hook penetration for more, quality hook ups, and the Skinny Bear's super soft plastic formulation also provides it with the most kick possible - even at the slowest retrieve speeds. Available in a variety of colors, the Skinny Bear Swimming Shad Eye Swimbait is as close to real thing as you can get - without a heartbeat. These baits are so soft it is highly recommended that you use a swim bait hook with a spring keeper or hitch hiker to hold the bait securely on the hook.
Don't forget to check out all the other Skinny Bear products!
| | |
| --- | --- |
| Length | Quantity |
| 3.5" | 5 |
| 5" | 4 |
14 Colors
More From Skinny Bear Swim Baits
Customer Reviews
Comments: Probably the most realistic swim bait I've even seen. The action on the 5" is great. I bought some of the 3.5" and haven't been able to use them because every time I still a jig head into them they split apart... If anybody has any tips on how to rig the smaller ones without them splitting in half, I'm all ears. The 5" are not very durable either but at least I can get a fish or two before they're useless. If they could fix the durability issues, this product would be great (just make the head with a harder plastic).
From: Keith: South Carolina 11/14/16
Comments: awesome baits. i use with the skinny bear 6/0 screw lock EWG hooks. perfect combo. swim true fast or slow. i also throw on a 1/4tungsten slip sinker if i want to fish the bottom fast...
From: Steve: Sacramento, CA 2/24/15

Comments: These baits are AWESOME! I used these baits over two weeks fishing Table Rock and Lake of the Ozark's in March. I used both the 3inch and 5inch models in Shad Smoke and Aurora Smoke colors rigged on A-Rigs with a swimbait hook. These baits are very soft which allows for a great action at very slow speeds. I would recommend the Swimming Shad Eye to everyone who wants to catch big fish!
From: Mark: WI 4/24/14
Comments: great bait,caught several fish on one bait using 1/4 oz. ball jig head . Very soft and great action even at slow speeds.

From: Keith: palmyra NY

Comments: WARNING do not use super glue on these baits. I just super glue to hold my bait on my jig head and the bait Melted so bad the super glue melted its way through the head of the bait through the body on onto my hands and onto my swimbait box.

From: Kevin: SoCal

Comments:
I tried/tested the Skinny Bear swimbaits in 2 recent tournaments and in 4 practice days on KY lake. My review:
Colors/size used:3.5" aurors smoke, 3.5 & 5" Ayu shad
Techniques: Single Swimbait on 1/2 oz J-Will Jig, Mann's A-rig, and weedless on Trokar 7/0 swimbait hook over hydrilla.
Warning: Do not use soft bait glue to attach swimbait to a Buckeye J-Will jig head, as the bait will dissenegrate (costly mistake as I ruined an entire package of 5" baits) Huddule bond glue worked in conjunction with a "hitch-hiker" screw-in spring, suggest gluing 24 hours before heading to the lake due to glue's required drying time.
Good points:
Life like detail and coloring is excellent
Tail action at slow speeds was above average.
Bait did catch largemouth and smallmouth
Not so good points:
1 fish bite will ruin the entire bait, (the head of the bait crumbles to the point it's unusable (not cost effective and used up a big chunk of time in tournaments)


Comments: can anyone suggest a good jig head to use for these to put on a a-rig?