Smelly Jelly Pro Guide 3X Strength Elite 4 oz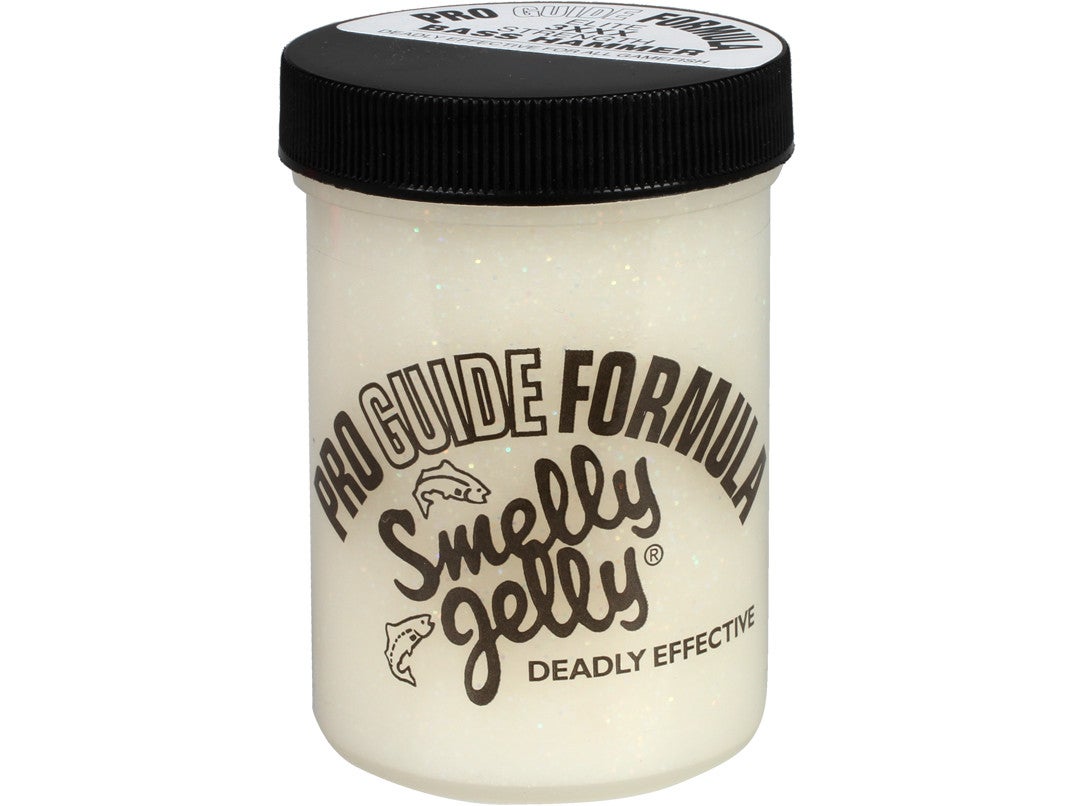 Deadly effective for all gamefish, the Smelly Jelly Pro Guide 3X Strength Elite delivers triple the fish attracting power of the original Pro Guide formula. Based on years of extensive research, Smelly Jelly takes the essence of a variety of forage species and concentrates them each into a jelly base along with other ingredients proven to attract fish. Now stronger than ever before - Smelly Jelly Pro Guide 3X Strength Elite masks human scent, brings fish in from greater distances, and the natural flavor makes them hold on longer.
Using an applicator of your choice, apply sparingly to terminal tackle, including natural baits, lures, flies, swivels and up to 8 ft of leader or line. Each application should last from 30 minutes to several hours depending on the fishing situation. Non-toxic. Bio-safe.
3 Colors
More From Smelly Jelly Scents
Customer Reviews
Comments: This stuff flat out works! Good luck getting the stink off anything it touches, but hey that's the point. Mix a little (or a lot) into bag of worms and just let it sit in its stank, great stuff. 3X Bass Hammer stays true to its name.
From: Zac: San Diego, CA 9/12/15

Comments: I didn't find the 3x version to be any more potent than the regular formula. Bass Hammer is still my favorite. The sticky liquid is the best way to go. just take the top off and dip your worm in.

From: MaxZmus: San Diego, CA
Comments: I don't complain often but has anyone received their jar and was 3/4 full with a big space on bottom? Maybe its bottled like a bag of chips that way? I tested it and would have to say its more effective than other scents on the market. It will not draw every bass in lake to your bait but have gotten better holds. Like others say, it's potent and will at the very least take any human scent away

From: bass-o-matic: New York

Comments: put this even on your drop shot and other bottom cralling baits and it will give you major results. i like bass hammer and crawfish. I fish pressured lakes everyday so im not speaking out off my ass.

From: Ryan: San Diego

Comments: I'm an attractant fanatic and I can't say it will make fish bite like MegaStrike, but it will definitely cover ANY human odor. I think you could probably pour Tink's 69 on your hands before you go fishing and cover it up with this stuff.

From: FunkySkunky
Comments: Wow! i was skeptical but now a believer. 3 cast after put on a texas rig worm, i landed a nice bass. this really works.

From: San Diego

Comments: This stuff is AMAZING! It smells horrible but fish love it. I highly recommend it.