Smithwick Suspending Rattlin Rogue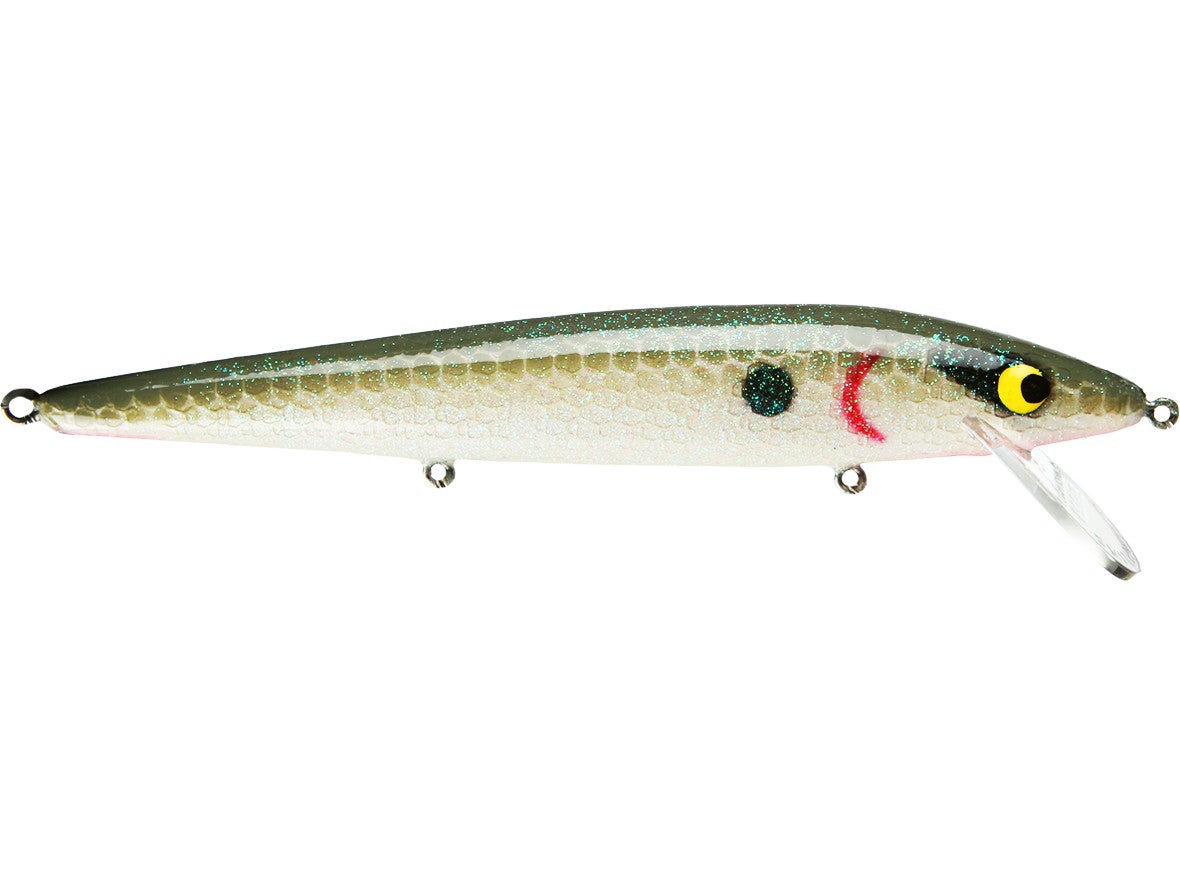 The original suspending minnow - each Smithwick Suspending Rattlin Rogue is carefully designed and engineered to run true and suspend perfectly right out of the package. No more drilling and weighting needed.
For best results with the Suspending Rogue - use short, snappy jerks of your rod tip. Also vary the length and speed of your jerks, pausing to let the Rogue suspend momentarily, this is the stop-and-suspend action that fish can't resist. A slow rolling retrieve is also very effective - making your Rogue "wallow" along or just below the surface with a slow retrieve.
Available in several eye-catching, fish-enticing colors, the Smithwick Suspending Rattlin Rogue has been proven to attract explosive strikes year around - and especially in the spring.
| | | | | |
| --- | --- | --- | --- | --- |
| Smithwick | Length | Weight | Depth | Class |
| Rattlin Rogue | 4-1/2" | 3/8oz | 0-4ft | Suspending |
20 Colors
More From Smithwick Jerkbaits
Customer Reviews
Comments: These baits used to be the bomb. The float rate is too high on them now. I know they used to float a bit, but the couple I just bought float like a normal floating jerk bait. They do not suspend at all. I will try to put lead stickers on them to see if they will float less. They are unacceptable the way they are now.
From: Fred: Ohio 1/17/17
Comments: I have used this bait for years and have caught tons of bass, both largemouth and smallmouth. But I too have found that they have gotten hard to tune. They really need to watch their quality control people, and get back to making them like they used to.....
From: Tim Reason: Oklahoma 12/31/16
Comments: These jerkbaits are ok but they always float for me right at ice out. Ive tried different line, hooks, lead tape. I know they all suspend different and different water temps but its too much of a hassle. I have better luck with the HJ12 Rapala husky jerks imo
From: Jordan: RI 2/16/15

Comments: These used to be quality baits. Now they are not, 5 out of the last 7 I bought were impossible to tune. The diving lips are so crooked they're unfishable.
From: Nick: USA 12/16/14

Comments: I've been using the clown color and I've been killing them up here in CT. They go crazy for this bait. If you throw anything else they wont bite but when you jerk hard on this they cant resist. My go to bait right now and I'm using it this weekend for my tournament.
From: Mike: Milford, CT 4/30/14
Comments: This jerkbait has been amazing for me. I've been catching fish with it on several lakes in the last couple weeks. I think this bait gives off a sound that drives fish crazy. From now on it's my go to jerkbait. Black and orange has caught some nice fish.
From: Unknown: USA 4/28/14
Comments: This is the only jerkbait you need! Experiment with different hooks,weights, and lines to get what you want out of it. NEED LASER CRAW!! Black orange,blue orange, faves!

From: Durt: VA

Comments: I bought two of these and no matter what I do to them(tuning wise) for the life of me can't get either to swim straight. Will never buy another. Go with a husky jerk(rapala).

From: Cory: Uppermidwest

Comments: Avocado shad is my go to color. I fish this bait with 8 pound test mono. on a spinning reel and a 5.5 foot rod. On Feb. 27, 2009 on Harris Lake, NC I caught a 10 pound LM bass AND the very next day I caught an 8 pound LM bass. Every year this bait produces quality bass.

From: Dan: Cary, NC

Comments: 19.36 pounds caught on Hubbard Creek last week winning me the tournament. Great bait.

From: Steven: Haskell, TX