Snag Proof Bass Kicker Frog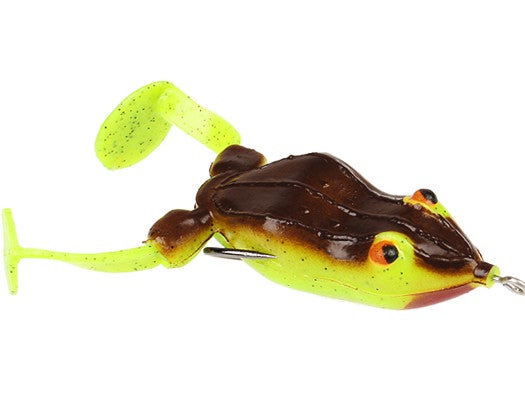 The Snag Proof Bass Kicker combines the best qualities of a buzzbait with the fish catching action of a frog! And not just any frog, the Bass Kicker is built on the Pro Series Tournament Frog body and sports premium Owner double hooks and kickin' paddle foot legs. Weighted to stay upright, and balanced, it casts easily. Glass rattles and the buzzbait effect provide unrivaled sound and action. The durable hollow body lasts longer than solid body frogs and gives you a better hook-set ratio! The Bass Kicker floats at rest and can be fished anywhere, heavy cover and open water. The Bass Kicker kicks up a commotion and will attract the "kicker" fish needed for success!
6 Colors
More From Snag Proof Topwater
Customer Reviews
Comments: this frog has replaced all my reeling frogs, don't worry about tearing off the legs anymore. Very durable.
From: Brad: Speedwell, TN 5/23/15

Comments: first time i used it the sinker screwed up the movement so i took it out then got 20 inch bass

From: Frank: WI: U.S.AF

Comments: This frog has great action and gets plenty of strikes. But when compressed the hooks are not exposed enough to get a solid hook up ratio. I recommend buying some EWG frog hooks to replace the stock ones.

From: Alex: Pleasanton, CA

Comments: I tried these & I'm not happy. They easily fill with water & sink. Also the legs that give them the "action" don't always work as planned.....I would have rather spent the money on Spros

From: Stan: Guilford, CT

Comments: These look interesting especially on the video on YouTube. I ordered a few of these, but after opening them I'm concerned that the feet that give it the kicking action are going to get bit off real easily. Other wise it's the typical Snag Proof frog. Worth a try- I can't wait until the Spring to try it out!

From: Stan: Guilford, CT