Snag Proof Bobby's Perfect Buzz Frog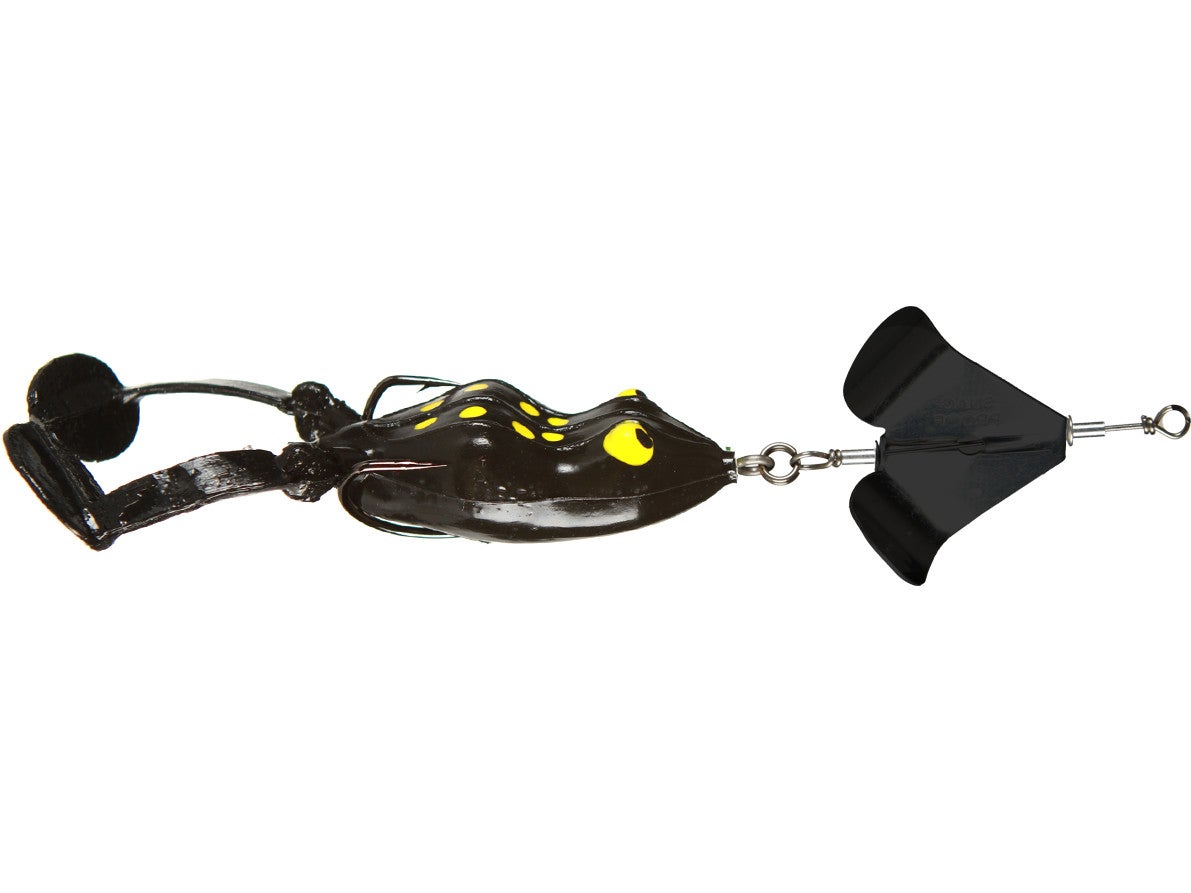 The Snag Proof Bobby's Perfect Buzz Frog evolved from the original Bobby's Perfect Frog, taking with it all of the best features, and adding a lightweight aluminum prop and paddle feet. A killer bait churned over the mats or around the edges of vegetation, the Perfect Buzz adds another dimension to frog fishing. Its ITT - inner tube technology also makes it virtually unsinkable, and it comes equipped with a Gamakatsu EWG double hook, as well as an internal glass rattle. Available in several proven color combinations, when a blow up on the Snag Proof Bobby's Perfect Buzz Frog occurs, hesitate for a quick moment then give that big ole bass the bad news.
Check out some Pro Tips & Techniques with Bobby Barrack & Snag Proof's Bobby's Perfect Buzz Frog.
Check out video of California Delta legend, Bobby Barrak talking about his new Snag Proof Bobby's Perfect Buzz Frog at the 2011 ICAST Show by clicking the video link below the main image.
6 Colors
More From Snag Proof Topwater
Customer Reviews
Comments: Bobby's buzz frog is a great alternative to a buzzbait when you need to pause or it's super thick cover .
From: Stan: Tolland, CT 7/22/16

Comments: I could never run the bait slow enough to keep the bait from corkscrewing. The frog was just spinning behind the blade.
From: Bill: WI 8/14/15

Comments: This is truly a big fish bait. If you love top water explosions this frog may just give you a heart attack. Any cast with this bait could be a DD. Get your self one and hold on tight.
From: Jack: Tallahassee, FL 3/10/15

Comments: This buzz bait goes where no other does. it floats so it immediately starts working were others sink then start after being pulled a few feet. the in line construction is unstoppable ,so it can go any where thru anything.make this your go to buzz bait and you wont be sorry
From: John: South Point, OH 1/27/15

Comments: Loved the idea. I throw a lot of frogs in my area along with buzz baits, so I figured. this has to be an awesome bait. The quality of the frogs paddles are crap. Made a few casts with the black and caught a 3.5 pounder, paddles (legs) ripped right off. Same happened to another black and a brown bullfrog. I had them for a little less than 2 weeks in good storage.
From: Mark: Fox Lake, IL 8/11/14

Comments: Really like the perfect buzz. I love throwing frogs and tbis one gives me the ability to rip one across the water at a higher speed than I wouod fish a normal hollow body. Best thing about it is that it floats also, so you can pause your retrieve and resume without sinking below the surface. Caught 2 my first day out with it.
From: Brad: Medford, NJ 5/17/14

Comments: Slayed the Ca. Delta bass on this this past summer. Fred's and the Sexy Frog worked for me all summer, with my biggest going just under 10, and lots between 5-8 lbs.
From: Craig: Sunnyvale, CA
Comments: Great frog. I had purchased the Money color and caught like 12 in a day. We went to the Bonne Carrie here in LA was on the water for like 4 hours. Great hook up %

From: Matt: Gonzales, LA

Comments: Great frog at first I had tough time getting the fish to stay on the hook but then I started dropping my rod tip and ripped it back now my hook up ratio is 100% since I started doing that black does wonders in the early morning

From: Andrew: MN

Comments: I fished the brown bullfrog buzz frog and had some success right off the bat. The only issue I had with the bait was the frog kept spinning during the retrieve, instead of staying right side up.

From: Nate: citrus height, ca, usa

Comments: Great frog bait. Caught a 6 pounder first time use after a few cast. Hookup is very good. Like any other frogs bait, if your hookup is not quite good...just use the plier and bend the hook out.

From: Brian: CA

Comments: First time I used this I caught a 4 pounder in 30 minutes. So I like it!

From: Mike: Tracy, CA

Comments: Bobby did it again. Went with Freds Frog.

From: Tim: CA Delta

Comments: Nicholas from San Jose, CA send that Buzzfrog back to Snag Proof, they'll take care of you.

From: Connie: Cincinnati, OH

Comments: decent frog but the hook up ratio is terrible! I bought a few and the backs were rock hard! I couldnt believe it because snag proofs are usually super soft. Super dissapointed

From: Nicholas: San Jose, CA

Comments: I first tried this baby out on the Cali delta with Bobby Barrack on a guide trip, and this thing is the real deal. I got at least 10 hits (in 4 hours), caught a few nice 2.5 pounders, and lost one big ole 7 pounder right next to the boat. The bass just explode on it, but the key is a steady retrieve, just reeling enough for the kicker legs to wag around a little. its not a fast retrieve. Fred color works best in most waters.

From: Lucas: California, US