Snag Proof Moss Master Tournament Frog 1/2oz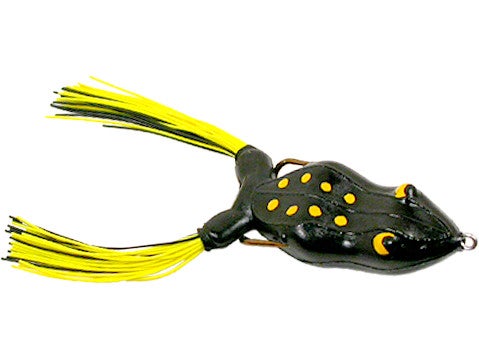 It's always a lot of fun when bass are smashing topwater lures, and it's even better when they're eating frogs. Thick grass, moss mats, and pads attract and hold lots of bass but they are almost impossible to fish without some kind of weedless bait. Snag Proof Moss Master Frogs are the perfect bait to throw across the top of floating grass and mats into emergent weeds for some rod-ripping, heart-stopping topwater action. Imagine casting your frog back under some over-hanging willows and getting flushed as soon as the bait hits the water, or hopping it along until it reaches a hole in the grass where you pause the frog on the edge, twitching it in the open water until a depth charge goes off. This is summertime fishing at its best!
Check out our selection of rods designed for fishing frogs and rats.
| | |
| --- | --- |
| Snag Proof | Weight |
| Moss Master Tournament Frog | 1/2oz |
6 Colors
More From Snag Proof Topwater
Customer Reviews
Comments: I have been fishing these baits since I was about 8 years old, now at 35 I have caught thousands of quality bass including my personal best 7lbs. 04ozs.. I have fished these, right a side of other hollow body frogs and these hands down crush them every time! I always have one tied on no matter time of year, fun fishing, or in a tournament. If you are looking for a quality durable bait, that will catch you both numbers and big fish. YOU JUST FOUND THEM!!!! SO GOOD THEY CATCH BASS SITTING STILL!!!!!
From: Stanley: Vernon, CT 5/12/15

Comments: This frog isn't as good looking as koppers or spro or others, it hasn't the greatest hook ever, it hasnt the best detailed finishes... But that frog made in the USA is a fish catcher, it's resistant, it's durable, and if you tightly open the hook's gap, your hookup ratio will increase a lot. Try those US made frogs! They work great.
From: Fab: France 8/2/14

Comments: Good looking frog, I really liked how the legs are attached but the hooks I got on mine were extremely dull. I'm going to try the "Bobby's perfect frog." I might have gotten a dud though.

From: Spencer: San Luis Obispo, CA
Comments: I have this frog in chartreuse and im happy that i got 5 strikes in 1 hour, however i am pissed that not one of those fish were hooked... this frog sank within 1 minute of being in the water, it rolled over when i tried to walk the dog and the hooks are not in the right position to get a good hookset... i will not buy from snagproof again im going to try koppers. take my advice dont buy this frog!

From: Bassinincalifornia: Roseville, CA

Comments: this is a very good frog the Green color works great!

From: Tyler