Snag Proof Weed Demon - $4.99

The Snag Proof Weed Demon was designed to do one thing; walk the dog, ANYWHERE. Walk the dog in open water, on the slop, in the tules, ANYWHERE. The soft, hollow body folds up with ease when struck, and it protects the hooks from getting hung up in the slop. When fish are held up in the hard to reach areas and want something with a little more action than a regular old frog that they've seen a million times, throw the weed demon, and walk the dog over their head. BOOM! This bait will bring on some of the most violent strikes you've ever seen.
| | |
| --- | --- |
| Snag Proof | Weight |
| Weed Demon | 3/4oz |
View Large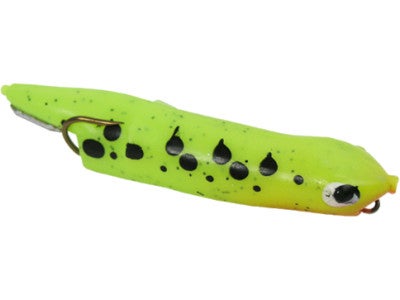 More Snag Proof Topwater
Comments: Major problems with hookup with this lure until I bent the hooks out a ways. Finally hooked up afterwards. This is about the only lure which will actually walk the dog on top of weeds. The hollow frogs claim they do but they really dont walk they kind of just change the way they are facing. Even the basirovsky kind of crawls on top..
From: Eins: NJ 7/4/15

Comments: Great lure and great action. Only downfall is you cannot use this lure in very thick cover because the weight is located and the very back of the lure
From: Jim: Philadelphia, PA 8/21/14

Comments: got my weed demon in the mail to day so i put the black one on and on my 2nd cast caught my 1st fish and in about 20 minute i caught 3 and missed 2and they where my fault i set the hook to quick best topwaterbait i have used.

From: Phillip: Morgan County, AL

Comments: this lure is a must, i have caught numerous big bass on it. it's perfect for for moss on top, or for when you can't throw anything under water because of the weeds, this is better then the other ones because the hooks are in the back and you have an awesome hook up ratio, this lure is weighed perfectly so it's very simple to walk the dog, firetiger all the way!!!!!

From: Colin: Moline, IL

Comments: Walks great but will not hook the fish. First time I used it I was fishing patchy surface grass on Guntersville lake. The grass was to thick for any other type of walk the dog bait but to thin for a mat-frog. This bait had well over 15 fish inhale it and no matter how I set the hook the hollow boddy continuiously collapsed and covered the hook. I also tried bending the hooks into a better position using a pair of plieres and nothing worked. It was upsetting considering the fish just would not hit any other bait but this bait would not hook them!

From: Thomas: Chattanooga, TN

Comments: yea they are ohk but the yum hound is better

From: Justin: Winter Haven, FL

Comments:The Snag Proof Weed Demon walks easier than any bait I've used. I was skeptical about this bait when I saw it, but my friend and I used it in the spring time throwing it up close to shore, and we had an insane amount of strikes. It was even out fishing my Spro Bronze Eye, only thing was tons of missed fish.
From: Massachusetts, MA
Comments:The action of this bait is EXCELLENT! Second cast of the package,landed 2 lb. bass and just before dark landed 5.5lb catfish on a topwater lure...a first for me. The stikes are violent and lots of fun. Would highly recommend these lures. Have ordered more of each of these and Tackle Warehouse service and selection are terrific. Thank You! p.s. Black is great color to start with.
From: Ken: Bristow,Virginia
***Note: If you have questions about this product or need assistance with an order please email your questions to info@tacklewarehouse.com