Spiderwire EZ Fluoro 200yds - $7.99 to $8.99
Spiderwire EZ Fluoro is a 100% Fluorocarbon that casts and handles like a monofilament. EZ Fluoro sinks with low stretch for improved sensibility, and also will not absorb water, which helps maintain the strength of the line. Best of all, fish can't see it underwater!
-Easy to cast and handle
-Underwater clarity - fish can't see it
-Won't absorb water - maintains strength
-Sinks with low stretch for improved sensitivity
-Clinch knots slowly with excess lubrication
| | | | | | |
| --- | --- | --- | --- | --- | --- |
| Line Diameter | 6lb | 8lb | 10lb | 12lb | 15lb |
| Inches | .010 | .011 | .012 | .013 | .015 |
| Millimeters | .25 | .28 | .30 | .33 | .38 |
Comments: This line cast great. Let's leave the positives at that though. The line has very little abrasion resistance and snaps VERY easily. I fish crankbaits a lot, and this line simply doesn't hold up to the job at hand.

From: Mike: Lakeland, FL

Comments: This line is COMPLETE CRAP I broke of 5 times to 5 fish in 2 hours! This line is stiff, abrasion PRONE,and hasTerrible knot strength. DO NOT BUY!!!!!

From: Alex: VA

Comments: This line is absolute crap! I thought I would give it a try because of the price, but I thought wrong. The line is very stiff. I can barely cast it compared to my Abrazx or trilene 100%

From: Seth: iola,wi

Comments: I bouth this line in 8lb test and fished it on my drop shot rod and shakey head rod and was excited about the price but just like the Vicious Floro its garbage!! You get what you pay for and this stuff was constantly fraying and breaking. Took it off before I fished for money!!

From: Britt: Boerne, TX

Comments: I have caught numerous bass with this line in 15 lb. It casts great, is very sensitive, has good abrasion resistance, and the stretch is about average. I have pulled several bass out of brush and the line held up great. I've never been a huge Spider wire fan but this line has me rethinking my stance.

From: RS: TX

Comments: i had got some 10plb for cranking and tied my knot wet the line and cinched it down and it broke about 4 inchs above the knot.Ok no big deal i pull off about 4 feet of line cut it and go to retie thinking may have frayed .Same thing happens about 2 more times.I finally get the line to hold and go about fishing. I get snagged in about 5ft of water on stump so i try the bow and arrow trick and the line frays Horrible about 2-3 spots from the friction of my hand pulling the line and snapping the line .And this was very little pressure applied.Very weak line in my opinion and all this happen in about a total of 5 hours of fishing relative open water and only being snagged one time.Also used line conditioner the night before ,and tried the palomar knot,cinch,Alrbight knot and it did not matter it always broke

Comments: Absolute garbage. Stiff and unmanageable, even after repeated treatments of KVD LnL. Don't waste your money on this junk.

From: Jason: TN

***Note: If you have questions about this product or need assistance with an order please email your questions to info@tacklewarehouse.com
View Large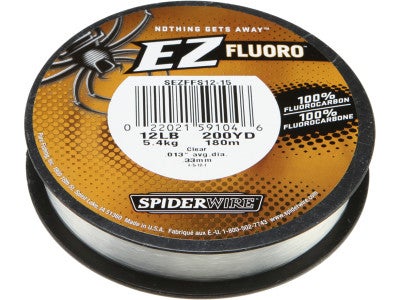 Place Your Order
More Spiderwire Line