Spike It Dip-N-Glo Worm Dye - $4.29
Spike-It Dip-N-Glo Plastic Worm Dyes are specially designed for dipping plastics such as worms, grubs, and even skirts to produce immediate, permanent color changes. Scented varieties deeply penetrate the lure to produce a long-lasting scent.
This product is flammable and can not be shipped Air.
Please note, this product does not glow in the dark.

Comments: Chartreuse Garlic is dynamite! Anyone who says this stuff doesn't show up is either blind or isn't dipping their baits in it at all. Love It! Works great! Use it on Green Pumpkin and Watermelon all the time! I have a bottle of this in my boat at all times!

From: No body Special: MI
Comments: I love Dip-N-Glo in all colors but what they offer here for white is NOT dye, it is nothing more than white paint.

From: Charlie: St Louis, MO

Comments: This stuff is horrible. The chartreuse color will only show up on very light color woms. I can barley even see it on pumpkin colored worms and not at all on green pumpkin.

From: Dave: NC

Comments: Garlic Spike in either pumpkin seed or chartreuse on the tips of your soft plastics is money.

From: Lucky: Boston, MA

Comments: If you are fishing tournaments or a weekend angler, take a clear or white soft plastic bait and combined colors with a cotton swab! Or just dip and let dry, only takes a few seconds! Give it a try and be sure to do the dipping outside, this will stain everything it hits.

From: Frogman: Memphis, MO

Comments: Got clear water? Add some black to your tails. Youre welcome.

From: Meatead: Hookin you up

Comments: Love this stuff. Great scent

From: Danny: Milan, TN

***Note: If you have questions about this product or need assistance with an order please email your questions to info@tacklewarehouse.com
View Large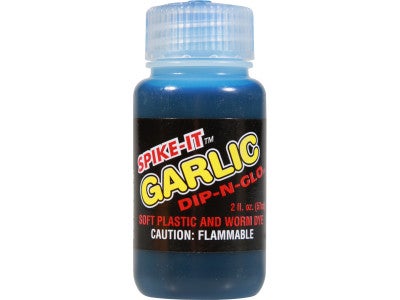 10 Available Colors
More Spike It Dipping Dye