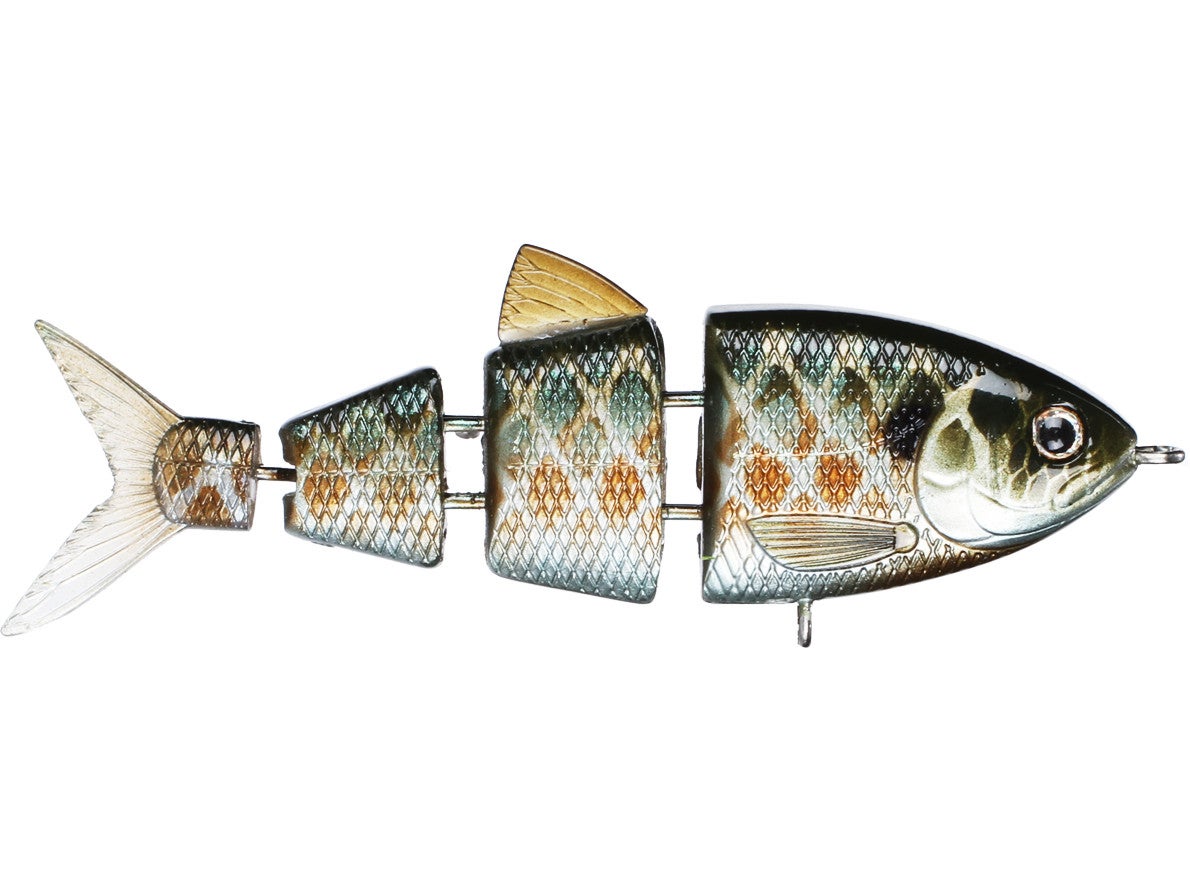 Designed by legendary trophy bass angler, Bill Siemantel, the Spro BBZ-1 Baby Shad is a small triple-jointed swimbait that will catch fish from 2 to 20-lbs. A downsized version of the 4" Shad, Siemental originally designed it to target the monster bass feeding on baitfish coming to the surface. After while, however, he found that in addition to being a great wakebait, it catches fish throughout the entire water column, and all species of fish as well - including trout, stripers, blue gill, etc. Available in a variety of proven colors, the Spro BBZ-1 Baby Shad was designed with one thing in mind - to help you catch more fish. Includes #8 Gamakatsu treble hook.
How to rig the Spro Baby BBZ Double Rig with Bill Siemantel
| | | | | |
| --- | --- | --- | --- | --- |
| Spro | Length | Weight | Class | Fall Rate |
| Baby Shad | 2.5" | 1/4-oz | Sinking | 1-ft/second |
9 Colors
More From Spro Swimbaits
Customer Reviews
Comments: Great lure, very durable too, I chuck these down tubes/tunnels & sometimes miss & whack them against the concrete but it still performs well. Often times when it came out of the tube the bass would hammer it. Plenty of 2-3 lbers by doing this, overall really good!
From: Hunter: IL 5/31/16

Comments: These lures are great lures, I wont over sell it they aren't the farthest casting lures they do sometimes helicopter on casting and they are pretty expensive though cheaper than most. It is only a 2.5 inch bait wish they were in the ballpark of $9.99 or at least came in 2 packs. Silver fish is a great shad imitator and smallmouth here absolutely crush it lost my personal best today though probably around a 4lb smallmouth. Fishing the banks with these things is great find areas with big boulders and pockets target the points and little subtle changes cast as far as you can and v-wake it. Wish I had not of lost 1 today oh well I guess will definitely buy more in the future!
From: Timothy: Milford, KS 8/15/14

Comments: was the throwing the rainbow trout one going for big largemouth but ended up catching a 26 inch walleye and a 30 inch rainbow these baits are killer you have to get them

From: Blake: Littleton colorado

Comments: THIS LURE IS A KILLER FOR STRIPER FISHING!!!! first cast with this bad boy on V wake BOOM!!!!! with 6lb P-line...MUST HAVE IT FOR FALL TIME!!!!

From: Pao: Merced,CA

Comments: this bait is very very small, I seen it many times but size is small. Wonder if this can really catch a 6+ lb bass? hooks seem too small to take big fish, looks like it would work on small fish. I'll see later. God bless

From: Alex
Comments: I absolutly love this lure. I have caught so many fish on it. in salwater this lure kills snappers, stripers, bluefish, even weakfish! It is so realistic and looks just like a little peanut bunker! Also, when i'm freshwater fishing in lake george and the delaware river, this lure kills smallmouth, largemouth, and sometimes even trout!!!

From: Joe: Brooklyn, NY

Comments: Amazing action, when the bass are targeting the tiny shads, Can't beat this! Amazing lure and amazing action and colors! Light line and a spinning outfit you can't go wrong when they are chasing tiny shad!!

From: Dennis: Lincoln, NE

Comments: With lite lines these things come alive

From: Sonny: East Wareham, MA

Comments: love this bait in maryland, i change them to owner st36 size 6 its better than stock hook, had the stock hook bend out losing 5 lber. with owners no promblem i suggest you to use braid with fluro leader on spinning rod or fineese baitcaster

From: Tyler: Baltimore

Comments: this bait is awesome! it swims very realistic and flow, not what i expected because it is so small! wacked some largies on it, biggest one was about 4 1/2 lbs. licely made bait

From: Conner: So Calif.

Comments: Perfect size bait for the mid-summer shad run. Bill designed this bait in this particular size for a reason. In SoCal, like 90% of the shad the fish focus on are under 3". Yeah, its tiny, but its meant to match tiny bait. You can't burn it or fish it anything heavier than 8-10lb, but its not meant to fished that way. Anytime you have 2.5-3" bait, whether is baby gills or a full blown shad school, this is a good choice. Light spin rod, light line, and be patient. Beats the heck out of having to use live shad to get bit!

From: Chris: SoCal
Comments: An amazing lure.. I've caught several already with it

From: Ben: Rock Springs, GA

Comments: one cast one nice trout!! i love it!

From: Muri: Switzerland

Comments: This is so small, I would rather wish they have a 3/8oz or 1/2oz edition rather than this 1/4oz

From: Johnson: Shenzhen, China

Comments: This swimbait works awesome! It is small, but in Ohio this bait flat catches bass. The action is unbelievable

From: Matt: Columbus, Ohio

Comments: they made the bait small for when bass are eating small bait like during the fall. if you fish lake of the ozarks during the fall, go to the backs of big coves and fish this lure but change the hook size to a 6 first and you will be able find a limit of 2 to 3 pound bass with some 4 to 5 pounder

From: Ben: St Peters
Comments: Why in the world would they make that bait that small?!? I had been waiting for a slightly smaller bait to come out, but this is not what I was expecting. Super small.

From: John: St Louis, MO
Comments: such a great bait. Great action for such a small bait and largemouth bass love it, wanna get 1 more so i can try out the double rig that was shown in a video. love this bait!!

From: Adam: Rockledge, FL
Comments: Spool some trusty line on that spinning reel, six to eight MAX, and get out there and hurl this little guy. Back off on the ole drag. It sinks slowly and doesn;t cast a mile, but it DOES get bit by just about anything that swims.

From: Meatwad: Out of town
Comments: Took the bait to inter coastal water way underneath a bridge. the tide was going out at 9:30 in the evening on a falling tide. In 45mins I hooked three keeper Sea trout and one Red from the shore. I could not believe what had happened in a short time. On the 3rd cast I caught a sea trout. I had no where to put the fish I caught. I came only with the rod , real and lure. I never in a million years expected to catch any thing all I wanted was to check out the motion of my new $20 swim bait.

From: Ramses: Atlanta, GA
Comments: I think I found the perfect bait for when the bass are busting shad (like right around now -- late summer/early fall). Just cast it into a boil, and you should be latched on! It's my new favorite for this kind of bite. When I first got the bait, I thought the hook was a bit too small, but I tried it, and I didn't lose a fish. Can always put on a bigger hook though (only one size up should do it). One thing I did notice is it sort of flops to one side or another during the retrieve. Since the eyelet is horizontal, you can't tune it like you would with a crank. But my buddy noticed that having your knot right at the center of the eyelet helps it run more true. Aside from that, it's a great little bait. Good job Bill!

From: Alex: Los Angeles, CA
Comments: I used this on the Ca. Delta and the stripers were slamming it. Can't wait to try it on some Havasu smallies.

From: Craig: Barstow, CA
Comments: really small, smaller than a med diving crankbait. works when the 4" shad won't.

From: Chris: Arizona, USA
Comments: Awesome bait . Deadly with a fast wake on the surface. already have caught huge LMB on it.

From: Chris: Chula Vista, CA
Comments: Sickest small hard swimbait out, there smallie smash it and the largies engulfed the whole thing. As for the stripers, use some crystal fire line in #10 pnd so you don't lose the bait, maybe straighten your hook but fun.

From: Mieger: Castaic, CA
Comments: One of the greatest swimbaits i have. Great job Bill and Spro! Just wished i hadn't lost it :(. ordering more. Cant wait to see what Bill has got in the works next.

From: Zach: Green Cove Springs, FL
Comments: WAY smaller than you think, good action but really to small, probably good for crappie and sometimes spotted or smallmouth.

From: Miles: Oregon, USA
Comments: These guys are awesome..i use them to get an extra edge if the bass is is not reacting on small to med. swimming type swimbaits..make sure to use 6 to 10lb. fluoro carbon line..enjoy..

From: Josef: Irving, TX