Spro BBZ-1 Shad Swimbait 4"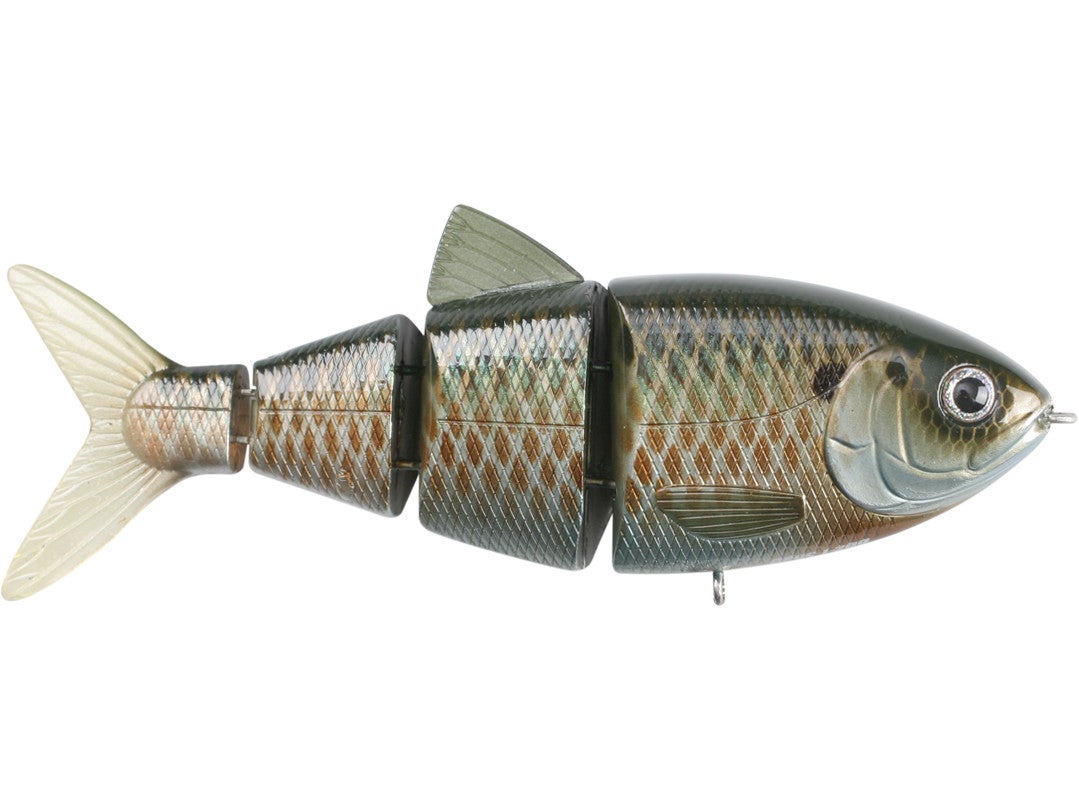 The Bill Siemantel Signature Spro BBZ-1 Shad is the most realistic swimbait on the market today. The BBZ-1 Shad will be available in a floating, a slowing sinking, and a fast sinking swimbait. The Spro Shad has the best action, best colors, and best quality of any other swimbait on the market today.
Key Features
–Extremely sharp hooks. Gamakatsu #2, 2x strong treble hook.
–Super durable fin and tail section.
–Counter balanced pin segments that make the lures look alive.
–Realistic swimming action.
–4 Incredible lifelike finishes.

Click the video link below to see the BBZ-1 Shad in action! If you haven't already make sure to check out the video from ICAST with Bill Siemantel
| | | | | |
| --- | --- | --- | --- | --- |
| BBZ-1 Shad | Rate Of Fall | Length | Weight | Hook |
| Floater | Floater | 4 9/16" | 3/4oz | #2 Gamakatsu 2X Strong Treble |
| Slow Sink | 3 inches per second | 4 9/16" | 7/8oz | #2 Gamakatsu 2X Strong Treble |
| Fast Sink | 1 foot per second | 4 9/16" | 1oz | #2 Gamakatsu 2X Strong Treble |
6 Colors
Customer Reviews
Comments: Great bait. The smallies on the Finger lakes in NY love it nice and slow. Too fast and you'll get frustrated by all of the short strikes and dropped fish.
From: Randy: Pennsylvania 1/27/17
Comments: Great bait is has realistic action & colors & its not too bad of a price for people on a budget like me
From: Colton: USA 7/17/16

Comments: as far as the helicoptering while casting, throw it on a med/hvy or hvy action and don't try to whip it just give it a nice smooth heave and it should cast a mile for you. Awesome bait for the price.
From: Joe: CT 5/21/15

Comments: Got in in the killer gill color since the lake I fish is loaded with spawning bluegills in early may. The durability of these things is unreal. The price may seem a little much its worth it
From: Lex: MN 4/9/15

Comments: Love this swimbait, very realistic swimming action and good colors. Killer Gill has been the most successful for me up here in NE. Only downside is the poor castability, it tends to helicopter on long casts. The slow sink can be worked right under the surface easily by keeping your rod tip up, or in medium depths if you slow roll it and keep your tip low. A swimbait rod isn't necessary, I can fish mine easily on a medium heavy rod. Definitely a great bait for those new to swimbait fishing.
From: Jake: Amston, CT 9/26/14

Comments: i would suggest the floating style with the blue herring.. its the only shiny one.. swims with a wake and gets bit.. the only flaw is the hook up ratio.. ive lost so many fish due to the fish throwing out the bait.. it only has one treble hook... other than that great bait..
From: Steffan: Orlando, FL 4/6/14
Comments: Really good Action, I recommend switching the hooks to something a little smaller on the slow sink, it now suspends and bass crush it.
From: MB: USA 3/20/14
Comments: This lure is just amazing in the fall when the bass start feeding on Shad. I personally recommend the floating and if you give it a couple twitches with your rod it flutters and the bass just can't resist it. I landed a 7lber yesterday with the sexy lavender shad

From: Ethan: Grand Lake Oklahoma

Comments: great lure. swimming action on this guy is something else. sadly to say I lost one of mine. still on the fish somewhere. getting more soon. make sure u always check the line after getting it stuck.

Comments: I have all the colors and there Awesome, great bait, I slay big bass with it all day, it works and well worth 20 bucks no other bait that's 4 inch comes close to swimming like the bbz

From: Big D Dao: San Diego
Comments: This is a fantastic bait! The action is as real as I can imagine a hard body bait can be. And it's tough too. I cast it into a rock wall hard enough that it should have broke into about 10 pieces but it only cracked and fixed right up with a little glue. I've only really fished it a little but I have caught a couple of nice 2.5 and 3 pound bass. It's great buy and I'll be getting more!

From: Gabriel: Chapel Hill, NC

Comments: I have one and it's sweet. The cast ability is great, the swimming action is awesome, and I'm glad the hook is a Gammy. I can't WAIT for the new models coming out, there both lipped, one's a square bill and one is a regular lip. God bless!

From: Elijah: Mystic, CT

Comments: This lure has excellent life-like action at all speeds, from the slowest crawl to the fastest rip. It swims straight as an arrow at all retrieval speeds. It does helicopter on casts but with my spinning reel I don't have a problem with it. I've also noticed that that you can make casts without it helicoptering with some practice (again on a spinning reel). The tail and dorsal fins are made of very durable rubber and should easily last the lifetime of the lure. Great detail. At $20 this is an excellent buy!

From: Gabe: Chapel Hill, NC

Comments: joe would probaly pass out if he saw any roman made bait

From: Jake
Comments: I have seen one of my friends use this bait and it looks amazing in the water. I wanted to get one, but it is just SOOO expensive. $20 for one lure! ARE U SERIOUS!!!!

From: Joe
Comments: tis is one of the best baits i have ever bought it is affordable and just works amazingly with the price it is everybody should have one all the colors are there so now u just have to pick the right one. I've had this bait for like six months and I've already caught a lot of fish off it,it works like a charm.

From: Joaquin: Mission Veijo

Comments: great bait. swims perfect and easy to fish. Oh and I catch plenty bass.

From: EJ: WI

Comments: I love the action of this lure but it helicopters worse than any lure I have ever cast.

From: Tom: Redmond, WA

Comments: Great swimming action! Caught my 2nd largest bass on this guy as well as the LARGEST Sunny recorded in my book. YES, so realistic even pan fishes go for it! Can't wait to try the baby brother of this lure..

From: Hmongbass: Madison, WI

Comments: used this bait at local lake near nebraska. I thought it wouldn't catch anything so i let my friend use the bait. He caught good size 4 lb bass on it. Its good action and swims very well. Give one a try, have at least one in your box.

From: Alex: KS

Comments: these swimbaits are so good. to me the best colors are sexy lavender shad, killer gill, and natural shad. all in slow sink. if you get one of these you will catch fish. you need to get one.

From: David: Cali

Comments: this is THE BEST swimbait i have ever used/seen for 20 dollars there is no compairson, the action is unbelieveable it doesnt weigh enough to get a swimbait rod. it is just an all around perfect bait spring through fall

Comments: I literally love these baits. I like the how there is 6 different colors you can choose from, but I wish you could have a wider selection of colors.

From: Bill: SF

Comments: i picked up a couple blueback herring and sexy lavendar shads in slow sink for river fishing. the bbz's look incredible in the water...and you can burn them or crawl them and it will swim true. i thought i would have trouble throwing them in swift current but they handle rapids and boils just fine. they do catch wind on cast at times, but i found that throwing them side-arm rather than overhand makes a noticeable difference. imo, the stock hooks are good. you will probably want to upgrade the hooks after a few outings, but you'd eventually do that with most of your hardbait lures anyway. i've not had issues with just one set of treble hooks, either. i was looking for a hard swimbait to match my local river forage and one that didnt require me to have to purchase a new rod/reel setup -- essentially, a lure that i could chuck on the gear i already have. the bbz is light, but heavy enough to launch a distance for that long retrieve. compared to other swimbaits, you can throw the bbz on a medium or medium heavy rod. the 4in bbz is a good size for the rivers i frequently fish. not here to sell this bait, just here to say that i've had good success with the bbz.

From: Willyreddeemed: Stone Mountain, GA

Comments: Looks and swims just as good as any of the other swimbaits of the same style but with a better price. Right time and place, it catches fish!

From: Caleb: Maine

Comments: These are great swimbaits. I bought a floater in killer gill and a slow sink natural shad. Caught a couple 2lbers on the floater first day. Then caught a 3 and a 6 on the slow sink last weekend. They swim true, great colors and catch all sizes of fish. I'll be getting a couple more real soon. Oh yeah, best prices, thanks TackleWarehouse.

From: Evan: Bossier City, LA

Comments: After alot of questions and a few videos I reluctantly purchased a BBZ & BBZ-1. So far the BBZ-1 has not landed a fish. But in its defence, I cant stop fishing the BBZ to give it a try. Ive used it on two different lakes and have caught fish every time. From 3 lbs to 10+ lbs. Im wondering if I put on a SW hook what will happen on the coast...

Comments: Great Post spawn bait on the out side of bream (blue gill) beds. Big females like to lurk on the deeper water side of those. Roll it over the grass in the summer time and rip it from the grass. The Floater is also good on the out side weedlines too.

Comments: I bought the slow sink model. The bait swims well, but will still come to the surface and wake if you reel it any faster than a crawl. This is also one of the most difficult casting baits I've ever thrown. It catches in the wind making it tough to aim.

From: Adam: Missouri, US

Comments: All I have to say is good work Spro you guys have the best swim baits on the market and at a price that everyone can afford thats huge. The swimming action is sweet the colors are great the baits are perfect. I can say this about all your poducts. Keep up the great work and can't wait to see what you do with the future.

From: Troy: Auburn, CA

Comments: wow this bait is crazy good. if you flick the rod tip the bait will do a 180 and the bass kill it. great great bait for big schooling bass. fish it verrrrrry slow. it shouls take like 3-5 min on a good cast to fish this bait. good bait!!!!!!!!!!!!!!!!!!!!!!!!!!!!!!!!!!!!!!!!!!!!!!!!!!!!!!!!!!!!!

From: Chas: Lake Worth, FL

Comments: I bought a couple of these baits. The floating bait in blue herring, works!!! I've caught a couple 4 pounders;but one time i took my girlfriend with me and thought the topwater bite looked great. She caught 7 fish in an hour and the first one weighed 4.5 pounds. These baits work period.

From: Super Mario: Bay Area, CA
Comments: Fished with a guide on Lake Norman, NC, and we covered shallow, clear water with this bait and caught some good largemouths. Burn a fast sink over some shallow water and hold on. I would swap the stock hook for an Owner stinger.

From: Meatwad: Out of town
Comments: Great action , caught a 5 pounder in the other day but everything else has been on the small size(10-13 inches)

From: Lucas: Glasgow, KY
Comments: Have not caught one fish with this lure.

From: Long: Ham Lake, MN
Comments: AMAZING for smallmouth, rip them as had as you can burn them pause them, not so good for largemouth so far but deffinantly a bait to have.

From: Miles: Oregon, USA
Comments: Excellent bait. Great action. Great construction and components. The floating version is killer over weedbeds. The slow and fast sinking version run about the same depth, though.
From: Rowland: Newport News, VA
Comments: Wow, what a great bait! Super realistic swimming action and VERY durable, I've seen them slammed off seawalls, docks, rock piles and they're still in great shape. First time I fished it, I caught a 30" pike with a good amount of weight to it, the bait came out of the battle unscathed. Lots of fun on light bass gear.
From:Zach: Michigan, USA
Comments:This bait is the best swimbait on the market! I found that for schooling bass feeding on shad, there is no better bait on the market. The floating BBZ-1 in the natural shad color is very hard to beat. I also found that a very slow retrieve, almost a crawl, with lots of twitches and pauses is the best approach for schooled bass. Best swimbait on the market! Good job Spro and Bill!
From:Alan: Talbott, TN
Comments:Comments:Outstanding swim bait. The top water BBZ shad will draw bass even from deeper water than you may expect.Hard strikes from good fish. Thanks Bill and Spro.
From:Ted: Lake Arrowhead, CA
Comments:This is the best swimbait I've used. I have the fast sink and use a moderate speed retrive with a pause, twitch, crank. My first trip I caught 7 bass with 7 hits, one hook seems to work great, I had no missed hits. The color selection is also great. I would recommend this bait to anyone.
From:Paul: Manteca, CA
Comments:Floating B.H. Color this bait is going to kill'em! It looks so real! Great job Spro!
From:Tim: Grayson, GA
Comments:I'm a striper guide on Lake Cumberland in Ky. These baits are awesome! Striper love em! They bridge the gap between live bait and artificial. I would love to get a supply of these for down rigging.
From:Capt. Larry Louisville, KY