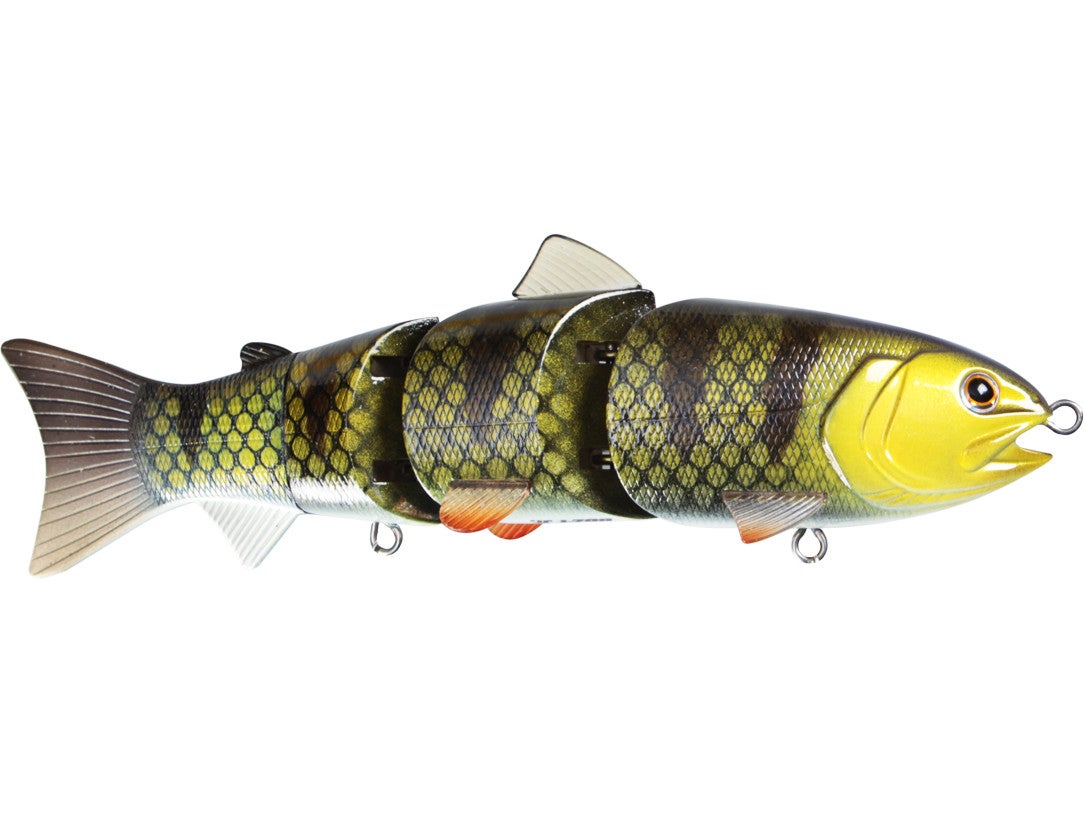 The Spro 6-inch BBZ-1 Swimbait provides anglers with a more compact version of the original 8" BBZ-1. Designed by world- renowned swimbait expert Bill Siemantel, the 6" BBZ-1 Swimbait is built on the same principles as the original and still attracts big bites from big bass. Bill Sienmental worked tirelessly to ensure the detailing of the 6" BBZ-1 accurately imitated key baitfish across the country - down to the perfectly colored soft tail and fin sections. The counter balanced pin segments in the joints impart the bait's realistic, natural swimming motion and ultra sharp Gamakatsu treble hooks ensure a solid catch ratio. Available in both floating and sinking versions, the Spro 6" BBZ-1 Swimbait ensures accurate presentations and allows anglers to attack the entire water column.
| | | |
| --- | --- | --- |
| Spro BBZ 6 Inch | Weight | Sink Rate |
| Floater | 2 OZ | Floating |
| Slow Sink | 2.25 OZ | 1 Foot per 3 seconds |
| Fast Sink | 2.5 OZ | 1 Foot per Second |

Click the logo to view their review.

6 Colors
More From Spro Swimbaits
Customer Reviews
Comments: The concern I had with this bait were the soft fins & whether or not I would have to replace them constantly but I've had the bait for close to 2 years & still haven't had to replace them just wanted to let people know in case they had the same concern. It is a great bait.
From: Brandon: PA 9/15/16

Comments: I'm about to order a couple of these swim sits & was wondering what size n brand treble hooks do you guys recommend replacing the originals with? Thank you and looking forward to using them
From: D: Los Banos, CA 5/9/16

Comments: Don't hesitate to use this bait if you're going to use it for bass fishing. It catches quality fish and covers a lot of water due to its size. Unbelievable action as well.
From: Jaden Fort Worth, TX 7/1/15

Comments: Just got mine in the mail today and decided to test it out real quick and ended up catching an 8 pounder! Amazing action and looks realistic too.
From: Friedy: FL 6/19/15
Comments: I have had a ton of fish follow this bait, but only about 9 have committed. The ones that have though were 4lbs or more. this is a great beginner swimbait!
From: Christian: Lake City, FL 6/13/15

Comments: This are great. I caught my first swimbait fish on the spro. Which was a while ago. I have seen fish follow this bait all the way to the shore many times. I love this bait but I don't throw it as much. I would throw it a lot more if it was 8 inches. I am planning on getting the 8 inch. My friend has the 8 inch BBZ and catches hogs. I prefer you get this bait before moving on to the 8 inch.
From: Brad: Danville, CA 6/20/14

Comments: LOVE these , ( bad thing is you will get ADDICTED after the hits and seeing what fallows ya in ) These have to be the best thing ever invented for fishing .fish love them they will kill it , tap it fallow it and Slam it pulling the rod out of your hands . I lost more fish then I have boated but its a ball seeing and catching what I have . changing the hooks out to bigger and adding a stinger to try to help hook up , but no matter its worth every penny . most fun I have had fishing in my life . Wicked perch is fun fun here in KY . I have all 4 from TW love em all .
From: Kevin: Johnson, CO 5/29/14

Comments: I have the SS Wicked Perch . I have picked up more 4 1/2 to 5 lb. Bass this spring . I threw it for the first time in a shallow cove for fun . I got a hit , first 4.5 . Put a half dozen more in the boat in the weeks that followed . Lost the lure when my line snapped at the hook on a cast . Now 50lb braid only . I went out the next day and bought the last one. I also ordered the Sexy Lavender Shad in the fast sink. Great lures for sure
From: Steve: Casco, ME 5/29/14

Comments: I finally picked up my bbz and started throwing it. IT was a financial decision. I had lost too many hudds and ragos to a rock bottom that I figured if I was going to lose a bait, it might as well be a 20 dollar bait. Well, landed the biggest fish of my life. fat 7 lber. 2 days later I did it again. One time on a perch the other a hering pattern. The 6 in bbz is my confidence lure. Switch out the hooks, or atleast the back hook, that seems to be where i get bit. I used owner stx salwaters and havent had a problem yet.
From: Fantasia: USA 4/24/14
Comments: After buying this swimbait for a couple months. I finally got to try it, first few cast a big momma came and striked it but a missed hook set. My adrenaline rushed and it got me more hyped up to use it. After casting it more another big momma came and hooked on it and but sadley it got off due to bad hook set then afterwards casting it a bit to hard, the line snapped. Definitely getting more!
From: Alex: Colcord, OK 4/21/14
Comments: I have the SS Wicked Perch, i've already had a few lookers and takers with it, couldn't be more happy with it's performance! definitely worth the buy i'd say! i will be getting more in the future, only downside is it hurts the bank, but that goes for any quality swimbait pretty much haha
From: Stephen: Manchester, CT 3/31/14
Comments: Prefer it over the 8 in. wicked perch and herring are killer in new england water. change out the hooks, or atleast the front one. I replaced mine with owner stx saltwaters and i havent missed since.
From: Fantasia: USA 3/26/14
Comments: Up in Minnesota on a rainbow and brown trout stocked lake this bait smashes the pike and bass. Let it sink off drop offs and fish it slow with a few twitches here and there. Caught a nice 36 inch pike on it and two 5lb bass in about 50 minutes. Excellent lure by Spro.
From: MO: MN 3/15/14
Comments: this bait in wicked perch hammers largemouth,smallmouth,pike and pickerel truly the best swim action ive seen on any swimbait. its simple if you want a beast of a fish toss this bait
From: Matt: Northwest CT
Comments: Great Bait use the 6" in Canada for northern pike it really catches them. Brings us lots of large fish.
From: Lester: Sturgeon Bay, WI
Comments: Bought the floating trout color to throw in our local reservoir for striped bass this Fall, but will also use it in the Cali Delta. Had to return the swimbait the first time because it sank on first cast. No worries...TW gave me a return label to mail it back the next day and got me a new one a day later. TW's customer service is the best hands down. Thank You!

From: Jon: Hayward CA

Comments: this lure is great i got the trout floater and iv only fushed it once but i caught 23 bass in 3hours with a 8 pound kicker i also got a bunch if 5,6,7 pounders it is awsome! (Sharpen your hooks)

From: Austin: Westlake, CA US

Comments: this bait is great. i live in mass and fished this bait for the first time. i caught 7 bass ranging from 1-4 pounds i even caught two fish on the same cast one on the front treble and one on the back. i also had a 5+ lbs fish on but it shook off the treble hooks are not that great. this was all in 2 hours cant wait to try this bait again.

Comments: Amazing bait.... horrible hooks, lost three fish over 5lbs One of them being 8+ Do yourself a huge favor an throw on some better hooks. Unless you enjoy watching trophy bass headshaking the bait right off

From: Tyler: Plymouth, MA

Comments: Found this $20 lure on the weeds and used it up at lake cuyamaca, once i found the fish i caught an 8lb ,6&1/2 and a 5 lber all within 10 mins! my adrenalin was pumping and i casted it too hard and I lost it, waiting for another so I catch more giants! the bait swims amazing too!

From: Kyle: Chula Vista, CA, USA

Comments: I love the swimming action on this lure! It's aldo easy to do a directional change (that's a great way to make a follower bite). I agree with Kyle: A Baby Bass color would be AWESOME!

From: Marco: Portugal

Comments: Huge smallmouth, big largemouth. The BBZ-1 Spro Swimbait does serious damage up here in the PacNW. An incredible swimming motion, strong hardware and simply one of the best swimbaits on the market. Slow roll it over points and wait for the crack!

From: Daniel: Spokane, WA

Comments: These things are money in the bank, without breaking the bank. It's not a Rago Tool, but it isn't some cheapo swimbait either. I have only owned the Floaters, but have landed many fish with them, mostly fishing over grassbeds. Very good weight to throw, I fish it on a Heavy rod and 7:1:1 reel, 65lb Braid since it's a floater. I mostly fish them in smaller lakes, but this summer I stuck a 4+ Spot on Lanier on it. The Lavender Shad is the best color I have fished, Bill if you are reading this, tell SPRO to make em in Baby Bass!

From: Kyle: Roswell, GA

Comments: This lure is SICK! Great bait for night shore fishing. Me and a friends have been landing some solid LMB at a local lake.

From: Adconx: Fresno, CA

Comments: great cheap bait

From: USA
Comments: I pulled a nice 5+lber out of my local lake last night around 7:30pm from shore. Was throwing the BBZ1 6" sexy shad floater. Slow rolling it with a few small twitches mixed in! Threw it a good 40yards out, rolled it by a patch of reeds and BAM! Hit less than 5yards from me! A GREAT LURE!

From: Andrew: Santa Rosa, CA

Comments: This are nice baits, i love the baits, they work great, use the right one for your body of water. I have floater and it swims great, hope the man upgrades it in future. It is classic bait!!! Good fishing to you forever!

From: Alex: Kansas

Comments: this swimbait is awsome. they swim so nice and they are strong. both blue herring and sexy lavender shad are good but every once in a while i will throw the rainbow trout color and get a trout or two for fun. these baits are one of thoughs got to get baits so get them and catch fish.

From: David: Cali

Comments: Bot the Blue Herring & Sexy Lavender Shad. These swim so so nice. SUPER STRONG TO

From: Sonny: East Wareham, MA

Comments: Great lures. I fish alot of ponds and lake. These lures are great(especially the floater) I actually hold my largest catch on this bait 12.1 lbs on the sexy lavender shad. Reccomended for every swimbait angler.

From: Rider: Alva, FL

Comments: Great lure! I asked for it before Spro came out with it. When I learned it was coming from the Staff I was stoked! It was every bit of the lure I expected it to be! First time out with it I hooked an 8lb and a 4lb largemouth! Get the fast sink model! Both the BBZ 6" and 8" are flat out AMAZING lures. Hold on to your rod!

From: Tacklejunkie: Southern California

Comments: Perfect size swim-bait for first time users. I have all the 8" BBZ1 but those can be intimidating to throw. With this i don't need heavy equipment and i'm able to throw all day long without paying for it the next day. I caught a nice 5 lbs bass the first day i used this. Fish it slow and hold on to your rod.

From: Bert: Elk Grove, CA

Comments: Just bought one of these baits in the sexy lavender shad and i love it . it has a great swimming action and i'm looking forward to using it.

From: Lucas: Glasgow, KY
Comments: Great swiming action. If you want a swimbait that you just cast out and reel in and catch fish all day, then this is the lure for you. I have gotten fish that I was sceptical about using bigger bait because here in MI bass don't get too big. But this lure catches them all, even fish that weigh around one pound have been caught, and for the price, its unbeatable

From: Jacob: Milan, MI
Comments: i like this lure a lot in the blue herring color at lake of the ozarks. i have a ton of followers but i still caught most of them but i did lose what look like an eight pounder at the boat though.
From: Ben: Missouri, USA
Comments: I love this swimbait, it's the perfect size and weight for a medium action rod. The only problem I have is the hooks, fish seem to spit them out too easily, so I switched them out with VCM hooks that are bent in a little they are also sharper than the stock hooks. I highly recemend this swimbait.

From: Christopher: Sounderton, A
Comments:BBZ Spro 6" & 8" are top producers. I fish stripers and catch many with these great realistic swimbaits. Only problem is the hooks that come with them - They will bend out on stripers and all my friends that fish them will throw them away immediately and put Owners on them. I don't understand why such a great swimbait comes with such weak hooks. Sure they are sharp, but put some pressure on a decent striper and goodbye fish. Again, it is an excellent swimbait that deserves better.
From:Sheldon: Hemet, CA