Spro BBZ-1 Swimbait 8" Floating - $34.99

The Spro BBZ swimbaits designed by swimbait expert Bill Siemantel were designed to cover the entire water column. The BBZ Floater allows an angler to fish this bait on or near the surface. The life like action of the BBZ comes from the counter balanced pin segments in the joints. This joint system allows the BBZ to swim with a natural motion. The Spro BBZ has soft but durable fins and tail section for a lively natural presentation. The soft tail section is colored to prefectly match the hard body of the BBZ. The BBZ color options are extremely realistic and natural.
All Spro BBZ Swimbaits come equipped with Gamakatsu 1/0 2X Strong Treble hooks and Spro Power Split Rings.
| | | | |
| --- | --- | --- | --- |
| Spro | Length | Weight | Class |
| BBZ-1 Floating | 8in | 4.4oz | Floating |
Comments: Best swimbait in the business.. PERIOD... fish it slow..and directional change, and you'll be catching monsters.
From: Fred: Los Angeles, CA
Comments: Umm umm ummm. This lure doesnt work. Dont waste your time. Never mind that I have 2 back up BBZ-` floater trout in my boat at all times.

From: Seiko Tuna Can: Hemet, CA

Comments: A MUST HAVE!! ive caught bass, muskies, pike, and some stripers. amazing lure, and its amazing action

From: Peter: New Hampshire, USA
Comments: what's up striper guys this bait catches the monsters I fish castaic and they love it I seen bill him self catch a 34 pounder off the dam from shore but a lot of teenners and 20s have come off this bait my best on it is a 13 so far thanks billy for the sick baits and proven

From: Mieger: Castaic, CA
Comments: This past summer I had caught more bass with these baits than with normal size lures. They work real well once you learn how to use them.

From: Christopher: Souderton, PA
***Note: If you have questions about this product or need assistance with an order please email your questions to info@tacklewarehouse.com
View Large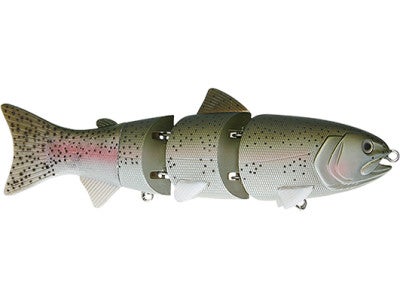 4 Available Colors
More Spro Swimbaits