Spro BBZ-1 Swimbait 8" Floating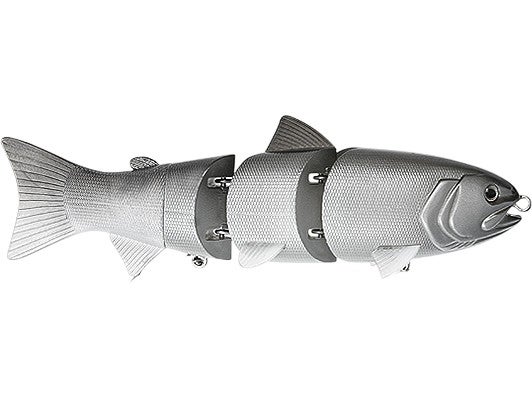 The Spro BBZ swimbaits designed by swimbait expert Bill Siemantel were designed to cover the entire water column. The BBZ Floater allows an angler to fish this bait on or near the surface. The life like action of the BBZ comes from the counter balanced pin segments in the joints. This joint system allows the BBZ to swim with a natural motion. The Spro BBZ has soft but durable fins and tail section for a lively natural presentation. The soft tail section is colored to prefectly match the hard body of the BBZ. The BBZ color options are extremely realistic and natural.
All Spro BBZ Swimbaits come equipped with Gamakatsu 1/0 2X Strong Treble hooks and Spro Power Split Rings.
| | | | |
| --- | --- | --- | --- |
| Spro | Length | Weight | Class |
| BBZ-1 Floating | 8in | 4.4oz | Floating |
4 Colors
More From Spro Swimbaits
Customer Reviews
Comments: Over the years I must say overall it is an amazing bait, caught tons of bass over 5lbs & a few right around 8lbs on it, only issue I have had with the spro lineup of swimbaits is the side fins tend to break off after a little use of the bait, but overall a kick ass bait!
From: Simon: West Brookfield, MA 7/7/16

Comments: I've been using the BBZ for a little while now and I'm not overly impressed. Ive caught fish from 1/2lb up to about 5lbs. This bait has a lot of drawing power and gets the attention of many sizes of fish. This is also a great night time swimbait. My only issues with this bait is in the hinges and the buoyancy. After landing several fish on the BBZ, I noticed that the cotter pin style hinges were bending in all directions. I was able to straighten them out and it continues to swim like it did out of the box. I just wish the joints were a little more rigid. Also, my BBZ is almost like a heavy floater. It's like it sits just below the surface. I can still get a decent v-wake but as a floater, I would expect it to sit just a touch higher in the water. For the money, its a great budget or beginner swimbait. I would highly recommend switching out the factory Gammys and split rings with Owner ST-56s or ST-66s and Owner Hyper Wire Split Rings. Overall, I think this is a good swimbait but it just needs a touch of fine tuning.
From: Matt: Lawrenceburg, KY 12/8/14

Comments: Best swimbait in the business.. PERIOD... fish it slow..and directional change, and you'll be catching monsters.
From: Fred: Los Angeles, CA
Comments: Umm umm ummm. This lure doesnt work. Dont waste your time. Never mind that I have 2 back up BBZ-` floater trout in my boat at all times.

From: Seiko Tuna Can: Hemet, CA

Comments: A MUST HAVE!! ive caught bass, muskies, pike, and some stripers. amazing lure, and its amazing action

From: Peter: New Hampshire, USA
Comments: what's up striper guys this bait catches the monsters I fish castaic and they love it I seen bill him self catch a 34 pounder off the dam from shore but a lot of teenners and 20s have come off this bait my best on it is a 13 so far thanks billy for the sick baits and proven

From: Mieger: Castaic, CA
Comments: This past summer I had caught more bass with these baits than with normal size lures. They work real well once you learn how to use them.

From: Christopher: Souderton, PA