Spro Dean Rojas Bronzeye Frog Jr. 60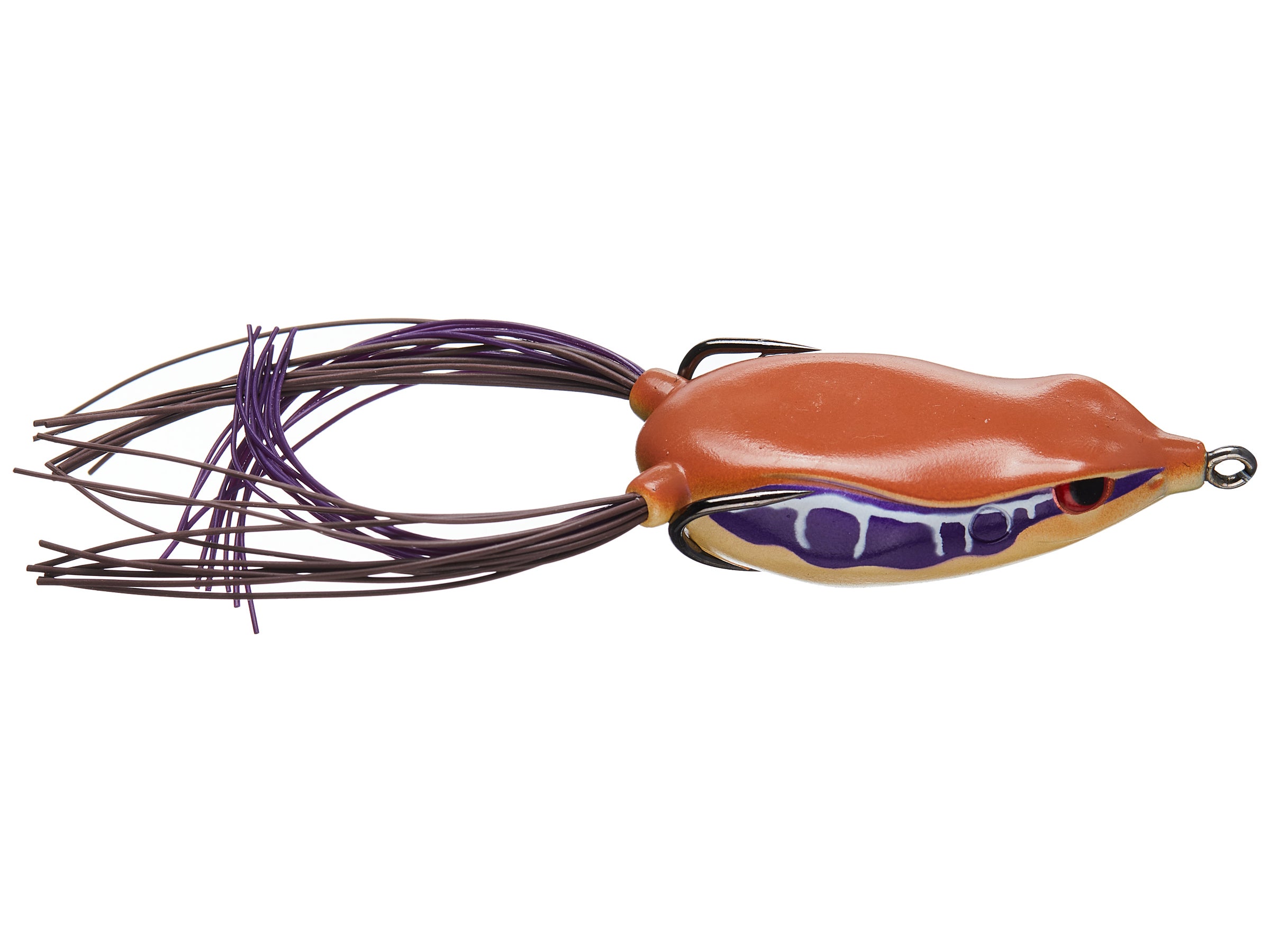 The Dean Rojas Bronzeye (Bronze Eye) Frog, manufactured by Spro, is probably the most heralded frog ever introduced to the US market. Ever since Rojas won $40,000 fishing a frog bait at the Bassmaster Classic on Lake Wylie in 2004, the frog market has gone crazy and we have seen more frogs come on the market in a short time span than ever before. With all the great hollow- bodied frog baits already on the market, Dean Rojas knew he had to really put something extra into the design of the Bronzeye Frog to make it stand out. The first unique feature you'll notice about the Rojas Bronzeye Frog is that it has been designed to utilize the full potential of Gamakatsu's EWG Double Frog Hook. The wire used in this hook is 2x strong, ensuring it can stand up to strong rods and braided line. When you press down on the Bronzeye body you won't believe the amount of hook that is exposed, thanks to the EWG Hook, and how soft the plastic is.
The body of the frog is narrower and longer than other frogs on the market, with the exception of the Swamp Donkey, which will make the Bronzeye walk-the-dog easily in open water. The 'nose' of the bait is anchored to the wire just behind the line tie eye, which has been welded closed so your super braid line cannot slip out. the weight is molded into the body and cannot fall off or move. The body resists filling with water, making the Bronzeye land correctly almost every time. Another nice touch, showing that the bait was designed by someone who actually fishes frogs, is that the living rubber legs are secured inside the body of the Bronzeye so they will never pull out. They are also cut extra long so you can trim them to the length you like. The Bronzeye is a great all-purpose frog, good for thick mats, sparse
| | | |
| --- | --- | --- |
| Spro | Length | Weight |
| Dean Rojas Bronzeye Frog Jr. | 2.4" | 1/2oz |
17 Colors
More From Spro Frogs
Customer Reviews
Comments: it sinks; half a days use and it sinks - got tired of squeezing it out after 2 or three casts... forcing me to change rigs on a rod which I hate doing once I am in a spot;
From: Matt: Folsom, CA 7/31/15

Comments: I put a little bit of bathroom silicone around the hook hole and it helps keep the water out. This does not affect the hookup ratio.
From: Unknown: USA 5/1/14
Comments: I really got into frog fishing this summer and this frog was the reason for it! I have always had problems with the hook-up ratio when using a frog but did really well with this one. I'd say near 90%, and I will admit that most of the fish I lost were either small or user-error, not the frogs fault. But when it comes to the features of this frog I know why its considered the best, it is! Dean Rojas says to fish the frog right out of the package, but for me it needs one small modification: cut about 3/4 inch off each of the legs. This does 2 things: 1) it increases the hook-up ratio because the fish aim more for the body of the frog, and thats where the hooks are 2) it makes this frog walk super easy. If you're new to frog fishing and don't know how to walk a frog, its simple, it just takes some practice. When I first started using it, I couldn't make it walk a bit. But after using it an entire summer I make it walk super easy. Now, when I start using other frogs, such as the Booyah Pad Crasher, it doesn't walk. But the Bronzeye always walks. I have caught both quantity and quality using this frog. I have fished a lot of lilly pads, milfoil mats, duckweeds, and any other type of slop and this frog crushed them. To me, the faster the retrieve the better, although there are days when the fish wont hit it unless it stops or you use a slower retrieve. Use a long, stiff rod and braid (A MUST) and can throw this frog a county-mile. Its amazing the long casts you can make with it. Bottom line this frog is amazing. I have many colors but Rainforest Black and Natural Red always seem to work great. I consider it more of a reaction strike then a feeding strike, so I keep my color preference simple and just go fishing!

From: Tom: Ham Lake, MN

Comments: only white frog I have so when I was frogging and my black frogs wernt producing, tied this little guy on and caught a 5.4lber that won me big bass at a local tournament. it still sinks, but its a good little frog to fish pressured lakes with.

From: Griffin: IN

Comments: Out of the package, cast twitch twitch twitch, sinks like a rock. Very very disappointed. Maybe I just purchased a turd. Not a very good first impression. I'll stick with my bully wa's, pad crashers, and strike kings.

From: Tim: TX

Comments: Good action but started to sink after 2 3lbs fish

Comments: frog is horrible. Fills up with water. Sucks

From: Jake: IN

Comments: I love the spro frog its my favorite frog in mid night walker color or albino white I totaly recomend the spro frog a big thumbs up

Comments: this frog is the bomb I had 8 big hits on it but I couldn't bring the fish in. I guess I have to wait a few seconds to set the hook.

From: Brennan: Houma, LA

Comments: By far the best frog i have used! the hook up ratio is far better than any other frog!

From: Adam: NC

Comments: Had "a little bit of luck" with this frog until last night. We smoked 'em last night on the Bronzeye around bedding fish. They were chasing it down and killing it! I can't wait for a bite like that again! Good times!!! ... It's all pros with this frog! It holds up well, casts really well and hook up success is great, as long and you let them eat it well. Buy a few and get bit!
Comments: Great frog, I've had good success on the albino and midnight walker. Personally I trim about 1" off of the legs and also bend the hooks up slightly, this has helped my hook-up ratio considerably. It's hard to do, but make sure you wait that split second or until you feel the fish, before you set the hook, this also will help your hook-up ratio. There 's nothing more fun than catching a hog on a frog, and the Bronzeye Jr. is my frog of choice.

From: Dan: Shullsburg, WI

Comments: This frog is great for catching big Colorado leopard frogs. I would definatly recomend the Rainforest Yellow color for this task.... Overall, great frog.

From: John: Golden, CO

Comments: I borrowed my friends frog and it swims very well and it is a very good frog

From: Matt
Comments: this is the BEST frog out there... its durable i have the netural green and tree frog and they r AWESOME!!! the worst thing about it they gmkatsu EWG hooks poke into it and where the hooks come out ont the bottom water gets in it other thann that awesome frog!

From: Jacob: Monroe, LA

Comments: No other frog puts out as much action as this one. Once you through it out your bound to catch a fish

From: Benjamin: Lutcher, LA

Comments: Great bait! Caught MANY 4+ pound fish on this bait. only thing, bend the hooks out a little bit so you could get a better hook set and also cut about an inch off the legs for better performance.

From: Dylan: New Orleans, LA

Comments: Gets bit every time out everywhere I go! Can't hook anything with it though! LOL

From: Tacklejunkie: Southern California

Comments: Great frog that will get you bit but the 65 is an overall better frog the Jr after a fish or 2 wont float. Hook up is higher on this frog than the 65 but that is when it is actuly on the surface hope this helps.

From: Tyler: Columbus, GA

Comments: love this frog, in my opinion its the best frog on the market, I have been using these frog for about 3 years now and the hook up ratio is great, in three years I've only missed 1 bass and after a few cast I caught it. It was a 3 pounder and it was my fault the line was hung up on a stick and I couldn't hook the bass. A good tip is try to bend the hooks up so its not so close to the body and the hook up ratio will increase if it is low. My cousin had problems hooking fish and I bent the hooks up for him and he hasn't missed a fish yet. I also put a hole in the back with a drill and the water will never sink your frog and if some water gets in, when you cast the water will leave.

From: Andrew: Germantown, MD
Comments: this is a great frog but one problem i have is hook up percentage bc it so hard. one trick i learned though is leave them out in the sun for a little bit on a reflective surface like the hood of a car. the soften right up

From: Joseph: Bryan, TX
Comments: best frog i have ever used period. hook up percentages are great.

From: U.S.
Comments: The second frog that I go to when fishing "slop". Easy to pop and walk; and I usually have no issues with hook-ups. Great product.

From: Daniel: Spokane, WA
Comments: Best frog on the market.

From: U.S.
Comments: This frog kicks ass, best frog on the market.

From: Nate: Pennsylvania, USA
Comments: Love this frog and catch a lot of fish on it but you will not always hook up because the body is too hard. I love this frog but i would go with the trophy series scum frog.

From: Sebby: Middletown, CT
Comments: The bronzeye junior is one of my go to frogs when fishing the slop. If you miss a hit on a frog, odds are you are doing it wrong. You have got to wait until you feel the fish, your eyes deceive you. Wait till you feel the weight of the fish, then cross her eyes. Set the hook hard! And use braided line, of course. My best color has been rainforest black, but Spro has a lot of really good colors.

From: Big J: Houston, TX