Spro Dean Rojas Bronzeye Shad 65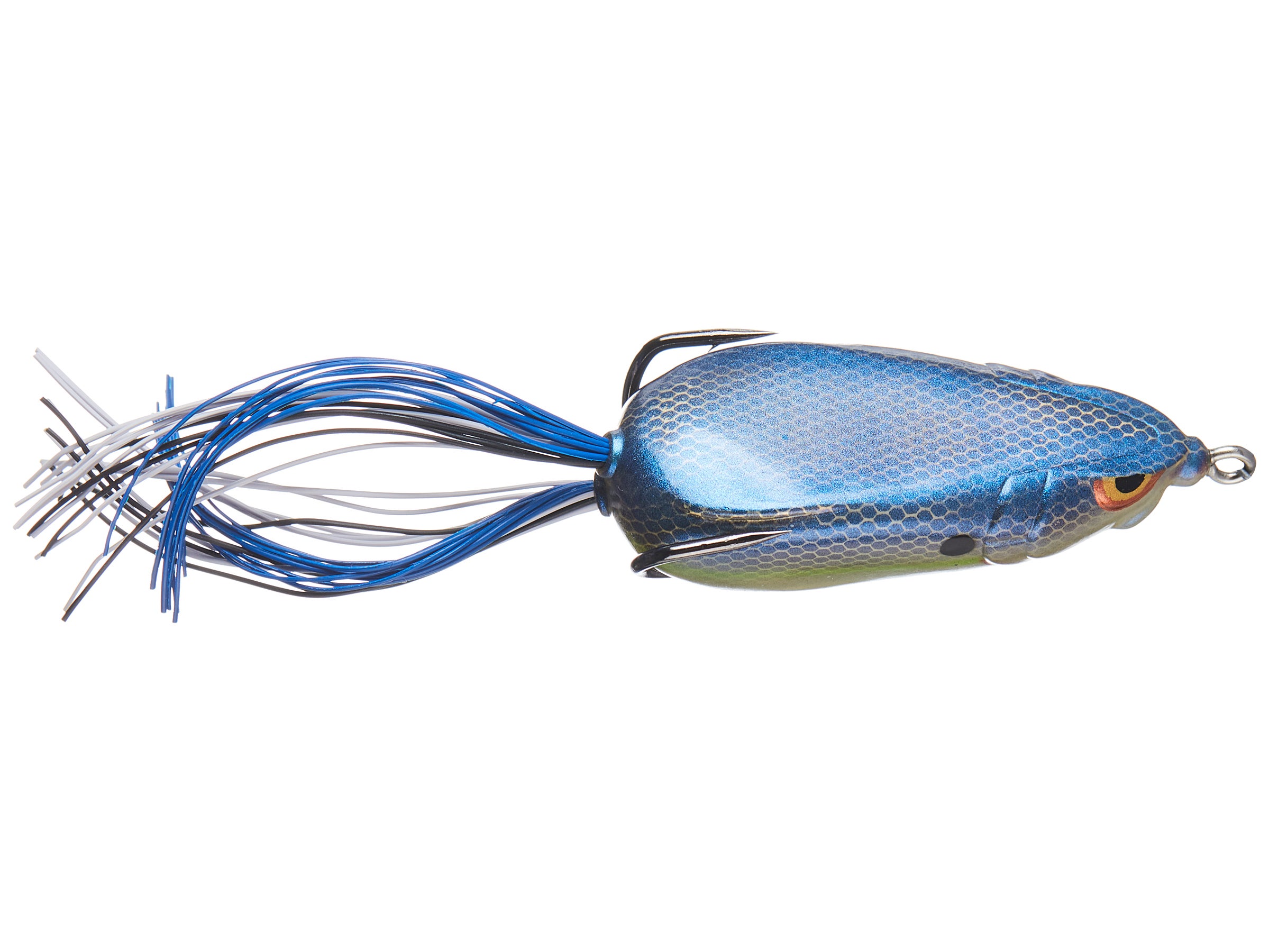 Designed by Bassmasters Elite Series professional, Dean Rojas, the Spro Bronzeye Shad 65 took over 15 months and four different prototypes to get absolutely perfect –and when we say perfect, we mean PERFECT. Throw it in open water, around trees, rip-rap, and rocks, the Spro Bronzeye Shad 65 effortlessly walks over the water completing turns in excess of 180-degrees. The walking action is built right into the bait and it is designed to move with minimal effort from the angler. For even more action and stability, the Spro Bronzeye Shad 65 is equipped with two vertically set, tri-colored tails on the backside. Like the Spro Bronzeye Frog, the Spro Bronzeye Shad 65 is also delivers incredible collapsiblity to expose its sticky-sharp 4/0 Gamakatsu frog hook. Offered in a number of baitfish colors, the Spro Bronzeye Shad 65 is just what you need to "walk" away with a victory at your next tournament.
| | | | |
| --- | --- | --- | --- |
| Spro | Length | Weight | Hook |
| Bronzeye Shad 65 | 2-1/2" | 1/2oz | Double 4/0 Gamakatsu |
9 Colors
More From Spro Frogs
Customer Reviews
Comments: Worst frog I own. Takes on water within the first 10ft after a cast & won't stay above the water. The walking action is great though if it would stay afloat. There are many other frogs better then this one!
From: Brandon: WI 8/8/16

Comments: I have three of these frogs, they all sink like stone before the end of the first retrieve.
From: Ben: France 4/8/16

Comments: I am a hardcore fan of the Regular Bronzeye but for some reason, I just never caught fire with the Shad. I don't really believe it does anything the regular Bronzeye doesn't. I can actually make a regular frog walk 3x better. That said, I wasn't able to use the one Bronzeye shad for very long before a pike took it, so I don't have a late sample size. Although I don't remember experiencing problems with the water logging. I just didn't find this bait any more special then the others. Maybe I'm crazy? I don't know, just my two cents!
From: Tom: MN 2/12/16

Comments: These things are sweet, they walk tighter so that your bait stays closer to the cover longer, which we all know can be critical for those extra bites, especially when fishing isolated crap. Also the body sits lower in the water which is a bonus when it comes to hooksets.
From: Harrythefourth: 3/19/15

Comments: Very good frog, walks easy. The skirt design on this frog gives it a different look then the standard frogs. Soft body, does take on water but not bad. If you're a frog fisherman you should have one of these in your arsenal.
From: Will: Long Beach, CA 11/6/14

Comments: so it takes on a little water, every frog does and I'll take squeezing this bad boy out every three or four caste in order for me to catch another five pounder on it so if your thumbs are to weak to push on a frog to empty the water good I'll keep slaying bass on it cause my fingers and thumbs aren't that weak lol great action unmatched
From: Bubba: AL 9/16/14

Comments: I can't believe there is a negative review on these. These have the best action of any frog I've used period and I've yet to miss a fish on it because it's all the way down there throat hell it takes longer to get the hooks out of the fish than it does to squeeze the water out every three or four cast so keep using the other frogs and I'll just go behind you with this and catch the ones that just laughed at your frog lol
From: Bubba: AL 9/11/14

Comments: I am very impressed with the action of this lure, as well as its softness and solid hook-setting capabilities. On my first outing with the Bronzeye Shad (Nasty Shad color), I was walking it on top of some slop and a 5 pounder came up and choked it! I can't wait to see what other bass will fall victim to this lure; I highly recommend it to any angler, you won't regret it!
From: Cantley: VA 8/14/14

Comments: I just bought my first spro frog. After many years of throwing booyah pad smashers. I love the colors on these things, but I think mine was defective. First cast it sank like a stone, after many attempts to keep it a float I finally just switched back to my booyah.
From: Bosco: Angola, IN 5/30/14

Comments: I have to say out of all the frogs I've used these has to be the best ones on the market I bought a few and went out to go fishing 5/6/14 to try them out and see how well they walked and I caught 3 monster snakeheads and had no problem with setting hook on them at all so far I've one used one frog out off these colors and it was the red ear one so after I caught those fish I had to get the rest so I have all the colors now I have to say these have to be the softest body frogs on the market.

From: Richie: VA 5/8/14

Comments: First off this is one of the softest frogs on the market. No need to bend the hooks out. Second these walk beautifully if twitched on slack line. you can make it easier on yourself by trimming the legs to the desired liking. Another trick is to add a split ring to the nose for novice fisherman. This is the frog that all others are measured.
From: Phillip: AL 5/4/14
Comments: Ok, fellow topwater froggers, here is the secret to keeping most of the water out of your soft hollow body frogs: it is called Gardener Bender Ductseal Compound and it comes in small plugs at Home Depot (Model DS-110). Break off a small piece and mold it into the opening where the hook penetrates the frog body. It is waterproof and non-hardening. It will not keep all the water out but you won't have to drain the frog very often. If it comes off, it is quickly replaced if you keep some in your tackle box. The stuff costs about $3.00 with tax so it is a cheap solution to water-logged frogs.
From: Tom: San Diego, CA 4/20/14
Comments: I bought 3 Shad's and 2 of them work properly, 1 fills full of water before I can get it back to shore. Seems a little harder than the Frog, I HAD to bend the hooks up to get a proper hookset after I missed the first couple fish that hit it. Overall, I like the walking action, but I can make the Bronzeye Frog do the same thing with better results.
From: Jeb: IL 4/17/14
Comments: The reviews are correct. It takes on way too much water, after almost every cast you have to squeeze and drain it. Hole in underbelly is too big, good design, poor execution.
From: Mike: DE 3/18/14
Comments: I got one a little while back and finally tried it out a few days ago. It walks great! Glides easily and smooth. I had three good blow ups on it in less than 20 minutes. That surprised me, it's mid February, not really thinking a top water bait would work, I was seriously just testing it out too. Will be very productive as the year goes on. As far as it taking on water... Duh, there's a hole in it! It will, like any other "frog" take in some water. Just squeeze it out, throw it back, catch fish, repeat.
From: MRH: SB, CA 2/26/14
Comments: Well Im very disappointed to report that most all the reviews below are correct. Really awesome walking action, but only for about 2 jerks, then it becomes a sub-surface bait. Hopefully Spro will correct this problem before frog season gets here
From: J: GA 2/26/14
Comments: The bronzeye shad has amazing walking action and a variety of awesome finishes. I was super excited to finally be able to fish this but very let down on how much water it takes on like others are saying. I used fx2 60 Ib braid. For as long as they say it took to design perfectly you'd think they'd fix the sinking problem.
From: J-Rod: USA
Comments: ive gotten more action in the past week on the bronzeye shad than ive gotten on the other spro frogs and the iobee from in months! awesome walking action and looks great too. my favorite frog thus far. great job spro.

From: Ryan: San Diego. CA, USA

Comments: By far this is my favorite top water frog that side to side walk drives these fins nuts and they choke it. Spro makes a great product and although I don't classify this as a frog it's a beast.

From: CJ: PA

Comments: Awesome bait , it takes on a little water but its manageable. I would not classify it as frog , it is its own special shape and action. Another great tool for people who alternate presentations.

From: Mr.Frog
Comments: The Bronzeye Shad is a great addition to to frog baits by Spro. Excellent side to side action. I found that this bait will call up some of the most finicky fish that has seen so many frog type baits.

From: Frank: Owings Mills, Md.

Comments: Finally !! A bait that walks as good as a zara spook ,but totally weedless...It's a game changer for sure.

From: John: St.Cloud , FL

Comments: Very easy to walk and very soft. Tested it in a farm pond over the weekend and they chocked it. Very pleased. It also skips well

From: Tracy: Summerville, GA

Comments: I was lucky enough to get one of these before officially bring released to the public. This thing WALKS like nothing I've ever seen. It's basically a weedless spook. If you like frog fishing, this is a must own. I've got killer gill and just like it's frog brother it's awesome.

From: Jonathon: TN

Comments: Awesome frog! I will admit they need this frog in tropical white though. But all in all a great product. Awesome job yet again Spro!

Comments: I am honored to own this bait.. have been catching a lot of bass on it in the past few weeks , the hit the nail on the head!! Best FROG .

From: Jim: AL