Spro John Crews Fat John 60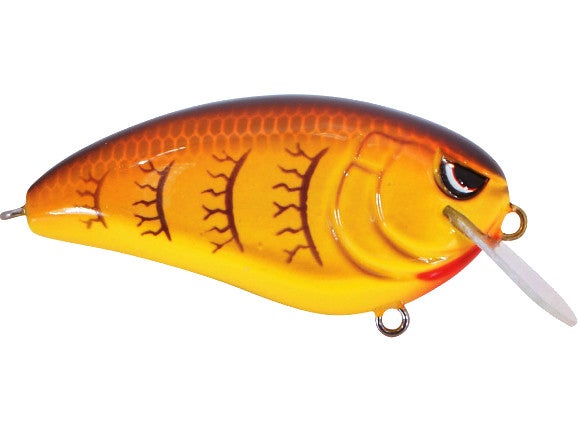 The Spro "John Crews" Fat John 60 Crankbait is more than just a bigger and wider version of the famous Little John. It actually features a slightly different body shape, as well as, a different bill and line-tie angle. This produces a wobble akin to that of a traditional fat plug, but the unique thing about the Fat John, is that it also hunts 3-4" to each side on the retrieve - tempting bass even further. Still featuring Spro's patented tungsten weight transfer system so it casts like a bullet, the Spro Fat John 60 Crankbait is available in several proven colors, and is also equipped with larger #3 Gamakatsu hooks to help seal the deal.
"... I have been working on [the Spro Fat John] for the last year to get the bait action right. The Fat John will give bass fisherman another shallow water option to throw when bass are holding in shallow water cover." - John Crews, Bassmaster Elite Series pro.
| | | | |
| --- | --- | --- | --- |
| Spro | Length | Weight | Depth |
| Fat John 60 | 2-1/3" | 5/8oz | 1-3ft |
13 Colors
More From Spro Crankbaits
Customer Reviews
Comments: Best shallow crank ever. Deflects off cover very well. Landed my biggest bass in a tournament ever yesterday 6lb 6oz so big fish will hit it to. Gamakatsu keep fish hooked. 6 out of 5 stars SPRO
From: Jonathan: Waxhaw, NC 3/17/16

Comments: These baits are awesome! I purchased the Chartreuse Nasty, Spring Craw, and Chartreuse Black Back for spawning fish. The baits have a great action and run true. The hooks are extremely sharp out the box. My only negative is that the front treble hook would sometimes get caught up on the bill. I recommend replacing the front with a #4 treble hook so that way it won't get stuck on the bill. Overall this is great bait and I will start throwing more Spro.
From: Adam: Grovetown, GA 4/7/15

Comments: I love the Fat John crank bait!! I find that this bait really great around grass edges. The wide side to side action will entice some really hard strikes. The sticky Gamakatsu hooks are added insurance!

From: Frank: Owings Mills, Md.

Comments: Great crankbait! I like the circuit board lip because it is extremely durable. But this crankbait does not feature the soft tungsten weight transfer system. I figured this out because I cracked my crankbait while fishing rip rap and thought that I would look inside it and the tungsten ball inside the bait did not move up and down the bait. It had a chamber at the front of the bait in which the ball stayed put in. Overall a great bait and a fish catching machine.

From: John: GA

Comments: a friend of mine gave me a few, and i loved them! one of the best days all year so far. runs true slow rollin or burnin', great bait!

From: Matt: NC

Comments: these baits are killer, caught tons of fish today on the firetiger color and the baits paintjob holds up really really well and the squarebill is really tuff and will not crack on you. gonna be getting all the colors for these guys there awesome. worth the ten bucks by far

From: Matt: IL

Comments: the are great baits. i caught three off of them in the first day that i had them. i caught two off of the cell mate color and one off of the nasty shad. they have great action and will put fish in your boat.

From: David: Cali

Comments: Tremendous action. This is a killer bait and a MUST HAVE!!! Will flat out load the boat for you.

From: Wiked Worms: Harrisonburg, VA

Comments: This is my new favorite shallow crankbait. It comes through cover great and has a nice hunting action on the bottom. The hooks and finish are awesome and most importantly they catch a lot of bass.

From: Derek: Dayton, VA

Comments: just won a tournament with spring crawl at lake of the ozarks my big bass was 5.73 and i caught fish all day and the lures still has all its paint . thank you spro for this great lure.

From: Ben: MO

Comments: I got a chance to try these out and they are starting to work very well in the shallow flooded brush on Lake Lanier! They are going to be awesome for fall! SPRO Fat John in Citrus Shad-Crunch!

From: Eric: Cumming, GA