Spro John Crews Little John 50 Crankbait 1/2oz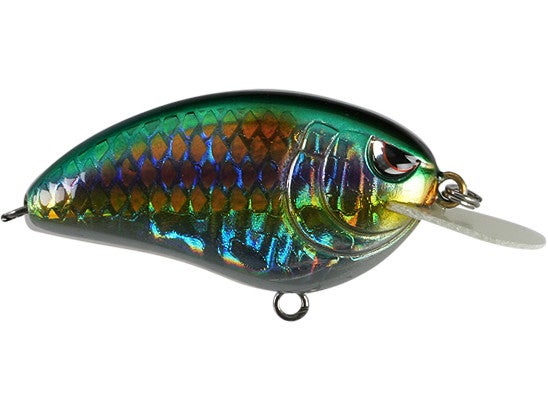 When John Crews designed the Spro Little John Crankbait he wanted a bait that would allow him cover shallow 3-5ft water quickly and effectively. Crews also wanted a durable yet sensitive bait that could be cast long distances with great accuracy. The Spro Little John Crankbait does all this and more.
The Little John comes equipped with a computer chip board lip. This style of lip is extremely durable and sensitive. The silent tungsten weight transfer system provides the distance and casting accuracy for this small profile bait. The lip design of the Little John gives it a tight wobble but enough action to aid in cover deflection. The tight wobble of the Little John allows you to cover water quickly and effectively. As with all Spro baits the Little John is equipped with sticky sharp Gamakatsu treble hooks.
Click here to see some video on Spro baits with John Crews at ICAST '08.
| | | | | |
| --- | --- | --- | --- | --- |
| Spro | Length | Weight | Class | Depth |
| Little John | 2-1/2" | 1/2oz | Floating | 3-5ft |

26 Colors
More From Spro Crankbaits
Customer Reviews
Comments: This is the most reliable crank bait I have ever fished. If the water temp is anywhere below 68 and above freezing this thing will absolutely catch fish. I used one red craw little john for 6 years before it starting takin on water. Love the things. Only issue is that the hooks get hung together but i have found that if i change the hooks i cannot get the same depth out of the bait. I'm not complaining though because this thing has caught me a lot of fish.
From: Catlin: Russellville, AL 10/31/16
Comments: Great product. Out fished both my grandad & my friend. Was throwing it off of rock points in about 2-6 ft of water & in mid to late march. Crank bait runs true also caught over 30 fish on it. After I caught those me and my buddy went to get him one. He got his and his sank a little bit while mine would still float. Also he said his did not run true but I agree with those who say every crank bait needs to be tuned. Gr8 bait! Will be buying more of these soon!
From: Brycen: Kerr Lake, VA 4/8/16

Comments: I was a very firm believer in a strike king KVD squarebill but man was I missing out. The action and wobble on this thing is unbelievable! Definitely worth the money.
From: Will: Auburn, AL 4/7/16

Comments: I really like this crankbait. In cold water situations if can fish very slow, while keeping a good depth in the channel. Great size, good terminals & effective colors.
From: Tyler: Bucks, CO 12/6/15
Comments: Great bait, caught them consistent on Lake Chick in Tn, its the best crank I have used in a long time.
From: Fatswarcat: Paradox, PA 4/29/15

Comments: All of my Spro CBs have run true right out of the box; are made of good quality components (hooks, split rings, etc.); and the paint seems to be durable. Oh, one or 2 cranks have teeth scratches, but the finish overall is still great. Oddly enough, I have not caught a fish on the Cell Mate color. All my fish have come from the Nasty Shad and Blue/Chartreuse, but especially Spooky Nasty. The bill deflects off the stuff really well; I've had to get the Little John unhung only once. It really does feather through the brush/trees quite well. And the bills on my LJ CBs are still attached and intact, even after digging them in the rocks.
From: Edwin: Nashville, TN 4/19/15

Comments: love this crank bait. Cell mate caught me my biggest bass. Only problem is the hooks. After I replaced with some owners it was a dream. Great crank bait. Gama hooks suck.
From: Derrick: Auburn, AL 10/17/14

Comments: I really like this lure. Question for you all though... Has anyone had issues with the bill being cock-eyed, leaning off to the left or right (not square with the vertical line of the bait? Honestly in the past I've never looked at that, but I purchased several recently & glanced at the front. It was way off on that one, then the next one. Other 2 were ok. Spro sent me 2 new ones & one of those was off kilter. I'm embarrassed to call them again. Bought more locally to see, & danged if it hasn't taken me about 6 of each color (2) to come up with 2 each that have a reasonably straight bill (& still haven't quite got there on one of them). I don't think I'm being overly picky on this one, but I'm all ears to your perspective on it... Thanks!
From: Midwest Basser: KS 3/17/14
Comments: I'm very disappointed in this crankbait. I'm a big fan of spro and really wanted to like it but after ordering two and having problems with both, I'm just not a fan. One of them always got the trebles hung up on each other while casting. The other one swims extremely far to the left. Gonna try out the fat john 60 and see if it's any better
From: Tristen: Fort Worth, TX
Comments: I love this bait. I use it year long, but I like it during the fall because of the flat sides. It is amazing deflecting off of cover about 2-3 feet below the surface. It has an internal weight transfer system, and it is half an ounce so it casts a mile. I also love the size, it is not small and light so it cats, but not too terribly big and bulky. I have caught countless fish on this lure in Sunny Bream, including two fish at once. One concern is that I hit it on a dock post on a cast, and now it will not swim straight, and it is not a cheap bait.

From: Ethan: Charlottesville, VA

Comments: Hands down the best fall crank bait made!!

From: Doug: KCMO USA

Comments: People, it's a crank bait. Inherently they NEED to be tuned. Very few I have ever bought run dead true outta the box. It takes 30 seconds to tune a crank bait. If tuning a bait is that big of a hassle, then don't fish em. That's kinda like saying that line is no good because it frays around wood and you have to re-tie on occasion. C'mon guys, enjoy fishing for what it is. You could always be working.

From: Kevin: Mt. Juliet, TN

Comments: ... Cell Mate's the best...:)

From: Elijah: CT

Comments: fixing to run true. Also the weight is more like a tiny bit over 3/8 oz and far away from 1/2 oz. So be warned.

From: DreamFly: San Francisco, CA

Comments: Very durable crankbait. The paint on this thing is amazing, never has chipped on me yet. But the main thing you want in a SB crank is a good, durable bill, this bad boy's definetly got it! Best finesse crankbait out there.

From: Elijah: CT

Comments: Just bought three of these lures from TWH. Only one swam straight from the box. The other two were not even close. One of them i had to bend the eyelet further than any I have ever had to in the past. It seems to me that these lures are not of the same quality that they used to be.

From: Tom: Copperas Cove TX

Comments: This lure really puts it to the fish. I had the opportunity of using mine for the first time and boy I wasn't disappointed. I caught over 25 fish in one day on this lure alone! It took a serious beating. I ended up with a record total (for myself) at 42 largemouth on the day and this little contributed to over half of my catch. I used the Cell Mate color and hammered 'em. Tie one on and get ready for a ride!

From: Jake: Chickamauga, Ga

Comments: bought this lure yesterday and I caught my first bass of the year with this guy. A nice 5 almost 6 pound large mouth. Gonna grab a few more of these. Love how it swim and the action.

From: Sai: Fresno, CA

Comments: This bait is like no other! Game changer! It has a slow rise on the pause!

From: PT: Northern Illinois

Comments: Grab one of these and bang it off some rocks and the smallies can't resist it

From: Jon: Alton, NH

Comments: Great bait, casts like a rock. "Silent" but actually has a very faint thump to it from the soft weight. Good all year long. Great follow up bait when the fish turn off bigger square bills. I've had better luck fish this on 10-12lb, the Fat John is better designed for 14-16lb. Durable paint too...my favorite had dozens of fish on it and almost no paint loss before it hung in a giant brush pile.

From: Chris
Comments: the last 8 or 10 baits ive bought will not run true! my older ones run perfect im not sure what wrong but i hope they get it fixed soon because its a kick butt little bait year around

From: John: OK

Comments: 2 Brand New Baits, both needed tuned so bad right out of pack. Yet to throw the other 6 I bought because the first 2 were running so bad. I got them to run right and lost my desire to even have it tied on after that battle. Maybe I am the only one but I was pretty bummed

From: Pittman: OH

Comments: These are definitely quality crankbaits, nice weight transfer system makes for exceptional castability. But, several of these pictures don't look exactly like they do in person, maybe it's just my computer but I doubt it. For example the Cell Mate, on TW picture looks like a dirty white and a flat purple/black on top but it's actually a really sexy white with nice glitter on it and the top is an awesome dark blue also with great glitter accents, very awesome color. And the Spring Craw, is not NEARLY as dark as it looks on the picture, the dark part on the spine of the bait actually stop at right above the eyes. These two colors are great and they will definitely put keepers in the boat.

From: Mike: GA

Comments: This crank is phenominal! Took my buddies out fishing and this was putting my buddies to shame they couldn't even get bites when I was outfishing them. Threw it out caught a largemouth, threw it back out and hooked a 14 lb catfish haha sharp little hooks too. Definetly glad I spent the extra bucks and I recommend if you want to outfish your buddies like I did get one of these in the Cell Mate pattern.

From: Zach: IN

Comments: This is a great designed bait, don't get me wrong. I love it, however there are some flaws. The bait comes slandered with the wrong size hook. If you do get this bait i recommend you replace the hooks, with one size smaller hooks. The baits bill seems to be clear, but is actually white. I don't know the reason for this but its strange, it still does however disappear in the water. Over all i do Not think this bait is worth the price.

From: Dylan: Flower Mound, TX

Comments: A great bait that runs true and will catch fish. Only down fall is the bill will come loose after being beaten off rocks for a period of time.

From: Casey: Dover, OH

Comments: one of the best cranks i have ever used great hooks super sharp gonna have to buy more cell mate is a grat color

From: Mike: Akron, Ohio

Comments: I got tired of getting out fished when guys would use these. I finally bought a few. They go through really thick cover. My new favorite!

From: Hunter: Brentwood, TN

Comments: just got one this weekend and took it out earlier today, hauled in 1 but i went for 9.5 with stock hooks! cant beat it!

From: Matt: SC

Comments: Absolutely snagproof!! I hauled this bait through every brushpile I could get to and not one snag. Quite amazing considering how evil-sharp the stock hooks are. This bait hunts like crazy, sometimes swinging up to a foot from side to side. The fish love it and I'm sold.

From: Grant: South Africa

Comments: just recieved mine in the chrome olive color and the bait looks killer. very nice finish on the bait and going out tomorrow to try it out. hope soon the price will go down alittle or they will have a sale over the winter.

From: Matt: IL

Comments: Use mine the first time this week, and they are great. Bounced off everything without getting hung up, and cast a mile. Great shallow crankbait.

From: Allen: East TX

Comments: If you want to catch 5lb plus fish, you have to have this in your box. It looks jst like a little baitfish wth a very true action. Fish it in shallow grass and you will have success I PROMISE!!!!!

From: Deoran: KZN
Comments: This lure is one of my go to lures. The lip is very sensitive but can be knocked loose by big fish. They usually run true out of the box, easy to tune.

From: Jake: Fort Worth, TX
Comments: I never leave the docks without it!! this bait will add more to the box, i promise

From: Frank: Baltimore, MD
Comments: Hands down my favorite crank. Flat out catches fish.

From: AJ: Grafton, WV
Comments: Great lure but its overpriced. Lip is as durable as its described.

From: Bill: Mckeesport, PA
Comments:Cant go wrong with this bait, one of my all time favorites!
From:Taylor: Sacramento,Ca