Spro John Crews Little John MD Crankbait 1/2oz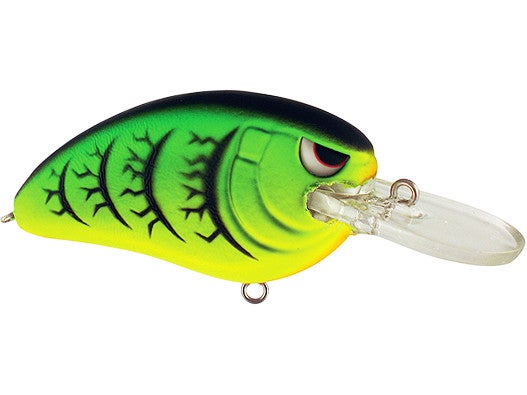 The John Crews Little John MD Crankbait is designed to run deeper than the original Little John at approximately 7-9ft. The body is the same as the original Little John, but the dive bill is plastic, longer and at a different, downward angle. The longer lip helps the bait dive quickly, as well as, reduce hang-ups by helping flip the bait up and over branches. The Little John MD also features a tungsten weight transfer system that provides excellent casting and helps the lure swim true through open water without rolling over or tracking to the side. Equipped with sticky sharp Gamakatsu hooks and available in a variety of proven colors, the Little John MD now gives anglers another quality crankbait to add to their arsenal.
Click here to see John Crews with his Little John MD at ICAST '08
| | | | |
| --- | --- | --- | --- |
| Spro | Length | Weight | Depth |
| Little John MD | 2.10" | 1/2oz | 7-9ft. |
20 Colors
More From Spro Crankbaits
Customer Reviews
Comments: My favorite lure to fish for big fish. In the river I've thrown the craw patterns- Springs Craw & Green Pumpkin & have caught smallies & northern on them. The action was so irresistible a 15lb carp even fell victim to the Spring Craw being bounced off the rocky bottom & no, not snagged. I've had luck on the Root beer chartreuse for largemouth. Anyway, I love the MD to get down a bit further & to use when scraping and bouncing off of rocks; when stopped I love the slow rise on them. keeps them in the strike zone just a bit longer.
From: Joey: Lake Villa, IL 5/2/16

Comments: Amazing is the word to describe this crankbait. Dives great and I use it to cover 3-9 feet water. Citrus Shad is my favorite which got me a 6 lb large mouth. The hooks are sharp and strong, no need for
From: P. Vang: Ororville, CA 2/29/16

Comments: Incredible crank bait. I'll use this lure to cover 3ft to 9 ft of water. I've had success with straight retrieves, but it really shines when you pause it. This bait seems to have a little less buoyancy than other similar cranks, and it translates into a lot of caught fish. The hooks are fine with me too, no need for upgrade.
From: Adam: Nashville, TN 12/26/15

Comments: I bought a couple of these things, and man have I been impressed. Chartreuse nasty and Old Glory have been hugely productive. I even caught a bluegill on the Nasty Shad color. I'm not joking. Highly recommend. People say swap out the trebles, but I think they're fine personally. Gamakatsu's and sharp out of the box. I guess you could go up a size if it really matters to you. Great crankbait with some wicked movement.
From: Bassassin: MO 6/21/15

Comments: Great bait but I bought four & the crappy Gama hooks were practically barbless, in fact two hooks didn't have barbs at all. After changing them out I've been real happy with these, just disappointed that a bait this expensive has such bad hooks.
From: Thomas: TN 4/28/15

Comments: Was throwing fire craw on a muddy Norris lake (Tva chain) and probably caught 10 in 1 hour. I then lost the bait and it was the only one I had. When I put on a bandit I caught 1 fish the rest of the day. casts a mile.
From: Landon: TN 12/22/14

Comments: these little guys have paid some bills for me since I started using them. Cast a mile and flat out catches. I've gone behind guys throwing square bills and took their $$. Just try them. I usually throw em on 10 or 8lb floro year round.
From: Bryan: TX 9/21/14

Comments: Ran true straight from box. Small profile but still dives deep and is 1/2oz. Sticky hooks. Fish tore this up. Will be buying more.
From: Kyle: WV 6/8/14

Comments: Great Crank heavy enough to chunk yet smaller profile. Gville Bass eat this crank like crazy. Mr Crews knows how to design some crank baits now!
From: Jimmy: Guntersville, AL
Comments: This lure has made a believer out of me over and over. As Ed mentioned you can pull fish out of 2-3ft of water, it is exceptional around rip rap hardly ever get caught up. I have caught perch, drum, walleye, pike, small mouth and large mouth on this lure. When its cold this crank puts in work, chart blue is in slightly stained water is the deal!

From: Brett: NY

Comments: September 12, 2013. This crank is the exception for me. I catch a lot of bass on the Bomber 4A and Bandit 200, so why spend an extra $5 on the Little John. If asked, I would say because it is an exceptional crank that casts well with its weight transfer, has excellent, sharp hooks, a tight cold front wobble, and even though it is rated for 7-9ft, it really pulls bass out of rocks in as little as 2-3ft. as it flies over them on 17# mono. The new chart. blue is a first rate color. The only improvement I would make is to shorten the tail hook as it tends to foul the front one a little too often.

From: Ed: Champaign, IL.

Comments: I am NOT a crankin' guy. My forte is jigs and soft plastics on various rigs. For whatever reason, I got a few of these babies the other day and used them out of desperation. I am now a Spro Little John MD crankin' guy. Excellent wobble, excellent sound, excellent hooks, and excellent fish-catching ability.

From: Edwin: Nashville, TN USA

Comments: I never believed that a high end lure could make much of a difference until now. I was out on our lake using my favorite rapala and caught a few decent bass over an hour. I then tried the spro little John md in cell mate color. It was unbelievable! I caught over 20 , 2-5 pounders in about an hour! I thought I'd see if it was just some freak of nature and went back to my go to crank and caught I bass for the next hour. I put the cell mate back on and immediately caught 5 more! Needless to say, I kept it on after that and had the best fishing day since I've been hitting this lake. I'm now a spro convert. If you live in south Florida, don't hesitate to give this a try.

From: Joe: pembroke pines, Florida

Comments: Best crankbait I ever thrown, the only thing I don't like about this bait is that the hooks want to hold hands. other than that great crankbait.

From: Myron: Perryville, AR

Comments: by far one of the best medium cranks I've used. I have 10 different colors, but the best color for me is the Nasty Shad....I've caught "TONS" of lm and sm with these cranks this summer (2012). I have to ammit I haven caught anything bigger than 3.4lbs but tons of 1 to 2 lbers...this crank is more on the smaller profile side...but works great and well worth every penny ;)

From: LOR: Milwaukee, WI

Comments: great crank...caught a bunch of fish very first time out with the spooky shad color early fall...water was mainly clear with a slight stain. Best features..tight x-ing action, runs true, casts far

From: Ryan: So-Cal

Comments: This is an awesome bait. I am 12 years old and I fish alot on lake Hartwell and this bait really catches alot of nice largemouth and spots. My favorite color is "spooky nasty". I throw it on a Johnny Morris signature carbon black baitcatsing reel. Works great! Thank you John crews!

From: Garrison: Bogart, GA

Comments: My go-to crank for sure. Runs true, great weight for long casts, suspends, good colors, durable paint, good hooks. I throw it on 12lb mono and it is only getting to about 6.5 ft- not 9 or 10. I bought two, and never lost one until after I fished it for a year+. Countless largemouth/smallmouth. Worth the sticker price

From: JP: MD

Comments: is one of the best baits i ever used the spring craw is my fav.

From: Scott: Mineral Bluff, GA

Comments: i like the spring craw the best ,one of the best baits i have ever used for numbers of fish in the spring time

From: Scott: Mineral Bluff, GA

Comments: Great crankbait lost about an 8 lb fish on it last fall and caught a ton of 2-3 pounders on it. Great action and very durable, I've got about every color they make but the best colors seem to be Clear Chartreuse, Rootbeer Chartreuse and Nasty Shad. I am looking forward to throwing some of the new craw colors when I get them and I am sure they will be productive also.

From: Jake: Greer, SC

Comments: I really like this bait. Bought one in Spook Nasty the day before a tournament. I caught fish with it, but no keepers. I'm still convinced this bait and color will put lots of fish in the livewell. Spook Nasty really resembles a shad in the water

From: Bake: Lynchburg, VA

Comments: I went to a pond in King George and I was using Cell Mate color and the fish just tore it up literally they ended up breaking one of the mini hooks on the treble I ended up catching 5 bass all over 2.5 LBS.
this is a real dynamite bait I suggest anyone should have one nomatter where they fish

From: Jake: Spotslvania, VA

Comments: Great crankbait, and a surprisingly durable finish even though the scales on the cirtus shad are just stickers.

From: Martin: Wyoming, MI
Comments: I was so glad a medium depth little john is on the market. I love the original and the DD models as well. Great bait, great colors that catch fish!

From: Jay: Charlotte, NC
Comments: best crankbait ever, got a carrot stix crank and a abu winch, runs strait. every color i have gotten i have caught a fish on, going to get more soon.

From: James: Virginia, USA