Spro Phat Fly 2pk - $3.79

The SPRO Phat Flies were designed to take float-and-fly fishing to a new level. Not only designed to catch fish in the harshest conditions, Bill Siemantel designed these jigs to catch big California trophy bass. Colors painstakingly matched to the most prevalent baitfish in North American waters. Perfectly balanced to sit horizontal under the bobber. Built with the worlds sharpest Gamakatsu hooks. The SPRO Phat Flies are the best on the market, period!
Comments: These catch fish with a great hook up ratio. they work in cold clear water. took them saltwater fishing and they worked too.

From: Matt: Madison, WI

Comments: really good hair jigs. the only ones that i will use. I got the bluegill color and the bass were tearin it up.. I originally bought these for clear water lakes(lake mead, and havasu) after watching some vids on youtube, but i decided to throw them on a stained water lake and it worked really well. they are also good for bluegills and crappie too.

Comments: Early early spring in cold water these little guys cannot be beat on a float and fly!!! These are AMAZING! and the hooks are VERY sharp and sticky! i love the colors bluegill and baby bass. These are the only things i could catch ANYTHING on in the cold water on a float and fly! Im buying a ton more!

From: Dennis: Crab Orchard, NE

Comments: Quality is ok, but the colors are bland and haven't found anyone of them to really keep up with the numbers and quality of fish caught with the custom flies I buy.

From: Chris: TN

***Note: If you have questions about this product or need assistance with an order please email your questions to info@tacklewarehouse.com
View Large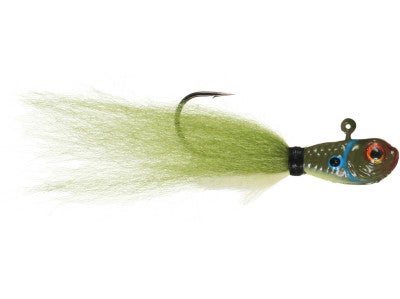 More Spro Jigs