Spro Russ Lane Fat Papa 55 Crankbait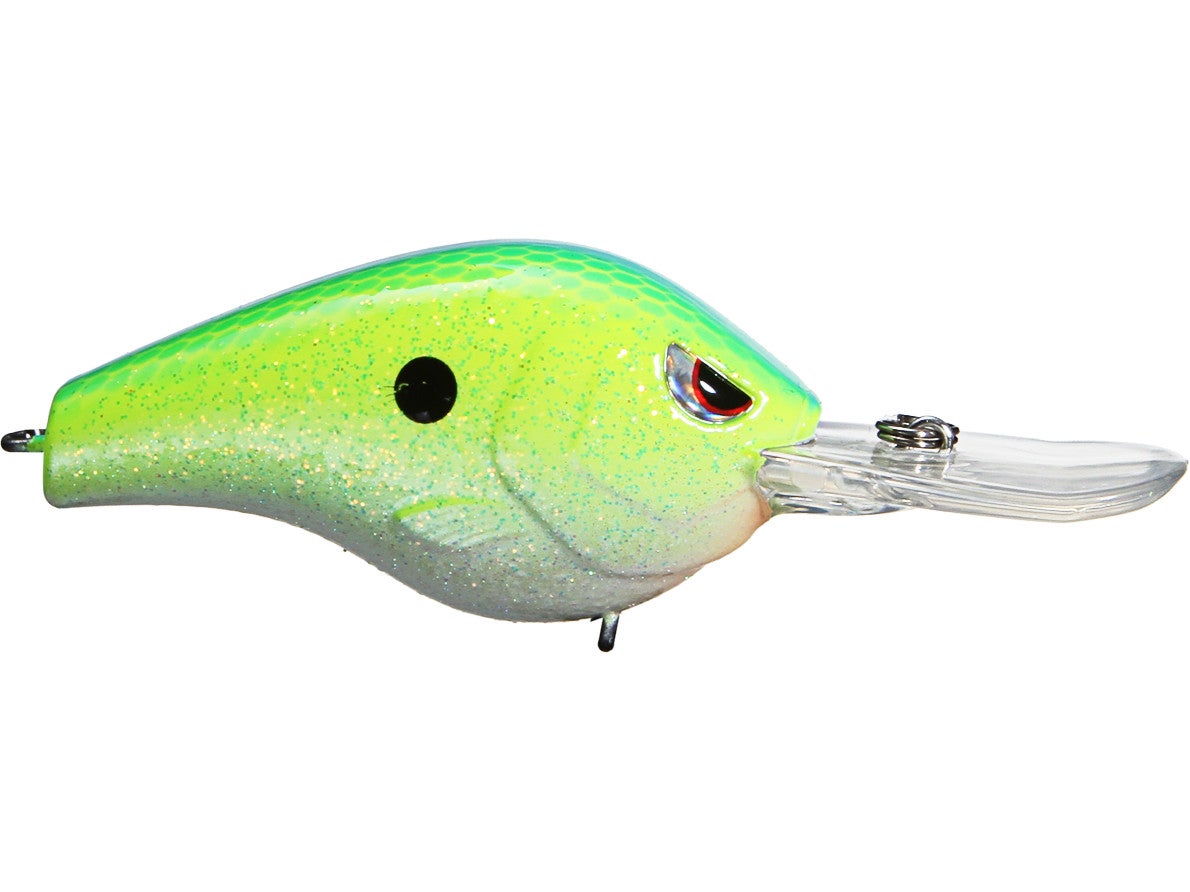 Bassmaster Elite Series angler, Russ Lane, designed the Spro Fat Papa 55 Crankbait for late fall and early winter when the water gets cold right through to prespawn. "I don't want to say the Fat Papa 55's only for early spring and cold water but that's really what I had in mind with this bait," says Lane. The Spro Fat Papa 55 has a much tighter wiggling action than the Fat Papa 70, and where the Fat Papa 70 is silent, Russ added rattles to the Fat Papa 55. "I think you need rattles in cooler water. I don't know the reason why, but based on experience, I just get a whole lot more bites with rattles in cooler water, and there's often a correlation with cold water fishing being dirtier water," admits Russ. The rattle also serves as a weight transfer system, allowing the Fat Papa 55 to cast extremely far considering its size, and it helps it dive deeper than other baits in its class as well. The rattle is also made out of lead, which produces more of a "thud" sound as it knocks around in its internal chamber. Equipped with super sharp #4 Gamakatsu trebles and available in a variety of colors, including some custom painted colors designed by Russ Lane, himself, the Spro Fat Papa 55 Crankbait may the little brother of the Fat Papa 70, but it isn't little on catching fish.
| | | | |
| --- | --- | --- | --- |
| Spro | Length | Weight | Depth |
| Fat Papa 55 | 2.17" | 1/2oz | 5-9ft |
8 Colors
More From Spro Crankbaits
Customer Reviews
Comments: These crankbaits flat out catch fish. I have wrecked largemouth with the Bluegill color Fat Papa 55. Running along the bank and edges from 1'-10'. You can burn it or my favorite technique stop and go and they will crush it.
From: Yaknstein: GA 10/3/16
Comments: these crank baits are pretty good for largemouth and walleye application. I was fishing for largemouth and end up catching my biggest walleye, 24 1/4 inches from the shore, that wasn't the only one I caught got 4 of them in 15 min. Now I bought all the collors now.
From: Lee: Applton, WI 5/23/15

Comments: Tied on this crankbait, bluegill color for smallmouth at a local reservoir after seeing smallmouth destroy a bluegill that I hooked. This bait casts extremely well and catches fish like crazy.
From: Drew: Overland Park, KS 2/3/15

Comments: Bait spins while ascending, not what I want from a cold water bait. Not fully sold yet, I will try the other color to see if does the same thing.
From: Brett: NY 4/14/14
Comments: This is a deadly crankbait when fish are keying on smaller baitfish or in highly pressured lakes.It never fails to put fish in the boat for me.But like everyone Else We need some More colors.Love to see some colors from the Little John line being brought over.That is all the bait is Missing is some A couple More custom Color options.I have the 3 new colors but still Want a Cell mate color in this bait
From: Chris: KY
Comments: This is fast becoming my favorite crankbait!I would really like to buy some in "cellmate" color! Nasty Herring has produced very well with "high skies."
From: D: VA
Comments: These are great crankbait's when the bite is tough.But they desperately need to come out with some new color's.I would love to see a few colors from the Little John series being brought over.Pick one up they will put fish in the boat when conditions are tough or they are feeding on smaller baitfish

Comments: This lure is my new favorite! hands down. I just took these on their second trip and They preformed flawlessly again! First cast i caught a 7.5lb bass on the nasty shad. Then multiple 3-3.5 ponders on the Honey craw. I switch the hooks to Mustad short shanks but its not necessary. only issue is the last fish pulled the split ring off the front hook and i lost it.

From: Kieran: Marietta, Georgia, United states

Comments: Went out on the lake and finally got to do a bit of crankin and I couldn't be more satisfied with this one. Caught 10 fish in a few hours on the nasty shad. Definitely a nice crank and well worth the money!

From: Brandon: K3 IL

Comments: Fished it for the first time today in 50 degree stained water. I got tons of bites, no giants but every other cast got slammed. I used Nasty and Honey craw. Casts like a bullet and plenty of vibration. Great Crank.

From: Greg: AL

Comments: I agree definitely need more colors. Take some colors from the John Crews series, lets see some chartreuse blue and cell mate, rootbeer chartreuse....i'll wait...

From: M.D. South GA

Comments: More colors, like clear chart and cell mate.

From: JG: Jacksonville, AL

Comments: its a great crankbait. if you live in wisconsin, use nasty shad color. its easy to tune too. highly reccomend it

From: kendog: Up North

Comments: MORE COLORS

From: Chris