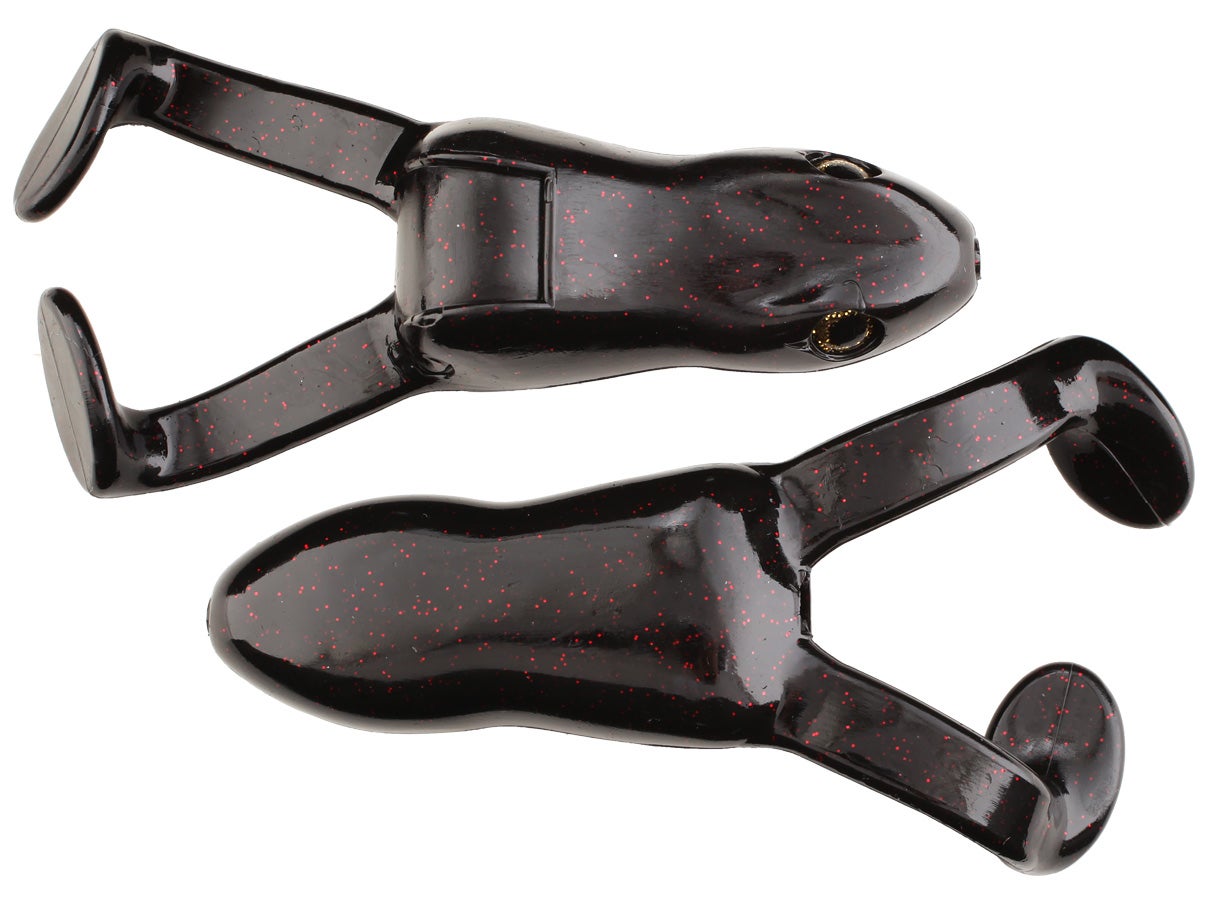 Built with super durable PVC plastic, the Stanley Top Toad is one hollow body amphibian that fish can't wait to gobble up. The Stanley Top Toad comes equipped with Stanley's patented kicking legs, lively feet, and 3D eyes. Perfectly paired with the Stanley 5/0 Double Take Hook, the Stanley Top Toad fishes completely weedless and has a collapsible body that quickly exposes the hook points for a quick and effective hook set. The Stanley Top Toad is a rugged and detailed soft plastic frog that's sure to get your heart pounding with excitement.
Length: 4"
2 pack - includes 1 rigged, 1 non-rigged.
3 pack - includes 3 non-rigged

12 Colors
More From Stanley Frogs
Customer Reviews
Comments: I love when guys talk about hook up percentages with frogs. As if they're 100% with all other baits and techniques, and an 80% hook up ratio on a frog is considered bad. Ya know, bass usually don't suck these in and chew on them like they do a jig or a worm. They blast it out of the water! So, if you don't hook every fish fellas, it doesn't mean the frog sucks! Let me tell you what makes this an awesome frog. Plain and simple, it gets bit! I bought 4 of these at the beginning of the season. I had the same one tied on at the end of the season that I started with. I must have caught 50 fish on that one frog this past summer. Yeah, they're that durable. Not made from your ordinary soft body plastics. Did I miss a few because the strike was so violent that the frog flew through the air? Yup. But it still got more strikes than any other type of frog that I threw. And I would disagree with anyone that says this frog doesn't come through the thickest top slop. Maybe, the legs don't kick in the thick stuff like they do in open water, but its no different of a presentation than a frog with skirted legs.
From: Big J: Western NY 11/21/16
Comments: Fantastic action, perfect for those thinning grass mats on Chickamauga Lake ! Catches monster bass !
From: Chris Hight: Ooltewah, TN 11/11/16
Comments: These frogs are by far the best I've ever used in a cast & retrieve style. They cut through mats & my hook up ratio has gone up by far. They are very durable & are worth every penny.
From: Trentin: Birmingham, AL 8/17/16

Comments: I've recently started using this frog & I personally feel they are a lot better than the LH frogs. I went from missing so many fish to hooking just about everyone that has it in its mouth. Definately well worth the money as I am fishing these in heavy mats and catching all day long. One frog has lasted well over a full day of fishing non-stop pad action.
From: Nick: NY 7/5/16

Comments: This frog hollow body paddle is the best frog out there!The hook up ratio is way better then any other frog i have tried, has GREAT action & has an amazing sound to it. After 5 casts or so you will need t squeeze the water out of it, BUT the frog works in wide open, but shallow water & also in the mats, pads, and around trees, 5/5 good job stanley!
From: Cody: Terryville, CT 11/2/15
Comments: Not sure about a lot of the complaints here. Recently used these on a vacation at Guntersville. The Top Toad was great. Great hook ups (only missed 3 out of 20 blow ups). Fished in open water, sparse grass, and thick mats with no hang up issues. Toads were very durable. Only used 2 toads for the 20 blow ups. The double take hook worked very well, only had to readjust hook points a few times. The toad floats and if it lands upside down just give the rod tip a quick pop and wait a couple seconds and the toad rights itself. Also has very nice action, a little louder than a Ribbit. Will definitely buy more!
From: Trevor: Summit, MS 6/28/15

Comments: I gave these a try based on the excellent performance of the Ribbit. These are not for fishing weed mats like most hollow body frogs. The screw in hook configuration along with the exposed hook shanks underneath cause it to hang up allot. The skin hooking of the double take designed hooks from Stanley is not very forgiving when you are fishing any type of exposed vegetation as they pull out and then the barbs are grabbing everything. The Ribbit comes across semi-flooded mats better than these.
From: Mike: Stafford, VA 5/15/15

Comments: Great action- Horrible hookups. Thought I had a winner when watching this on the first cast. Got a good hit a bit later, let her take it down, reeled up until I felt her, and then hit her hard. Out came the frog. Oh well I thought, it happens. After 3 more misses I was about to give up when I saw a commotion close to the boat. Cast out and reeled through it and saw a huge mouth slurp it down and the line took off. Reeled down on her and hit her hard. Again out came the frog. This was a big fish. Too many misses to be a coincidence. The 2 unopened packs out of the 3 I bought will be returned shortly. Using 7'6" rod and 65lb. braid. Wish the Scumfrog Bigfoot was a little heavier. The search continues.
From: Ken: Chicago, IL

Comments: was looking for a twin hook/frog hook for my Ribbit a few weeks ago on guntersville, couldn't find one but, found the top toad, and man am i glad i did. don't think i missed a single fish on it, but i have the same two problems, it makes a huge "THUD" when it hit the water, no more than any other hollow belly, and the body turned out from under the hook every time i tried to skip it under a dock or over hanging brush. all in all a great tool.
From: Keith: Villa Rica, GA 5/30/14

Comments: I've tried all kicker leg style hollow bodies and this one's the best so far. Hook up ratio is very good. Caught 6 keepers first time out and it's holding up well. This frog is best suited for flat pads, pea soup, light scum and open water. It does not do well in the thick pads and real nasty stuff. I only gave it 4 stars because its makes a huge splash and if I skipped it under docks the hooks would come off the body.

From: Bart: Russiaville, IN US

Comments: Buy this frog! Stanley did a great job on this frog .. It solves the stop and retrieve problem of the ribbit and has a great kicking and splashing sound. Above average hook up ratio due to the ultra soft body. It will also come through slop fairly well . Only drawback is body gets torn near the hooks after a few good fish. No big deal for the price , plus you get two.

From: Thomas: holly springs, nc

Comments: One of the BEST topwater frog i have use soo far. Love how loud the tail kick.

From: Nhia: Saint Paul, MN

Comments: LOVE THIS FROG!!! Only problem I have with this frog is they are hard to find in the stores!

From: Monty: US