Stanley Top Toad - $4.99 to $5.99
Built with super durable PVC plastic, the Stanley Top Toad is one hollow body amphibian that fish can't wait to gobble up. The Stanley Top Toad comes equipped with Stanley's patented kicking legs, lively feet, and 3D eyes. Perfectly paired with the Stanley 5/0 Double Take Hook, the Stanley Top Toad fishes completely weedless and has a collapsible body that quickly exposes the hook points for a quick and effective hook set. The Stanley Top Toad is a rugged and detailed soft plastic frog that's sure to get your heart pounding with excitement.
Length: 4"
2 pack - includes 1 rigged, 1 non-rigged.
3 pack - includes 3 non-rigged

Comments: I've tried all kicker leg style hollow bodies and this one's the best so far. Hook up ratio is very good. Caught 6 keepers first time out and it's holding up well. This frog is best suited for flat pads, pea soup, light scum and open water. It does not do well in the thick pads and real nasty stuff. I only gave it 4 stars because its makes a huge splash and if I skipped it under docks the hooks would come off the body.

From: Bart: Russiaville, IN US

Comments: Buy this frog! Stanley did a great job on this frog .. It solves the stop and retrieve problem of the ribbit and has a great kicking and splashing sound. Above average hook up ratio due to the ultra soft body. It will also come through slop fairly well . Only drawback is body gets torn near the hooks after a few good fish. No big deal for the price , plus you get two.

From: Thomas: holly springs, nc

Comments: One of the BEST topwater frog i have use soo far. Love how loud the tail kick.

From: Nhia: Saint Paul, MN

Comments: LOVE THIS FROG!!! Only problem I have with this frog is they are hard to find in the stores!

From: Monty: US

***Note: If you have questions about this product or need assistance with an order please email your questions to info@tacklewarehouse.com
View Large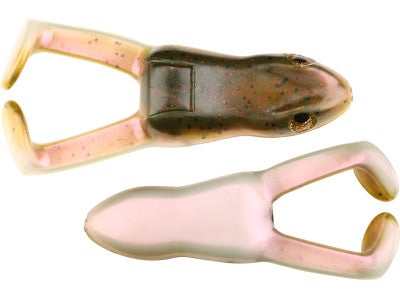 6 Available Colors
More Stanley Frogs