Stern Saver Mounts - $49.99
The Stern Saver is the world's first glue-on high density polyethylene transducer mounting block. Its made from genuine King Starboard. Now you can swap transducers without putting unwanted holes in your boat below the water line. It's also a great mount for switches, fuel separators, livewells, bilge pumps and more. An installation kit is included with each Stern Saver. Available in four colors to best match your boat, the Stern Saver is 100% Made in the USA.
Dimensions: 4.5" x 3.5" x 0.75"
Comments:
From:
Comments: I attached the stern saver as directed. After letting the glue 'sit' for two days I attached the transducer. After a one hour back roads drive the stern saver came off and this $50 product will cost me another $225. Don't trust it.
From: Don: Dothan, AL
Comments: Good product, very simple to install. One warning: on the instructions it says to submerge the epoxy applicator in warm water for five minutes to make it easier to use. Do NOT use water that is too warm or let the applicator sit in the water for too long. Just as I was finishing applying the epoxy the applicator broke, leaking the epoxy out the sides. Luckily I didn't lose too much epoxy, and I also had some 3M 5200 handy to finish the job.

From: David: Atkinson, NH

Comments: Great simple product, that is solid. These boys have thought of everything, and although it seems expensive, it saves running around looking for all the components, and the video is a great guide for setting up and installing. Definitley recomend. ONly minus was that there was no template found in the kit. Simple fix with a rule and a pencil. Testing under pressure tomorrow so far so good.

From: Cam: Australia

Comments: This is a great product. Changed my sonar unit out last year however there was a differnt hole patter for the new transducer and I didn't want to redrill holes. Tried a bunch of ways to mount it however nothing seemed to work. Saw this product on the web and decided to give it a try. Really easy to install and no new holes in my boat. I highly recommend this product.

From: Jim: DE

Comments: Great product. I bought this for my Zodiac and used it to instal a transducer on my transom. Super easy to install and it isnt going anywhere. Comes with everything you need to install it, a little on the pricey side but way better than drilling holes in your boat!

From: Dan: Nor Cal

***Note: If you have questions about this product or need assistance with an order please email your questions to info@tacklewarehouse.com
View Large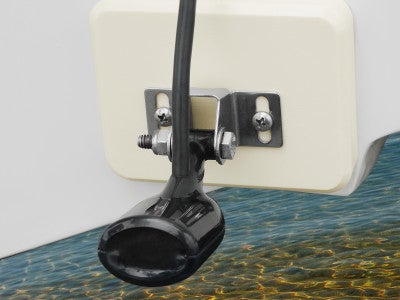 4 Available Colors
More Stern Saver Mount