Storm Arashi Silent Square Bill - $8.99
Perfect for pressured fish, the Storm Arashi Silent Square Bill works through shallow water with a stealthy, rolling action that will put even the most finicky bass in the boat. Built with a precisely shaped circuit board lip, the Storm Arashi Silent Square Bill features a self-tuning line tie that gives it a free-moving action and keeps it tracking true at all times. Each hook hanger is also rotated 90-degrees to keep the hooks closer to the body for reduced snagging and to allow for larger hooks as well. Fitted with premium black-nickel VMC treble hooks, the Storm Arashi Silent Square Bill will have the most fickle fish begging for a bite.
| | | | | |
| --- | --- | --- | --- | --- |
| Storm | Length | Weight | Hook | Depth |
| Silent Square Bill 03 | 2-1/8" | 1/2oz | #4 VMC | 3ft |
| Silent Square Bill 05 | 2-3/8" | 5/8oz | #2 VMC | 5ft |
Comments: I think storm hit it out of the park with this squarebill, you can't beat it for the price, it comes though cover like nothing other and it's wide wobble and erratic action is in unbeatable. My favorite color is the hot blue Shad even though I almost have all the colors and I love to fish this bait on chunk rock banks, lay downs and swallow brush piles. It's very durable as well, the hooks aren't bad but there not the best, the bait does chip a little and it gets some cosmetic starches but but I mean that's what happens when you catch fish after fish (and pulling it through chuck rock but still)! On my first trip with the bait I was fishing lay downs and as I was pulling the bait through the thick branches I could see the fish slam it, it looked as if there were hitting top of the trees and they would come out of now where and choke it! I caught around 23 fish along with two others that weighed about 5 each, I had 12 inch fish inhale it. All in all great bait, I highly recommend weather your new to squarebill fishing or a seasoned veteran get your self one, it won't disappoint.
From: Connor: FL 7/13/14

Comments: Casts like a bullet; such a great crank to just watch through the air. Oh yeah, and it does what it's supposed to do - catch fish!
From: Patrick: Milwaukee, WI 6/3/14

Comments: As a die hard Lucky Craft fishermen, I've got 60-70ish RC's, LC's, and SKT's. All of which I fish REGULARLY! So I had a pretty high standard when I bought this bait. IDK what the deal was with the guys who've had their lure "Crack like an egg", they must have somehow gotten some defective lures. Because I've been fishing the same two Arashi 5's since mid February, mainly on a stretch of a man made rock pile dam, and I've been slamming into those rocks day in and day out with out a problem. Not to mention the bill of an RC would be toast by now, the way I've been fishing this bait on the rocks. But that circuit board lip on these can really take a beating, and the self tuning line tie?.... Where has that attribute been on square bills all this time?!?! It works flawlessly! Fishing just two of these baits in the Wakasagi color since mid February has landed me 30 or so Large Mouth, and most have been 4lbs plus! Four were even over 10 pounds!! IDK what it is about this bait, but it's been the best reaction bait I've ever fished, and I swear sometimes the bass even mistake it for a Rainbow Trout and slam it! The only problem I have with this lure is that the finish is EXTREEMLY susceptible to hook rub, and scratches. I even rubber band my hooks together when stowed! The two original lures I bought back in Feb. look like they've been rattling around in a Plano for 3 years, but I will say that once the lure gets wet again the scratches/rub marks are 2/3rds less visible. But for $9.00 bucks and it's ability to catch tournament winning fish.... it's worth over looking. If you haven't fished this bait yet, you are just plain missing out. Get one that matches the forage in your area, stay away from the bright colors, and I'd be willing to bet that your going to catch bass.
From: Christian: Moab, UT 5/6/14
Comments: I had read that these new Arashi cranks were the real deal. My local brick and mortar store had just a handful of them in stock, so I picked up 2 of them to try out. This thing is my new favorite square bill crank! I tied it on for the first time and went out to a little pond in my development. I caught 4 solid bass (2.5~5 pound range) in less than 7 casts. I was using the 3' Wakasagi colored version. Quality of the lures was great right out of the box. The self-tuning line tie really seems to work, as I was burning it fast on a few casts just to see if I could get it to 'spin-out'. It didn't. You can burn these suckers all day long with no problems. Awesome bait! I will be placing an order for some more from TW!
From: Shawn: Tampa, FL 3/14/14
Comments: Purchased several of these and they worked real well. Good fish catcher and love the self-tuning line tie, it really works. One of the baits had a mis-configured/cut wrong angle circut board but still ran straight. I am very impressed. They do take a beating from pike and gars but tell me what lure doesn't? That's just the hazard of bass fishing. I too would like to see a rattle version but consider this a "Home Run" for Storm!
From: Bob: Muscatine, IA
Comments: Way more durable than any other square bill i have thrown (SK,LC). Not sure about Cliff experience, but mine has been thru war and back and is still solid as new with the exception of the paint job from the fish crushing this bait.

From: Mark: IN

Comments: Caught 4 bass in 3 hrs one cold morning, but then I noticed that the bait didn't seem to have the same action. Giving it a close look, it had cracked like an eggshell and filled with water. It had a light paint job for clear water and if you held it up towards the sun, it was easy to see through the bait and see your finger on the other side-- that's how thin and fragile these baits are. The fish were right up on the bank that morning and you didn't get bit unless you cast right to the edge. I hit the rocks lightly twice and that was all it took to break the bait-- not much useful life to get out of a $9 bait. I believe I will stick with more durable baits like bandits, stike king, etc.

From: Cliff: Canton,KS,USA

Comments: These baits are awesome. Have tried numerous bait and prefer DT or Arashi. This bait by far is the best.It produced upwards of 35 plus smallies 2.12# to over 5#. Majority 3 1/2-4# My buddy couldn't believe this bait. Only wish I had a go-pro....unbelievable Water temp 56 wind 15-25+gusts airtemp 49

From: Larry: brainerd, mn,usa

Comments: Bought a few of these to try out this summer and caught a few fish on the smaller 03 size. Unfortunately, the circuit board lip snapped after cranking through a stretch of riprap on the first trip out. Since Storm˙s website advertises the new circuit board lip as having uperior strength and durability, I sent it back to Storm (Rapala) expecting warranty replacement. Instead, Rapala refused and claimed the damage was a result of the customer˙s action. Well of course it was, lures don˙t catch fish sitting in the tackle box. That˙s what you do with crankbaits, you bang them into things and make them deflect to trigger bass! Long story short, they did catch fish, but the finish and durability did not impress and the warranty is apparently useless. I'll stick with my Spros for now . they have ALWAYS replaced any broken lure I've ever returned regardless of the reason.

From: Jim: Hampton, VA

Comments: they are not That good . In no way are they better then any other Square Bill out there .The spro fat 50 smokes it on the water.

From: Kevin: Johnson, KY

Comments: Was fishing these in the WI state BASS championship, and had one develop a significant crack and flood out on me after a cast up on a rocky shoreline. Obviously, you don't want to throw your crank ONTO the shore, but it happens - and i was highly disappointed with how the bait handled some fairly low grade abuse. They're great baits otherwise (though the crappie color isn't as sexy as the pictures would state, however, i doubt it matters much) and will likely still buy more, but be aware, these baits are fragile!

Comments: LOVING THESE CRANKS! Great big crankbait for the length. Casts super far and it does not even have the weight transfer system. Caught 3 pikes within 10 minutes and two of them back to back (Rusty craw color - match the hatch). Work them how you would any crankbait and it'll catch fish. Only problem I have is the paint. after one pike biting it, it took all of the paint off where it bit. But still a killer wobble action and strong lip. Great fall crank so far

From: Samsua: MN

Comments: Good action, casts great, nice color schemes, comes through cover well. Paint job is not very durable.

From: Karl: MO

Comments: This bait is sweet! It has eliminated the thing that pisses me off the most about crankbaits. I no longer have to tune a crank. SCORE!!!!! They run true everytime. They bang through the water with a very wide wobble, I love that for summer crankin. Good job Storm.

From: Tim: TX

Comments: This crankbait has performed well for me the past few weeks. It swims well and has a good weight for long casts. I put larger short shank hooks on and ready to go. Maybe Storm will make a rattling version. I will be buying more soon.

From: Brian: Bartlett, IL

Comments: Was a little apprehensive about these. Bought a couple today, went straight to Lake Hefner in Oklahoma City, if nothing else but to see the action on these. Crank baits are not real popular right now in the midday Oklahoma heat, but, third cast with the Bluegill color and BOOM, 3 pound largemouth in my lap! Didn't get to stay long, but really optimistic about my next outing with these!

From: Mike: Oklahoma City, OK

Comments: Great Bait! The Line-Tie is the Shiz. You can burn this bait until you're arms fall off. Caught 2-3 lbers. on a very pressured Lake w/ 3 Tourneys going on at the time. Hooks are kinda dull as noted but just a quick sharpening, you're good to go. Please make a rattling version.

From: Rusty: Texas, Where else?

Comments: I just got some of these in size 03 and one in 05 and they work like a charm! They have a nice wobble and always track true just like it says. Only issue i had was it scratches easier than the others but the color is still there because it goes all the way through the plastic.

From: Kieran: Marietta, Georgia, United States

Comments: Bought these before an FLW tournament on the Detroit River. Didn't get a chance to fish it until I fished a local sub division pond. Caught 15 fish on these bait in roughly 15 min. My buddies were throwing the 2.5 and, they did not catch much.

From: Nick: IN

Comments: Just got my ARASHI Square 5 baits in the mail yesterday. Bait is good looking! The only complaint I have, right out of the package, is hook quality. The hooks are large but not sharp/sticky at all. I sharpened the hooks and put them in my crankbait box. Looking forward to throwing them!

From: Scott
Comments: Saw these at my local sporting goods store and bought it right away. At first I didn't really catch much on it, only a couple small ones. Took them out on the water today, bluegill color and rusty craw, the bass killed it on the bluegill! Caught 3 5 lbers and 3 2-3 lbers. BUY THIS BAIT! but if not....more for me :>

From: MN
Comments: OK - Is this product a game changer? Not necessarily. Are other square bills obsolete? No I will not preach that these are the greatest thing since white bread... but I will say these are definitely my new favorite square bill. In my personal opinion - If I ever want to throw a square bill - 90% of the time it will be this now. This bait has amazing action from the instant you begin retrieving. It maintains running depth very well. It is also really hard to lose one of this... I purposely tried to hang this lure up on stuff. It always floated back up. I fished in on rocky bottoms as well... Other square bills will have been beaten up much worse than this. The bill is solid. I will be picking up a few more of these to "match the hatch" at my favorite waters. You will not be disappointed. Go get some.

From: Mike: Rochester mn

Comments: I purchased a couple of these last week and took them out on the water this past weekend. They cast a country mile, they swim really good through the water. The deflect off of cover and rocks extremely well. The only downside was I didn't catch any fish...I'll keep chunkin them though

From: Oscar: Mesquite, TX

Comments: Worked the bait really hard today. Used both the 5 and 3. Ran very true right out of the box great hook size, hung them several times always worked free. Threw them on big game 10lb. I was very abusive with these baits and they worked great. Will def. buy more.

From: Clayton: Tulsa, Ok

Comments: Bait swims well, fairly wide kick. tracks well. I don't know that the self tuning line tie is magic, but you can really burn this bait without it spinning out. caught fish with it first time out.

From: Matt: CO

Comments: I saw one of these in a local tackle store. I picked it up and it had the weight of a Christmas light. Also the colors were not as sexy in person as they are in the pictures. I think there will be a lot of disappointed people who pre-ordered.

From: Greg: AL

Comments: As soon as I saw these crankbaits on clips from icast 2013, I knew I had to get some. They just looked like great lures. Our local tackle shop got some in as soon as they were available and I immediately bought a couple different colors. First time on the river, I caught a 6lb bass. I will be loading my tacklebox with more of these.

From: Larry: Toano, VA

***Note: If you have questions about this product or need assistance with an order please email your questions to info@tacklewarehouse.com
View Large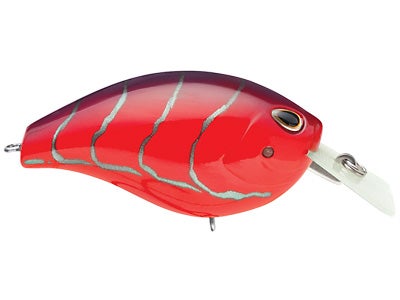 16 Available Colors
More Storm Crankbaits