Storm Wild Eye Swim Shad Swim Baits 3pk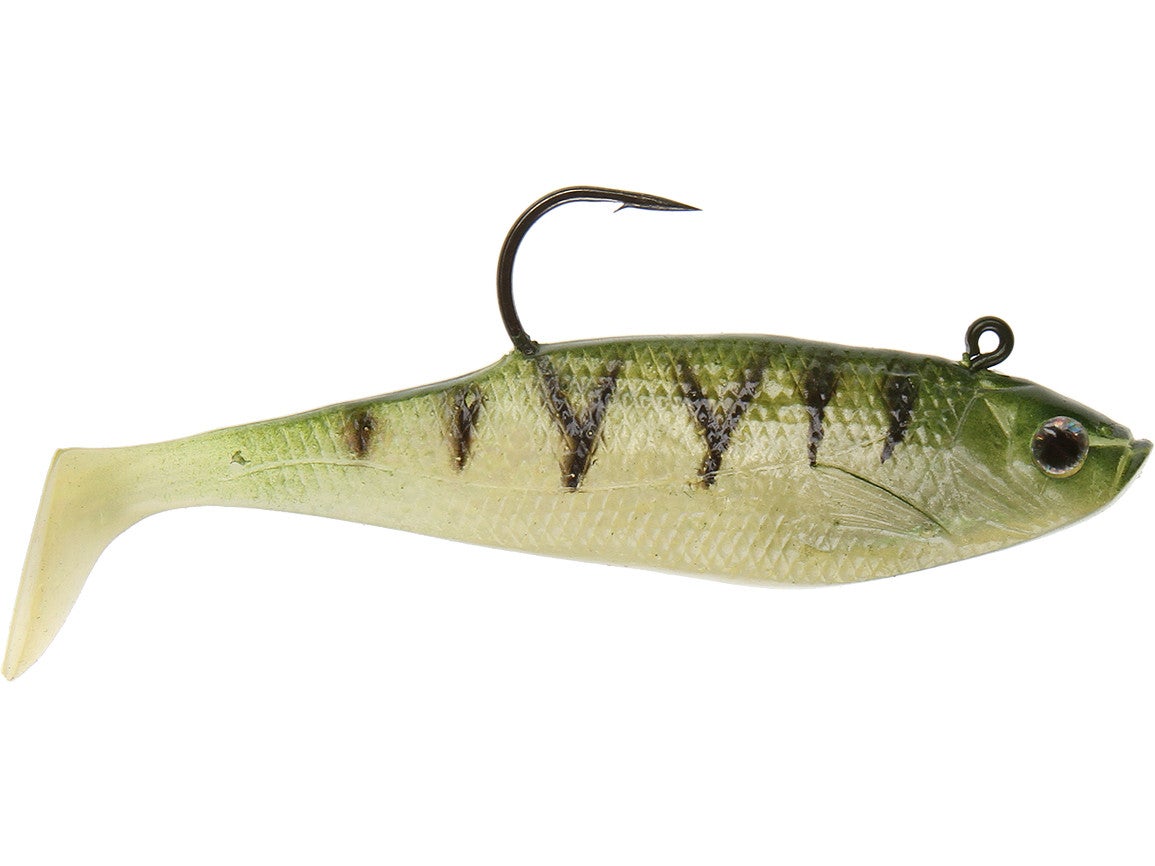 These swimbaits from Storm Lures are the essence of simple effectiveness. The Wild Eye Swimbaits feature a sharp hook molded into a lead head with the soft plastic body molded around the whole hook/head unit. This creates a simple, easy to use bait and the soft plastic makes the tail kick actively, which will attract fish and get bit. These baits are deadly for all kinds of gamefish both fresh and salt and are heavy enough to cast a long way and swim deep. The Wild Eye Swimbaits are priced quite reasonably and are tough enough stay together for fish after fish. With the hook situated on top of the head, you are less likely to hang them up on the bottom, which means you can really dredge the deep structure looking for lunkers. However you fish them the realistic looks and swimming action will get bit.
12 Colors
More From Storm Swimbaits
Customer Reviews
Comments: Very good lure, caught many bass on it. They get torn up fairly easy, but they're cheap enough so that it's still worth it. I sometimes like to actually pitch these o cover, and jerk em around. It works!
From: Zach: Washington, DC 8/30/16

Comments: I love storm swimbaits & storm arashi crankbaits but for some reason this swimbait doesn't swim as good as the swimbaits that come with treble hooks.
From: Rick: Baltimore, MD 7/11/16

Comments: The is a great pre-rigged swim bait. I've only used the 4" & it weights 7/16 oz. TW should post the weights in the descriptions bc they are heavy. Great tail action even slow rolling. Sometimes you loose fish bc only one hook but it's a very sharp & strong VMC. Add a small split ring for a little more motion. Also you can boil the tail for 10+ seconds which will soften it up for even more tail action. It has a flat bottom so you can cast it, let it sink to the bottom, then slow roll it. But keep it above the grass. The bass will slam it coming thru the grass or a ledge.
From: John: Germantown, MD 5/26/16

Comments: This bait works great! this is my go to lure in the winter, summer & spring in the pond where i fish the shad works the best. I've caught bass, crappie, pike, and blue gill.
From: Andrew: VA 6/20/15

Comments: The 2 inch version is one of my favorites not only for bass but for crappie, bluegill, white bass, yellow bass, striper, you name it. It is my go to cold water bait over slow finesse presentations. Reel it very slow in 50 degree water and you will get slammed! (Chartreuse is the best)
From: Andrew: Grand Rapids, MI 6/30/14

Comments: The 3 inch works well on the Yumbrella Flash Mob Jr. because the exposed hook affords a positive hook set, the built in weight imparts stability on the retrieve, and the holographic foil insert enhances the flash effect of the rig.
From: Vince: Tucson, AZ 5/17/14

Comments: Absolutely love these baits. I haven't found one thing wrong about these baits. I love the eratic side to side movement that these bait swim in almost like a crankbait but not at fast and repetative. Very durable plastic with a soft enough tail that it does have some good action. I fish very overfished waters in my area and I have experimented and found that you only have a couple of options when fishing overfished waters. One option is throw something that the fish have never seen before, or you can throw something that resembles the baitfish really really well and I think that this fish does cover both areas.
From: Tucker: San Antonio, TX 4/29/14
Comments: Great swimbait to throw on cold days, hot days, and in between days, if you have minnows where you fish the bass will engulf them not to mention crappie. seems to works even better than live bait, once i was fishing with a buddy and he was using live minnows and shad he didn't catch a single fish all day and i caught thirty one bass in less than thirty minutes, ten were a pound,about five were three pounds, and the rest were all over five pounds. after that i just went home cause my harm was hurting so bad. I've tried all the colors and the only two that seem to work are the pearl and the chart/silver, use the pearl in clear water and the chartrues in murky or green water.
From: Caleb: Memphis, TN 3/13/14
Comments: If you aren't catching fish with these it's because there are no fish where you're fishing. I fish inshore saltwater in Fla., and these are my go-to lures in 3 and 4 inch. Shad color in the spring, moving to chartreuse in the summer and fall. Can't miss for spotted sea trout and redfish. I saw on a forum where some joe-pro fisherman dissed these because he thought it made fishing too easy for regular people. Hah!

From: Bobby: Cocoa Beach, FL, USA

Comments: Like everyone else said. These baits work, especially in the fall, or on the really hot days in the summer. Pretty much anytime the fish are balled up waiting for something to swim by. My only gripe, is that they put a super monster thick hook in the 6" baits. I usually cut that beast off and rig it with a double or treble. These baits are good to throw in the places you wouldn't dare throw a "real" swimbait, but if you come anywhere near a tree/rock with that thick hook, you aren't getting it back. Also, the 6" baits say 7/8 ths oz on the package, but they are almost 2 ounces. So keep that in mind when deciding what rod to throw them on. A couple years ago in November I was yanking 6 & 7 lbers, one after another with this bait. I caught a dozen fish over 5 lbs in 30 minutes. It was by far the best day on the water I ever had. Look for the seagulls and toss this bait under them.

From: Carphugger: Indianapolis

Comments: Im here to tell ya...These baits work! While in mexico I was at the lodge with some swim bait freaks from California. They had prototype swim baits from Matt Servant and multiple other high end swim baits. This bait out fished them all. IÕm a swim bait FREAK! After my stay in Mexico I was tossing my high end swim baits to the guides and dock hands like I was on a float in a parade tossing candy to kids. DonÕt need em. Stick with the basics boys! When you think of senkos you think Gary Yamamoto. When you think of swim baits you think storm. They last forever considering theyÕre soft body swim bait. Place a dab of Mend-it behind the hook and game on! Tight lines fellas. Remember what your boy Ike says sweep that rod like a boss and get more hook ups with the swim bait.

From: Brandon: Columbia Falls, MT

Comments: these baits have a slight shoulder roll that most similar baits do not have. i think it makes a difference in strike ratio. if you fish in waters that have lg. mouth -sml. mouth and stripers, this is a great swimbait to throw. all the bass like this lure but stripers LOVE them. the bunker and mullet colors are the favorites. the hooks are first rate as is the quality from lure to lure. the 4" size is effective altho i like the larger sizes when the stripers are abundant. in off colored water the chartruse color works great. wal mart stores sell these and have them marked down every once in a while. they simply catch fish, give them a try and see for yourself--

From: Wes: Salinas, CA

Comments: these swimbaits just work. They are durable and the bass just choke them.

From: Justin: Mason, Ohio

Comments: we have been using these for stripers for the past few years never go without them.tried the berkley because they were more in a pack.my friend hooked 2 an broke the hook on both so i will stick with the storm

From: Doug: Blacksburg, SC

Comments: Got a little tip when the tail falls off. Take a curly tail worm and rip the tail off, next glue or melt it to the swimbait. It looks different and might work even better!

Comments: Yeah they are great for slow rolling in clear cold water. Like some other people have said the tail does rip off quite easy when the fish are nipping at it. But otherwise, it DOES catch fish.

From: Colton: Kansas

Comments: seen this bait on show used in mexico. It caught 10lb bass. Its great action and swims great. Try one and match the hatch. Good fishing to you!

From: Alex: Kansas

Comments: good little bait on an a-rig. however the berkely swimbaits are a little better value because you get 5 instead of 3. overall decent.

From: Miles: AZ

Comments: Great swim bait! Looks real, has a great wobble, and has great sharp hooks!

From: Preston: IL

Comments: Catches fish better than I expected, wish it had a little more action though.

From: Chris: Ohio

Comments: These baits work great! my only complaint is the tails rip off a little easy. but i get these in mass quantity! these are the only baits in my tackle box that catch bass in the toughest conditions. had some of my best fishing days on these. once got 6 fish in just 1 and a half hours. one just below 4 pounds. get these you will not regret it

From: Reid: North Carolina

Comments: great action, really sharp hook too, i throw it along the shore and the bass just kill it every time. it gets through the weeds well too even though it is not weedless

From: Manchester, MI

Comments: love storm swimbaits and these perform just as well as all the others i've used. used these yesterday and caught 2 nice 4 pounders great lure and the hook is very sharpp

From: Tristan: Hoover, AL

Comments: I love them, me and my brother have caught many bass on lake Hartwell, on them I use the shad color. All of the fish we caught were form 1.5 lbs. to 3lbs.

From: Garrison, Bogart, GA

Comments: Storm really made a winner with these baits. They have an excellent side to side wobble, very sharp hooks, and they flat out catch fish. On top of that they are very durable I caught 26 bass, 1.5 to 4lbs 10oz and everything in between ON ONE BAIT before the tail was ripped off. The price is also excellente'.

From: Cory: Upper Midwest