Storm Wildeye Live Sunfish 3Pk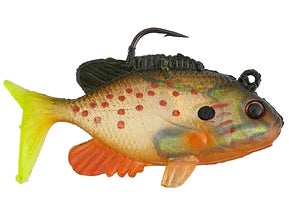 WildEye Live Sunfish Features:
*Natural color patterns
*Secure I-Bolt system holographic WildEye
*Rigged with a superior VMC needle point hook & treble belly hook (no belly hook on the Live Leach)
*Life-like swimming action
*Holographic swimmin' flash foil
*Strong soft body with internal lead head
1 Colors
More From Storm Swimbaits
Customer Reviews
Comments: Caught my biggest bass to date on this! Throw it out and bounce it off the bottom like a jig & the bass will absolutely crush it. I caught a 7.8 on one cast and two casts later I caught an 8.3. This bait catches fish.
From: Cade: MS 5/11/16

Comments: Great bed fishing bait. Rip it out of grass like a rattletrap or just hop it in their face. make sure to change out the treble hooks because they will bend
4/25/16

Comments: Used these for the first time today it was the version with the treble hook on the bottom don't see it featured on here but its basically the same. I really loved this bait five casts caught three average bass. On the next cast a smaller bass or bluegill swiped at it and ripped the tail off. By the end of fishing two hours i caught a few more bass but had all the tails ripped off. once the tails are off the bait threw them out they don't have any action. But hey for this cheap it does work just doesn't last to long.
From: Jordan: Carlisle, PA 6/5/14

Comments: Take off the bottom treble hook and you got your self a matt lures bluegill! Awesome little swimbait.
From: JT: MI 3/31/14
Comments: These are great little baits. When I first got them it was because they looked cool but they catch fish. I was using this bait along a shallow weed line and I caught three pike! Another time I was fishing some deeper weed and a huge bass surfaced on it. Great baits!
From: Unknown: USA 3/30/14
Comments: this bait I cAught my biggest walleye ever on it I love this bait you catch so many fish you got to have this bait

From: Jayden: Mitchell, IA

Comments: I'm surprised this bait got so many positive reviews. The other reviews forgot to mention this thing has a huge weight in it which makes this lure drop like a boulder in the water. The tail has ok action, but this bait twists and turns and has given me a lot of line twist. I would spend the couple extra bucks and get something better. If you fish deep clear lakes with some rocky bottoms than it might be worth getting some just because the price is good. I have caught some fish on them, but I would not buy these lures again.

From: Jack: Milford, CT

Comments: This little swimbait is awesome! I fish these all sorts of ways, hop and pop it slowly like a dounded wish or swim it like a healthy 'gill. I tend to throw these when I see bass chasing schools of shad and bluegills. If i want a faster tail movement i cut off the little tab on the tail or leave it on for a nice subtle movement. I also like fishing these in the spawn to imitate young sunfish trying to raid nests and man o man do the bass KILL it!

From: Hunter: Muscatine, IA

Comments: Chuckled when I saw these and nick-named it Wally because it had been purchased as a stocking stuffer at a big box store. Man was I wrong to doubt these... when nothing else seems to be working, Wally comes through. It's a great search-lure and have caught some great smallies and pike on Lake Champlain.

From: Bonz: Burlington, VT

Comments: another great little lure from storm. i use the gill and the crappie patterns. over rock piles they both are effective and especially around trees/ brush piles and BOAT docks. if you fish at night, use them around the launch ramps and hold on to your rod. forget your 4# test or you will simply donate the lure to some big bass. 12# magna- thin works just fine. they look like some of the phony t.v. baits but don't be fooled, they work!

From: Wes: Salinas, CA

Comments: Doubted these when i first bought them,but if you throw these for bass during the spawn,it is almost a guarantee you're going to pick up on some nice fish. Works awesome casting along the shorlines. Catches Crappie and big Sunfish as well. A one of my favorite go to baits. Tails rip off fairly easy,but they aren't very expensive to buy again. Awesome baits!

From: Joe: Chicago, IL

Comments: Frankly, Ihad a lot of doubt when I received a pack of these as a stocking stuffer one year. But gave it a shot during mid-season and was pleasantly surprised with the results. Nice action, the thumper tail gives off a realistic vibration and the smallies really pound it.

From: Bonz: Vermont

Comments: These baits are great the only problem is if I hit a pod of small fish they always bite the damn taill off then the bait is worthless on the retrieve

Comments: this lure is one of my biggest secrets for spring bed fishing, it is practically cheating if you rig it a foot or two under neath a bobber in a bass's bed, they cant resist because they are always chasing sunnies out of their nests

From: Kurt: NJ

Comments: Nice little swimbait, good deal and swims nice. Not too realistic but thats fine as fish can't see colors. i use them near pilings and i tend to also like to go to these little reef, they blend with other bluegills and bass cant stand that. I use them to go over to my buddies baits and make it look like its a real bluegill investigating and the bass can't stand it, they usually go for the head on mine and a few that are just bullies and are slightly smaller just steal my friends bait from my little swimbait so it really works awesome.

From: Manny: Felton, CA
Comments:Great little swim bait. I've caught many 4 and 5lb LM on this little guy; just make sure you have a stinger hook on the bottom.
From:Gerard: New York, USA