Strike King Baby Rage Craw 3" - $4.99
The Strike King Rage Baby Craw has all of the great features that made the original Rage Craw so popular - now in a 3" version. Carolina rig it, Texas rig it or downsize your jig and use it as a trailer, it's an effective little finesse bait that offers tons of rigging versatility. Unique in its ability to create a huge amount of vibration, it's a must-have bait for bedding fish. With the slightest movement of the rod tip, the claws start flapping back and forth, creating a terrific action. Even at rest on the bottom the Rage Baby Craw looks like a crawfish in a defensive position with its pincers up. The Rage Baby Craw 3" uses Strike King's customized high-grade plastic and is available in a variety of colors to match your local forage. Protected by US Patent # 7,774,974.

Comments: I put this on a 1/4 oz SK finesse football jig and use it to fish ultra-clear water near home. They eat it deep and shallow. I really like it to sight fish for fall time smallies.

From: Bronzeye, MI

Comments: Put it on a scrounger head and it's irresistible to smallmouth.

From: Ian: Honey Grove, PA

Comments: Good as a jig trailer

Comments: this is a vary small craw bait and everything hits it bass perch blue gill rock bass and the acasional picral

Comments: My favorite bait to drag along the bottom. Great Texas rigged and on a jig head. Smallmouth crush this thing. if they don't hit it on the bottom they will nail it on a slow swim back to the boat. Has great action on top of the water too. Very soft and not very durable, but they will produce.

From: Mark: Spokane, WA

Comments: Great early spring/spawn bait. I fish them on a 1/8 Spot Remover stand up jig head, usually in Green Pumpkin or Watermelon Red flake. Also a great jig trailer and work very well in tough/high pressure conditions. An all around great bait!

From: Mike: LaGrange, IN

Comments: These are my go to for fishing streams for smallmouth and spotted bass. These are the best craw trailers out there. Without a doubt the one bait I can not do without.

From: Matt: Columbus, OH
Comments: These things just flat out catch fish, and big ones too. Great for high-pressured waters.


***Note: If you have questions about this product or need assistance with an order please email your questions to info@tacklewarehouse.com
View Large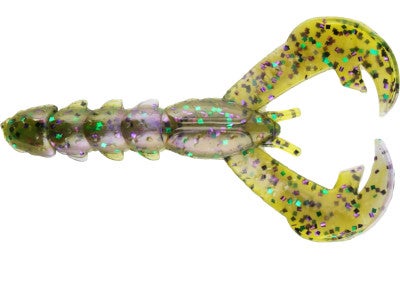 13 Available Colors
More Strike King Softbaits