Strike King Baby Rage Craw 3" 9pk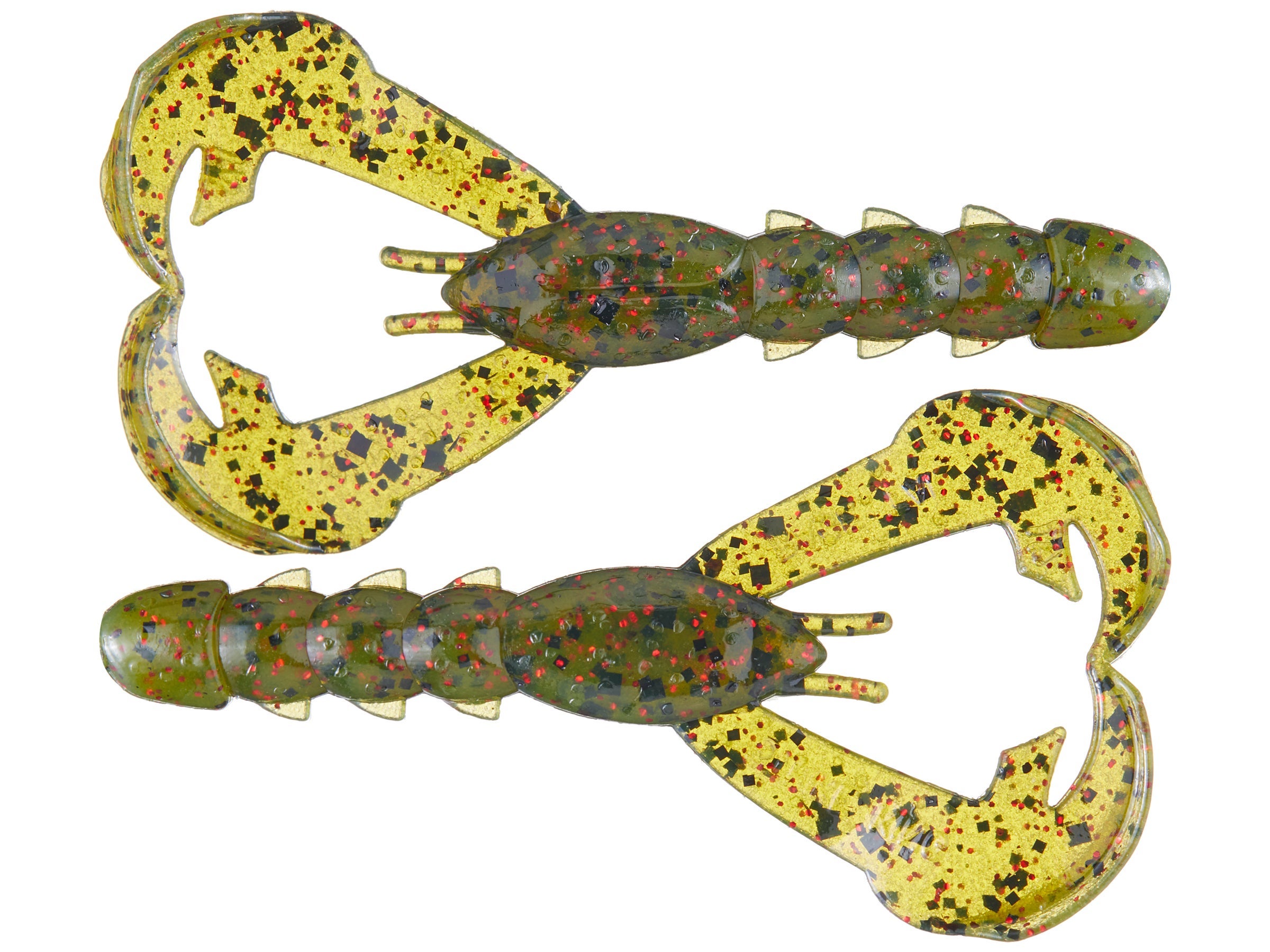 The Strike King Rage Baby Craw has all of the great features that made the original Rage Craw so popular - now in a 3" version. Carolina rig it, Texas rig it or downsize your jig and use it as a trailer, it's an effective little finesse bait that offers tons of rigging versatility. Unique in its ability to create a huge amount of vibration, it's a must-have bait for bedding fish. With the slightest movement of the rod tip, the claws start flapping back and forth, creating a terrific action. Even at rest on the bottom the Rage Baby Craw looks like a crawfish in a defensive position with its pincers up. The Rage Baby Craw 3" uses Strike King's customized high-grade plastic and is available in a variety of colors to match your local forage. Protected by US Patent # 7,774,974.

13 Colors
More From Strike King Craws And Creatures
Customer Reviews
Comments: Love the Baby Rage Craws! I fish a river with an abundance of crawfish that don't grow very large. after having prior success on the original Rage Craw, I gave these a shot. All I can say is WOW! Sometimes you just need to downsize to make a world of difference and the Strike King Baby Rage Craw does just that!
From: Christian: Lake City, FL 2/13/17
Comments: I use them alot as a jig trailer, they sure catch alot of fish, but they dont last long. Even if its not getting bit, the claws will starts to tear off from being retrieved for so long, not to mention ifmthe fish are biting they might catch 2-3 fish before its no good. Im looking for something tomlast longer with the same effectiveness. Brush hogs and other bulkier trailers seem to hold up through out the day quite well in comparison
From: Joe: MD 6/10/14

Comments: Great smallmouth/finesse option but I am excited to replace this (mostly/hopefully) in clear water situations with the Rage DB craw...subtle...Both good options. IT's pretty slim and small. Try a pack or two. Good finesse jig/eakins jig/casting jig/small football jig trailer!!!
From: Tanner: The Riv, MA
Comments: 3 inchies of dynamite !!! I use this bait whit a 3/16 ounce tungsten weight near to the cover and it works very well!!

From: Gabriele: Italy

Comments: This is a money maker. I have caught 3 pounders on pressured waters with this bait. I tend to notice I catch more fish rigging it weightless. The only downside, is that they don't last too long. After 3-4 fish it's time to put on a new one.

From: Samuel: Charlotte, North Carolina, USA

Comments: great bait works every way you can thinck of. Ive fished it as a top water, jig trailer shaky head any way you want. Hard candy color makes a great bluegill color even caught crappie and big trout on them

From: Jason: Vermont

Comments: I put this on a 1/4 oz SK finesse football jig and use it to fish ultra-clear water near home. They eat it deep and shallow. I really like it to sight fish for fall time smallies.

From: Bronzeye, MI

Comments: Put it on a scrounger head and it's irresistible to smallmouth.

From: Ian: Honey Grove, PA

Comments: Good as a jig trailer

Comments: this is a vary small craw bait and everything hits it bass perch blue gill rock bass and the acasional picral

Comments: My favorite bait to drag along the bottom. Great Texas rigged and on a jig head. Smallmouth crush this thing. if they don't hit it on the bottom they will nail it on a slow swim back to the boat. Has great action on top of the water too. Very soft and not very durable, but they will produce.

From: Mark: Spokane, WA

Comments: Great early spring/spawn bait. I fish them on a 1/8 Spot Remover stand up jig head, usually in Green Pumpkin or Watermelon Red flake. Also a great jig trailer and work very well in tough/high pressure conditions. An all around great bait!

From: Mike: LaGrange, IN

Comments: These are my go to for fishing streams for smallmouth and spotted bass. These are the best craw trailers out there. Without a doubt the one bait I can not do without.

From: Matt: Columbus, OH
Comments: These things just flat out catch fish, and big ones too. Great for high-pressured waters.