Strike King Bottom Dweller Spinnerbait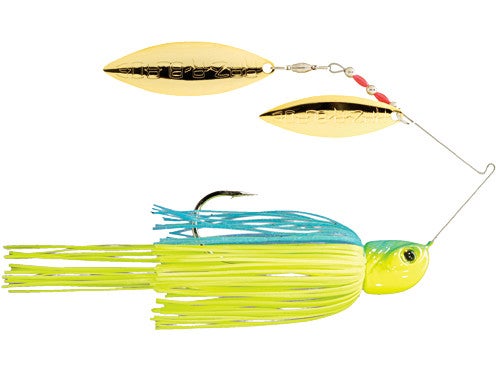 The Strike King Bottom Dweller spinnerbait has been designed with deep water in mind. With its unique head design the Bottom Dweller has been designed not to roll when it comes in contact with the bottom. The Bottom Dweller features the all new Raz-R-Blade High RPM Blade. The Raz-R-Blade is a thin cut willow leaf blade that was designed to increase the revolutions of the blade, which increases the flash. For the Bottom Dweller, the Raz-R-Blades help keep the bait deep all the while increasing the flash and allowing the bait to stay in the strike zone longer. The Raz-R-Blade is the ultimate blade for deep water applications. The Burner also comes available in 6 fish catching colors, including the new and very popular Sexy Shad. The Bottom Dweller comes complete with the new perfect skirt and premium components. Tie one on today and get after the big ones that live down deep.
5 Colors
More From Strike King Spinnerbaits
Customer Reviews
Comments: Super great spinnerbaits for shallow and deep. Trim the skirts a little so it doesn't get caught while the blades are spinning.
From: Tou: Twin Cities, MN 11/8/14

Comments: Great spinnerbait, the "raz-r blades" always spin right and this lure has enough weight to get it down deep to the big fish. Very little snagging on weeds even though this lake has alot of milfoil.

From: Brad: Minneapolis, MN

Comments: These are good spinnerbaits, fish seem to like them but the wire has two problems. a bit short for thick cover which will hang up in water over 10 ft, where recovery is tuff. Also the wire gets tired and will break, with the weight and vib of the bait, it will only last a good solid day. If bowfin are involved, AKA mudfish, not even a day. If this was fixed this bait would be a home run

From: Jerry: Eastern AR

Comments: If you want big bass in the summer time this is the best lure going.

From: Bobby: Austin, TX