Strike King Buzz King Buzzbait - $3.49 to $3.99
Offering a unique blend of squeakin' and spittin' action, the Strike King Buzz King Buzzbait tempts bass at the surface with a presentation that is not only attractive, but incredibly functional as well. Built using a big tri-wing blade, the Strike King Buzz King Buzzbait produces a tremendous spray and a distinct squeaking sound that is too interesting for bass to pass up. The tri-blade design also provides increased resistance, which allows the Strike King Buzz King Buzzbait to be fished at a slower speed, so anglers can focus in on strike zones and ambush points.
Designed with a Diamond Dust head & Diamond Dust skirt as well, the Strike King Buzz King Buzzbait has a streamlined profile that helps it get on plane quickly and slip through cover with ease. Offered in a number of classic bass colors, the Strike King Buzz King Buzzbait gives anglers a strong surface disruption that bass will kneel before.
Comments: This is a cool little buzzbait if you ever need to downsize your buzzbait without switching to the flea sized version which sorta defeats the purpose because you can't cast the 1/8 oz buzzbaits on baitcasting equipment. I bought one of these in black & blue just to see what would happen and I was impressed at the performance and fish catching ability of this little lure. Because it has a tri-wing it sounds different and makes alot of bubbles on the surface. That day I took it home and painted the blade all black just to make it that much more appealing. Since that time I've bought the rest of these buzzbaits all in 5/16 oz in all the other colors and use these as backups to the big boy buzzbaits in my arsenal.
From: Oscar: Mesquite, TX 4/21/14
***Note: If you have questions about this product or need assistance with an order please email your questions to info@tacklewarehouse.com
View Large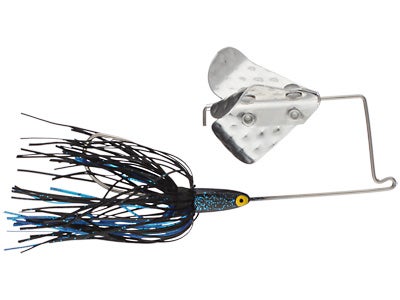 4 Available Colors
More Strike King Buzzbaits