Strike King Coffee Tube 3.5" Pro-Model 8pk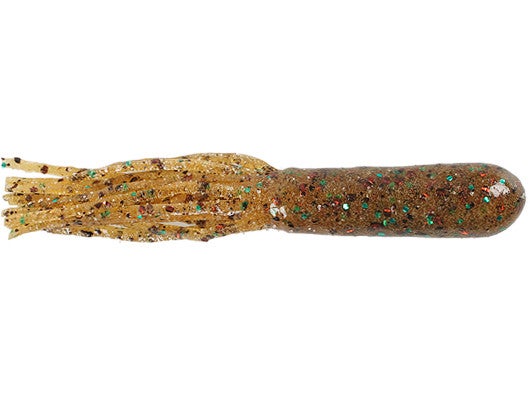 The Strike King coffee tube has taken an interesting approach at marketing this new and exiting tube bait. The Strike King coffee tube is actually scented with real coffee bean granules and coffee bean oil. This natural and organic scent is very attractive to bass and as a result they grab on and hold on longer. The coffee scent also masks human scents applied to the baits when handling and rigging.The Strike King coffee tube also has very natural coloring due to the use of the coffee bean granules and oils. "Death before decaf."
16 Colors
More From Strike King Softbaits
Customer Reviews
Comments: this is the best tube on the market hands down, if you're imitating crayfish use green pumpkin or a lighter brown (depending on your areas crayfish) or if you're imitating goby definetly use the natural goby color & you will SLAM THEM! especially in the Great lakes.
From: Calvin: WI 7/4/16

Comments: Perfect, simply the best tubes you can find. Outstanding for huge Smallies! They'll put a kicker in your boat, no problem.
From: Eric: Lake of the Woods, Ontario 12/26/14

Comments: KILLER tubes. I was a diehard zoom tube/ gitzit guy, until i thought i would give these a shot this spring. glad i did! Fishing Lake Champlain tribs for prespawn smallies, these tubes outfished both gitzits and zoom tubes every single day i went out. i thought their size might be a little big for smallies but heck no. i landed two in the past week over 20". BUY these tubes and you wont regret it
From: Connor: Plattsburgh, NY 5/9/14

Comments: Awesome bait. Caught a bunch of smallies and a few largemouths on'em just texas rigging it. Great throw back bait for fish missed on topwater.
From: Michael: NC 5/9/14

Comments: absolutely love these tubes. spent most of this year flippin these in grass and blowdowns with a 3/8 oz weight and a 4/0 hook. the kvd kick and watermelon candy red lam kill it in any clarity short of chocolate milk

Comments: Great tubes, watermelon red flake works great for me. Usually hold up for multiple catches.

From: Matt: Pittsburgh, PA

Comments: These tubes are absolute killers! Huge success with these things... I Love me some coffee!

From: Frank: Sturgis, MI

Comments: By far the best tube on the market. Lasts through a bunch of fish, great color selection and the price is right.

Comments: These are the best tubes I have ever used. I have been using these this season for sight fishing beds and I have to tell you, they work great. I don't know if it is the action when you bounce them in the bed, or the smell, but when the bass see them, it causes a reaction strike.

From: Dustin: NC

Comments: Catching largies in mid November in MI... only on these tubes.

From: Steve: Northville, MI

Comments: This is a great tube, works all of the time in the north!

From: Mike: Allegan, MI

Comments: Best tube you will ever use!

From: Allen: Indianapolis, IN

Comments: Best tube on the market.

From: Cory: Mandan, ND