Strike King Denny Brauer Baby Structure Jig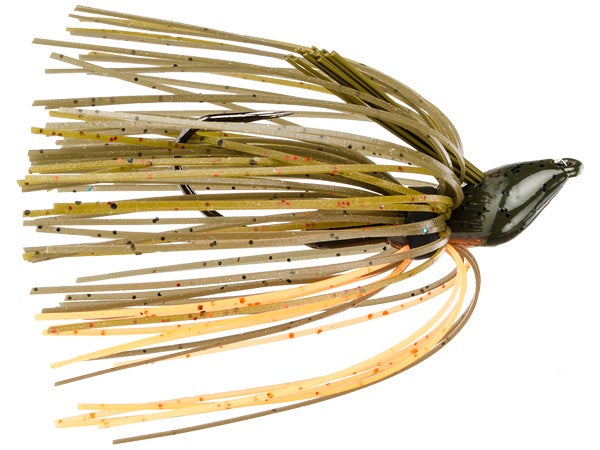 Offering a scaled-down version of its incredibly effective big brother, the Strike King Denny Brauer Baby Structure Jig is perfect for fishing in extra-tight quarters and around light-feeding fish. Made using Strike King's innovative Cobra-Head design, the Strike King Denny Brauer Baby Structure Jig provides increased sensitivity and puts less material in the mouth of the fish, so lip blow-out is less likely to occur.

Designed with a 0-degree line-tie and 2X strong razor-sharp Owner hook, the Strike King Denny Brauer Baby Structure Jig delivers lightning-fast penetrations and rock-solid hook sets. Offered in a number of classic bass colors, the Strike King Denny Brauer Baby Structure Jig combines a number of unique design features to give anglers one of the best jigs for tossing around structure and tempting big bass.
6 Colors
More From Strike King Jigs
Customer Reviews
Comments: Thought this jig would be the same size as the regular one but just a different weight... Turns out this is a finesse jig. I've caught some fish on it and its a good jig. Hook keeper is massive but that's not necessarily a bad thing, it keeps it on the hook. Bama craw is my go-to
From: Tom: Minnesota 1/31/17
Comments: I love the full size jig and thought these would be real fish catchers in the 3/8ths. Used them a couple of times and every time I break the trailer keeper off and bend out the hooks. Upgrade the hooks and use a better mold design on the keeper. The head shape is fantastic though, skips and comes through cover like a dream.
From: Rick - TX 1/8/17

Comments: Best finesse jigs on the market. This little structure jig catches big fish. The unique head allows the jig to glide through the thickest cover and the owner hooks are very strong compared to the cheaper hooks on a bitsy bug that rusts up after a few uses. I have been using them ever since they came out and stocked up. Only finesse jig i would ever throw. Try em out...you'll fall in love with them as u did.
From: Danny: Middletown, OH 12/12/16
Comments: have only caught one bass on it, but I love how it goes through grass & weeds, only thing I don't like is how the trailer keeper tears up the tip of the trailer because the keeper is so big, but that is nothing to keep you from buying this bait. Love how it works and looks!!
From: Dan: Zeeland, MI 12/31/15

Comments: Great little jigs, they are kind of a mix between a finesse jig and a regular size flipping jig. I really like them, you can pitch them or drag them.
From: Matt: OH 5/26/15

Comments: I loved the 1/2 oz so i ordered several of these but i thought the were too small of a profile. I thought 3/8 oz would be bigger
From: Ryan: OK 1/13/15