Strike King Denny Brauer Structure Jig -
$3.86
Designed with the help of renowned jig fisherman, Denny Brauer, the Strike King Denny Brauer Structure Jig offers an increased strike-to-hookup ratio and decreased hang-ups. The Strike King Denny Brauer Structure Jig features a super-sharp 2X strong Owner Cutting Point hook and a 0-degree line tie - for straight pull and solid penetration.
The skirting in the hook gap has also been thinned to ensure that there is less interference in between the point of the hook and the mouth of the fish. The unique head shape of the Strike King Denny Brauer Structure Jig has a wider bottom footprint as well to provides anglers with increased sensitivity and a tapered nose that helps reduce lip blow out. Attached to the head of the jig there is also a precisely positioned fiber weedguard that greatly reduces snagging. Complete with a high-quality chip-resistant finish, the Strike King Denny Brauer Structure Jig is built with decades of tournament experience and jig-fishing expertise.
View Large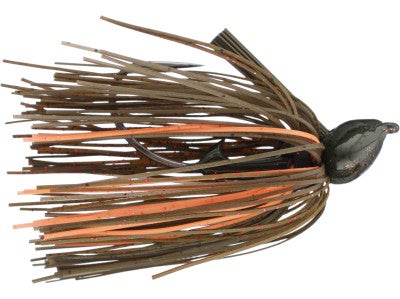 More Strike King Jigs
Comments: this is one of my all time favorite jigs to throw. The versatility is amazing. You can fish it as a flipping jig and a football jig at the same time. Where I fish a lot, on the shore there's a shallow flat the runs about 4 feet off from shore, and then its straight ledge for 17 feet. I can pitch this shallow, work it like a casting jig, and then work it like a football jig down the ledge. It's killer, especially paired up with a rage tail craw you will hammer fish. Blue Craw w/ a Summer Craw RT Craw trailer is a really nice combo.
From: Nick: Pittsburgh, PA 8/13/15

Comments: This jig comes through brush piles and trees easily rarely getting snagged. Fished one for 3 days on LoZ never lost it caught 2 4.5s and a 5lb large mouth worth 625$ in the big bass bash.
From: Aaron: New Lenox, IL 10/15/14

Comments: Not a bad jig, but overpriced for what you are getting. Mainly the skirt is not made from the best silicone strands. It doesn't flair a whole lot and that's the appeal of a skirted bait to the bass. Head design is a good concept though, but I think you get more with Dirty Jigs and Dandy Baits. I remember when Strike King was a great tackle company. The best thing they have going is their crankbaits.
From: B: LA 6/27/14

Comments: Very poor quality control in my book from Strike King. The eye of the jig was completely coated over. Who wants to spend 5 minutes digging it out with risk of damaging the inside of the eyelet before you can tie it on. Also disappointed with the size of the hook. Having such a short hook shank with a rather large bait keeping it actually reduces the gap quite a bit. I do like the shape of the head and location of the eye. I feel the jig could be used in cover or swimming it quite nicely.
From: Chris: Indianapolis, IN 4/25/14
***Note: If you have questions about this product or need assistance with an order please email your questions to info@tacklewarehouse.com