Strike King Greg Hackney Hack Attack Jig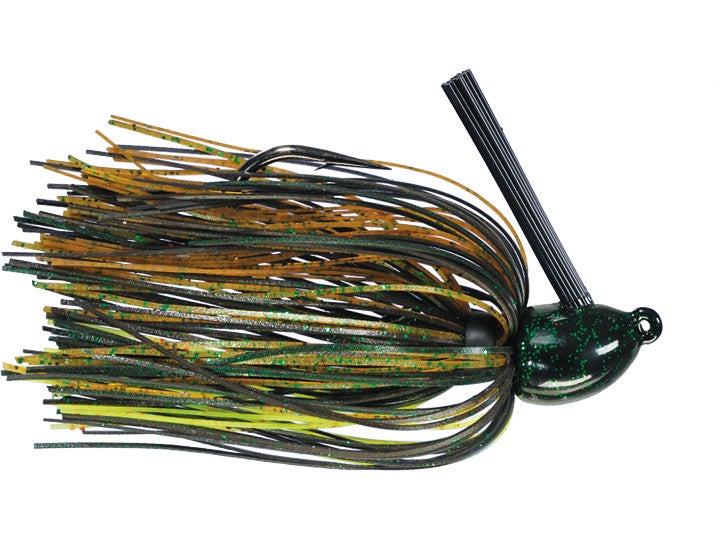 The Strike King Greg Hackney Hack Attack Jig was born to fish extremely heavy cover. The unique head design and heavy weed guard combine to help the Hack Attack Jig navigate in and out of cover easily. Built around an exclusive Gamakatsu black nickel heavy wire hook for extra bite and a 30 degree line tie, you can load it up with the heaviest braid you have and pull as hard as you want and it won't bend or flex. The 30 degree angle of the line tie also creates a better hook-up ratio than any other jig on the market. Available in a variety of effective colors, the Strike King Hack Attack Jig has already helped Greg Hackney on tour and will help you get those heavy cover fish back to the boat.

11 Colors
More From Strike King Jigs
Customer Reviews
Comments: I've been using this jig now for a couple years. This is definitely my favorite jig. I have no affiliation to SK, I'm just a working man who loves to fish. This jig is one of the best I've found for fishing in wood cover. It very rarely gets snagged and the hook is stout enough to get the fish out of the cover in a hurry. I have yet to straighten out a hook. I would recommend this jig to anyone needing a jig for heavy cover fishing.
From: Jordan: Illinois 2/7/17
Comments: This jig just goes to prove that you can take a super premium hook and mass produce it into a piece of crap. Just like most other Strike King jigs: paint chips easily, skirt collar melts off after one season, and the weed guard is either too stiff from too much glue or it falls out from not enough glue. With all the other quality products on the market from SK, especially their extensive line of soft plastics, you'd think that they'd want to improve the quality of their jigs. I'd pay twice as much for this jig if they just fix the issues mentioned.
From: Big J: Western NY 11/18/16
Comments: Basically, it is either this jig or a finesse jig for me now. Even on a MH rod I get perfect hooksets and it comes through cover great. I do notice the weed guard will eventually lose some stiffness & cause more hangups. I trim it slightly to stiffen it until I can't use it anymore. I like several trailers on these but the original Rage Craw is my go-to. I like the Sexy Craw & either Bama Craw or Summer Craw but keep black & blue with matching craw for really muddy conditions. In Feb I use the DB Craw for a more subtle action.
From: Larry: Charlotte, NC 7/13/16

Comments: Great I've caught some of my biggest bass flipping with these. I throw them in timber & heavy grass very rarely get snagged. I always have a good selection in my box.
From: Dan: PA 4/4/16

Comments: Amazing jig, caught my pb 10 lb bass with it, a rage tail menace grub with jjs magics bed fishing and the hook didnt bend a bit
From: K.K: NC 3/14/16

Comments: Solid jig. I prefer to build my own jigs, but if I had to buy one off the shelf, it'd be this one. Watch what Hackney does with a jig and you'll understand why you need one of these in your tackle box.
From: Adam: Nashville, TN 12/26/15

Comments: By far the best jigs to use in the finger lakes. Perfect hook sets every time. Casts with pinpoint accuracy with a 7'11" heavy rod or 7'6" extra heavy rod. Rigged with a rag craw, or biospwan vilecraw & I hook up 4-5 quite frequently. Again strike king has made another excellent jig since the bootlegger jig
From:
Comments: My go-to flipping jig hands down! The hook on this jig is best one on the market,you set the hook hard & nothing will ever come off. I trim the skirts on mine to be level with hook and then put a little baby rage craw on the back and oh boy am I'm impressed, In Iowa and across the mid-west fall fishing can be extremely tough unlike the rest of the country,but these jigs battle against perfectly.
From: Samuel: IA 10/23/15
Comments: BEST JIG EVER MADE! Been putting the boots the the bucket mouths with the okeechobee craw paired with the bruiser baits okeechobee craw and blue craw paired with the yum craw papi bream color it matchs the molting craws here perfect and they just can't resist skirt just needs a very slight trim other then that these bad boys are ready to use straight out the gate super heavy hook have yet to see one open even a hair and slides through cover very well
From: Adam: Rice Lake, WI 6/21/15

Comments: got to throw it today, and lets just say, im very pleased. I paired it with a Berkley devil spear and I loved it. I got it as an all purpose jig, and it does everything well. it swims, hops, and ounches. where it really excels is punching. you don't need to rainbow this thing up high to get it to pop through, it just sinks in. hook does flex alittle, but under extreme pressure, more than a fish would put on it, and not enough to hurt hookups, so it does button up well. I used to hat jig fishing, but its now one of y favorite ways to fish, thanks to the advantage baits mat jig, and this hack attack jig
From: Matt: Plainfield, IL 5/16/15

Comments: This jig has won several tournaments for me, absolutely amazing jigs. 3/8 Black & Blue with 4" black and blue powerbait chigger craw, flat out catches fish!
From: Tim: MN 4/7/15

Comments: By far the best jig on the market. I fish almost exclusively with jigs, and this a good jig for heavy cover(timber or punching grass or mats). However, if one were to stock up and only have these in their tacklebox, you can swim it, hop it, drag it and any other type of jig technique with it. I've used it in place of a swim jig and a football head jig, and it excelled. The hook is no joke. I got in a piece of hardwood the other day, and with #65 braid, and a 7'6 flippin stick, I literally broke the outer side of hardwood off. Pulled it up expecting to see a bent hook, but to my disbelief it hadn't bent even a little. I honestly never lose fish with these. Set the hook and they aren't coming off. Best jig on the market.
From: Bob: AL 3/15/15

Comments: GREAT jig. I use it in saltwater exclusively. From the kelp beds for calicos to bottom dragging for sand bass, this thing gets it done. Hooked into a 22lb yellowtail while throwing it in open water and landed it with no hook bend!
From: Tanner: San Diego, CA 2/20/15

Comments: Great Jig overall. Strong hook and durable skirt. The paint begins to chip off after you drag it over a bunch of rocks but that's normal so. I would give this a 4 out of 5 stars.
From: Gabe: Lafayette, IN 1/29/15

Comments: I think my plano 700 series filled with these jigs either got stolen or flew out the boat when I was doing 70 :( over 100 dollars worth of hack attacks gone now I gotta replace them and they are all back ordered
From: Tom: NY 10/13/14

Comments: I have tried to stay away from main stream jigs the last few years - bought local, small lot, basement type jigs. After grabbing a few of these, Im sold. The hook on this jig is a sticker! Bait skips well and the weed guard is very close to perfect out of the box. 3/8 has worked well, but my only request would be for a 1/4. Really nice jig.
From: Ryan: WI 8/24/14

Comments: Great durable jig very nice hook wish they would offer a Black and Red color too many green pumpkin colors.

From: Bruce: AR

Comments: First cast with this black and blue jig and blue fleck chigger craw trailer and I hooked into my personal best 10lb bass in heavy structure. I was able to get a good hookset ,but the weedguard didn't give the jig a chance to get hung up. An overall good jig with a sturdy hook and good weed guard. (Also a nice color selection)

From: Cade: TX, USA

Comments: I bought one of these in my favorite rage craw color, put my favorite rage craw on as a trailer went out to my favorite pond. after 10 minutes I caught my first fish on this jig, a nice 5 pounder. a few minutes later caught my second bass, popped the jig out of its mouth and the weedgaurd fell off in my hand. very poor quality.

From: Stephen: MS

Comments: This is an awesome jig have great colors super strong and big hook only have had 2 flaws the weeed guard can be kind of stiff to start out but if you bend it around to loosen it up works great and the peints chips kinda easy but i havent had a jig the paint has't chipped on yet

From: Ryan: FL

Comments: love swimming this jig in gator craw color with a swimming caffeine shad on the back in KVD,s magic color.

From: Barrett: Easley South, SC

Comments: I only use this jig in 1 1/4 oz for punching for the hook. The hook on these WILL NOT bend no matter how hard you try. You could use these hooks for saltwater. However, this jig does have some drawbacks. They overdip it in the paint so about an 1/8 of the weedguard is covered in paint. I also noticed that the skirt material is more stiff and has less action than most silicone. The paint on the weedguard does make it a bit stiffer and it deforms the weedguard a bit. These jigs would be a better buy for $3. If you are using 1/4 oz to 3/4 oz jigs for flipping and pitching go for Dirty Jigs, Northstar Custom Baits, Gann's Performance Tackle, or Seibert Outdoors. Just my humble .02.

From: Cullen: Ashburn, VA

Comments: One of the best jigs money can buy. Extremely weedless, countless hits after tugging and popping through cover. Hook set will typically result in complete penetration through mouth,(or skull!). Jigs cast like a bullet and I have had quite a bit of success swimming these jigs back on the retrieve. I couple rage craws and Berkeley power slugs w/ these jigs. They have worked well enough, that I probably fish them when I should switch to send to something else. I really like these jigs, I also have noticed the paint issues that others have commented on and I have yet to catch a bass that noticed! 5 stars IMHO.

From: Eric: Tuscola, IL

Comments: Just cause the paint chips don't mean nothing

From: Colton: South Africa

Comments: best jig on the planet

From: Dave
Comments: Overall the jig is the best one on the market for any type of cover fishing. Hook will not bend, color selection is great, and it is definitely weedless. And as far as the paint chipping complaints that everyone has, if the jig was perfect there would be no need to buy anymore of the same jig. That's business. 5/5.

From: Dalton: WI

Comments: I got this jig this year, its great looking jig, Using it this summer. God bless guys and keep fishing forever!

From: Alex
Comments: Skirt needs to be changed out. Line tie is vertical instead of horizontal and is clogged with paint, paint chips easily. 2 out of 5 stars.

From: Benny: Lake Seminole

Comments: i like the new skirt colors, but yes......paint chips away easy. if fishing new out of the pack, line tie is almost always painted over, need to poke paint out, other than that, good jig, probably not worth 4 bucks though

From: Fresno, CA

Comments: Great jigs, but there is one flaw with them; the paint chip way easy. but other than that great jigs. Sharp hooks, long skirt, just great jigs 4/5 Thanks TW!

Comments: This is the best jig I ever had and it is very weedless. The color i had was the Okeechobee craw. pair this with a rage craw in same color. This will be a deadly weapon in your tackle box.

From: Matthew: Port Barre, LA

Comments: only jig ive every been able to punch with in south GA great job

Comments: awesome jig,best ever!!

From: MA
Comments: This Jig is the best on the market. It is absolutely awesome.

Comments: Simply the best jig that you can buy. i love it, best color is summer craw, match it with a rage chunk and you rip in some pigs

From: Matt: MN

Comments: i love these jigs they are awesome i caught a good bit of quility bass on a very heavy pressured lake on the black and blue with a berkley chigger craw. 1 and only 1 downside i can find and thats the paint chips easily.if it was more durable i wouldnt have a need for any other bait....4 out of 5 stars

Comments: Best Jig ive ever used! colors are great! Use a Yum Craw papi in green pumpkin on the back of the gator craw color and you wont be dissapointed

From: Matt: Corcoran, MN

Comments: Great jig, probably the best I've ever used. Solid hooksets everytime. The green pumpkin craw with a watermelon red double tail has been the ticket for me. It's worth the price for this quality of a jig.

From: Evan: Bossier City, LA

Comments: one of the best jigs strong hook and high quality jig head

From: Rafael: Florida

Comments: This jig is a BEAST. Great for pitching to hard wood cover or flippin pads. I love this jig. Put a Rage Craw on the back and hold on.

Comments: This is an excellent jig, made out of high quality components. This was also the first jig I've ever caught a bass on. Now the 3/8 oz. sexy craw color with a zoom ultravibe speed craw is my go to for flipping and pitching into grass.

From: Matt: Virginia, USA
Comments: Jig is a bit pricey, but of high quality. Does everything its supposed to, very nice colors, and excellent hook.

From: K.H.: New Jersey, USA