Strike King Hack Attack Heavy Cover Swim Jig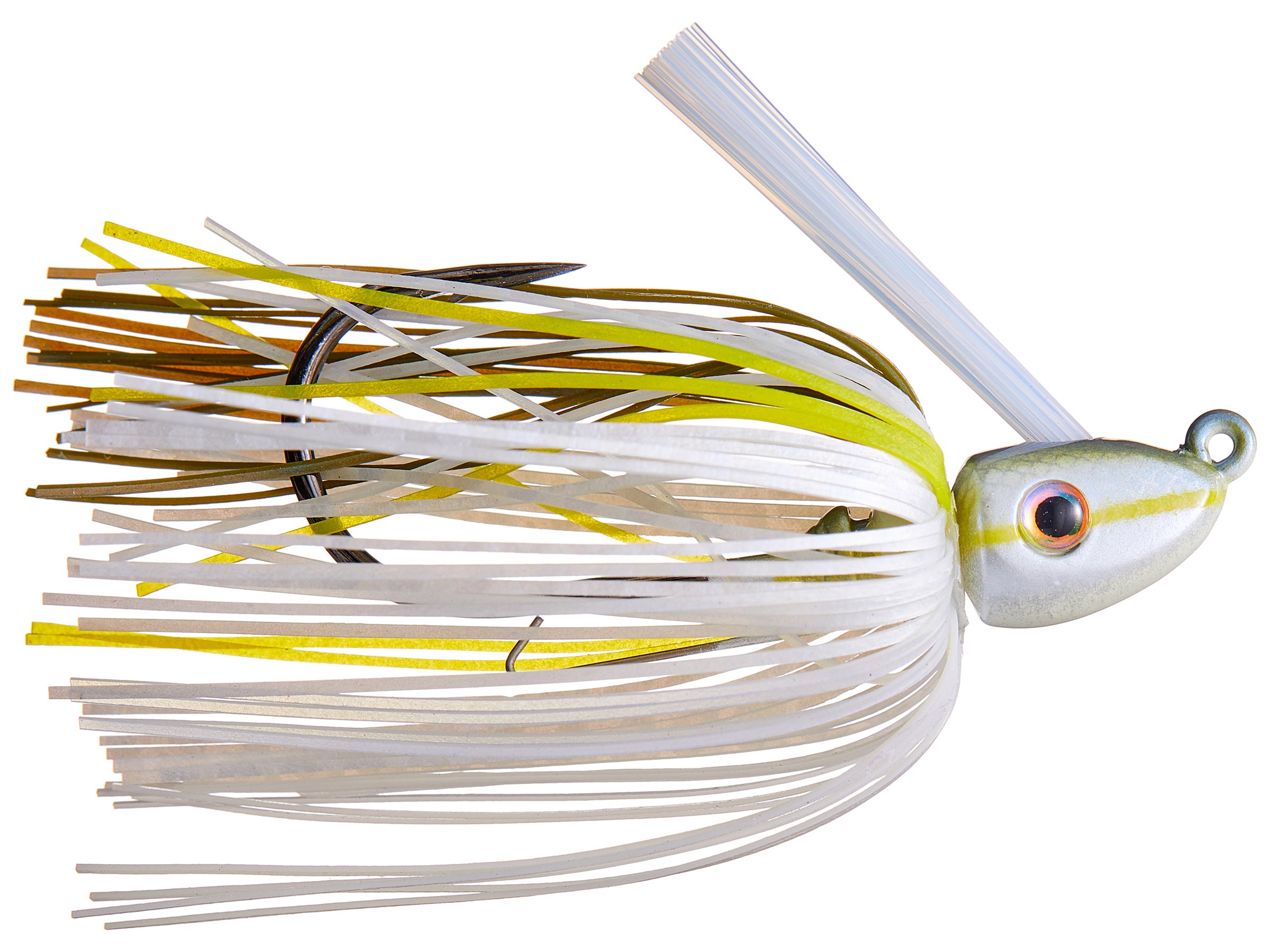 The Strike King Hack Attack Heavy Cover Swim Jig was designed by Bassmaster Elite Series veteran, Greg Hackney to be fished in and around the heaviest cover out there. Built around a super strong Gamakatsu Siwash hook designed exclusively for Strike King, it provides extra bite for more positive hooksets. A heavy weedguard also helps it come through the heaviest of cover, and a Perfect Skirt provides it with a more lifelike action. Available in a range of colors, the Strike King Hack Attack Heavy Cover Swim Jig is great for winching big fish out of grass and wood.
10 Colors
More From Strike King Jigs
Customer Reviews
Comments: Great swim jig, the hook is fantastic! 1/4, 3/8 skip great under docks, the skirt & weedguard are bulky so you can trim to your liking if needed, not to mention the weedguard is tooth brush bristle soft. My personal favorite size is the 1/2 oz, in shallows I can swim it right above the bottom, and obviously the mid depth range. But my personal favorite is the 1/4 oz in candy craw matched up with either a anglers choice speed bug in water melon black grape, or the SK baby rage craw in watermelon red flake skipping it under docks, mimics bream awesome, and I catch a ton of bass. I like the 1/2 oz because how well you can control the jig
From: Tyler: Mentor, OH 4/8/16

Comments: awesome swim jig! black and blue with a bruiser super swimmer! Caught 5 smallmouth in 30 minutes on my local lake in wisconsin! good hook sets and lots of power!
From: Luke: Darlington, WI 6/23/15

Comments: The 1/4oz Heavy Cover Swim Jigs are By far the BEST Strike King Makes Period!! This hook is Unreal!! And can winch Big Fish out a Heavy Cover. I team it up with a reaction innovation Skinny Dipper on back and possibilities are unlimited. Big Fish only bite this bait so HOLD ON!!
From: Scott: Conway, AR 5/5/15

Comments: This thing is one of my hands down favorite lures. When all else fails, I can always count on this to get me bites. Put a Rage Chunk on here for that intense action and you're ready to catch some fish. It is an absolute big fish machine. Caught my new personal best 9lbs the other day on it. I will forever use Strike King's jigs. Perfect for Missouri bass fishing.
From: Parker: MO 5/4/15

Comments: This swim jig is great in late spring and summer. They have great colors that look like a baitfish and they straight up catch fish. The hooks are sticky sharp and this jig is tramendous with any boot tail trailer. You will not be disapointed. If youre not sure on what to choose, get a bluegill in 1/4 and put the basstrix perch 5" trailer on it.
From: Coleman: Dallas, TX 1/10/15
Comments: Put a hollow paddletail trailer on and swim it slowly on the bottom - especially in the trees. MONEY for BIG FISH! 10.27 big fish at El Salto with this jig and trailer combo. Hook will NOT fail.
From: Scott: USA 10/31/14

Comments: These swim jugs are amazing! I have tremendous luck fishing them in every kind of cover imaginable. The hook will never flex, the weed guard is perfect, the bait keeper is ideal for all sorts of trailers, and the strike king perfect skirt is very durable. I use the sexy shad, bluegill, and black and blue colors depending on the conditions. Trim the skirt and put either a strike king caffeine shad or rage craw and hold on!
From: Curt: USA 5/31/14

Comments: This is a must have if you are a jig fisherman. Like others have stated, I use this instead of my spinners. I mostly throw a sexy shad with a double tail grub.

From: Brad: East TN

Comments: This is really a great all around jig. In fact, I use it for most of my jig fishing.The obvious use of swimming it with a multitude of different retrieves and speeds. With it coming in different weights, I can now fish it deeper, and fine tune with different trailers. Also, now that it comes with a heavy hook, I flip and pitch with it almost exclusively. The head shape is right for grass, wood,etc, and the addition of rattles makes it excel in dirty water and grass. Plus, the perfect skirts have really grown on me, as the old rubber band skirts are not as durable,nor do they flair as well.

From: Kyle: New Lenox, IL

Comments: Great head design for skipping. For you guys who love skipping, these are great for skipping under docks and cover.

From: L: Twin Cities, MN

Comments: Great swim jig i use a the half ounce with 65 pound braid and a 7ft heavy I throw the others on a 7ft med heavy and 15 pound fluro or 40 pound braid and i always use berkley havoc grass pigs with the heads cut off at the gills for a trailer just take it and throw it any where

From: Louis: LA

Comments: I have been flat killing them on the 1/4 ounce white with a fat albert grub on the back. As stated earlier, don't hardly throw a spinnerbait anymore unless the water is really dirty. Can fish these things through just about anything, including pads, standing timber, laydowns, and for those of us in the south, they work great around the cypress trees. Give one a try, you won't be disappointed.

From: John: Calhoun, LA

Comments: I wish I had this jig earlier this year, it upgraded my catch from quality bass to giants when paired with a cinnamin purple swimbait.

From: Jon: Mitchel, SD

Comments: Have been using this swim jig with a Yamamota split tail grub with very good results. Advantage over spinner bait is ability to stop and start the bait at various depths. Good finish on the head and the angle of the eye seems to avoid a lot of hangups I've experienced with other swimming jigs. Seldom throw a spinner bait anymore. Best luck has been on the 3/8 bluegill. DO wish there was a 3/4 for really deep structured fish.

From: Wayne: Austin, TX