Strike King KVD Dream Shot - $4.59
Designed by Kevin VanDam to be the perfect all-around drop shot bait, the Strike King KVD Dream Shot is based on the popular caffeine shad design with its triangle hinged tail section that quivers and shakes with the smallest movements. It was also the bait that Jonathan Van Dam used to catch the majority of his quality fish and win the 2012 Bassmaster Elite Series Mystery Lake Green Bay Challenge on Lake Michigan. Available in a variety of colors, the Strike King KVD Dream Shot is made with Strike King's killer Perfect Plastic material and will keep you in the money.
Comments: good stuff. great action on the fall, you dont see it but the bass does

From: MV

Comments: Awesome drop shot bait. I caught 2 smallmouth back to back one went 2.5 and the other went 3.0lb's. Soft like roboworms, one fish and it's pretty much destroyed. Will definately be purchasing more of these in a variety of colors.

From: Jason: Winters, CA

Comments: This is an excellent bait. I was fishing with it in Northern Michigan, and out fished my buddies who were using roboworm by a lot

From: Yang: San Diego, CA, US

Comments: I will stick to roboworm and reins for drop shotting, theres alot of hype about this bait, its ok but its not a roboworm or reins bubbling shaker

From: Steve: Ventura, CA

Comments: IDK how all the other reviewers are rigging this. but it doesn't stand out horizontally on a drop shot, it sits vertically, which sucks in my opinion, if I'm drop shooting its because fishing is tough and I'm just letting it sit the rte, for that this bait will not work. Looks decent on the fall but a drop shot bait, IMO, should sit horizontally on the hook and have a great fall. Disappointed

Comments: Destroys Michigan Smallmouth, and holds up well

From: Dekota: MI

Comments: After drop shotting this bait for deep water smallmouth I believe strike king should take Berkeley's moto cuz they truly out fish live bait

From: Brad: PA

Comments: i can't help but laugh out loud when i read some of you saying this is too expensive. are you kidding me. go dig some night crawlers in your yard. you bass fish and you are saying a pack of lures that cost less than 5 dollars is too expensive?

Comments: I have to agree here with a lot of others. Great marketing Strike King, but this bait is not even in the same league as the Robo products.

Comments: This bait is awesome and does catch fish. It may not be better then said product but it does what I need it to do and put fish in the boat. I read these comments and I am surprised half of you aren't women. $4.59 is not expensive price. Strike King doesn't copy cat other bait company's. If you complain about losing baits and it being expensive you shouldn't fish period.

From: Keith: East Coast

Comments: Actually Tyler, KVD and Zona took a Caffiene Shad and cut it to come up with this exact bait..

From: Steve: VA

Comments: I was surprised by the way some people slammed this product. Have been using it for the last two years, and you drop it in front of a Smallmouth, he eats it. That's all I care about.

From: Scooter: Gladstone, MI

Comments: Not saying this is better then a robowarm or anything but it did just win an elite event in wisconsin and kevin wasnt the main one behind the design it just got added to his line of baits, Kvd didnt copy it and he didnt copy a square bill

From: Tyler: USA

Comments: Actually Mark Zona designed this bait

From: Utah
Comments: I really like this bait and it works fairly well on largemouth. Personally though, I like Roboworm FX Sculpins. All around great bait though, good job KVD

Comments: No were near as good as Roboworms, Shaking Squirrel Worm, or a Kamakazee fidget! Save some money and buy the 3 that I mentioned. TW needs to start carrying the Kamakazee fidget again!!!

From: Brian: Pittsburgh

Comments: dont waste your money , doesnt even come close to the roboworm, attraxx worm , or crosstail shad just another kevin van damm copy of another company like he did with the square bill. in the water the action well there really is none that i can see the tail does not quiver like the hype at icast. it really doesnt do much of anything on a dropshot rig .the plastic used is not the consistancy of the other products i mentioned and therefore you get no action out of the bait. strike king is a copycat company riding on the shoulders of kvd what a joke.

From: MI
Comments: Deadly on Smallmouth. That is all I can say.

From: Greg: Nova Scotia, Canada

Comments: Too expensive, like most of Strike King's plastic offerings.

From: Dean: British Columbia, Canada

Comments: I was given this product before it was on the market and I am not impressed. Save your money and catch more fish by purchasing the roboworm sculpin FX 4inch.

From: RD: Miffco

***Note: If you have questions about this product or need assistance with an order please email your questions to info@tacklewarehouse.com
View Large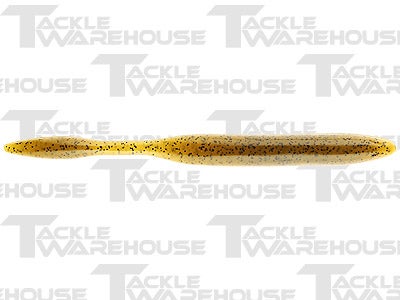 11 Available Colors
More Strike King Softbaits