The Strike King KVD Finesse Double Willow Spinnerbait is the product of collaboration between the 7-Time Angler of the Year, Kevin VanDam, and the foremost lures specialists at Strike King in an effort to create a great all-around spinnerbait that produces in a variety of situations. The smaller, re-designed Perfect Skirt presents a more naturalized color pattern and a pulsing action that dares bass to bite. Made strictly with the high-quality components, the Strike King KVD Finesse Double Willow Spinnerbait is decorated with premium blades bearing the official KVD insignia, a choice ball bearing swivel, and a masterfully painted head. Personally tested by KVD himself, the Strike King KVD Finesse Double Willow Spinnerbait is a testament to attention to detail, garnished with personalized touches from one of the greatest.
View Large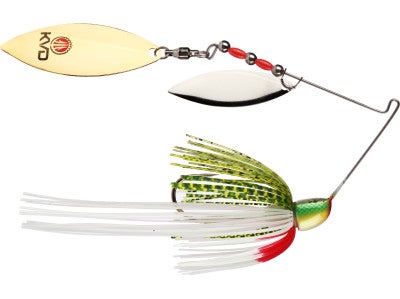 More Strike King Spinnerbaits
Comments: Great concept and design on Finesse blade. Hardware is cheap and will get destroyed after a few fish. Replaces split rings on swivel and add a trailer hook, then your good to go.

From: Chris: HB, CA

Comments: Best Spinnerbait ever. I caught 13 bass in one day with best five going seventeen pounds. Got every color in my box. All 13 were caught on one bait without tuning even one time.

From: Jerry: GA

Comments: Really cheap made. Caught a 2 pound bass and it bent this thing all to crap. Wire really easy bent. Fish hit it though.

From: Jerry: GA

Comments: I'm impressed. I'm not saying these will replace the Santone finesee spinnerbaits in my locker yet, but these are nice. I got mine yesterday and headed to a local pond to test them out. They run true and the fact that they are 1/2 oz and compact is great because it allows them to be burned. Every other finesse spinnerbait I've seen is only offered in 1/4 or 3/8oz so you basically have to use light line or slow roll em to keep em down.

From: Greg: NJ

Comments: love this spinner bait.. havnt caught anything on it yet but i plan to throw it all through the summer.

From: Andrew: Vinton, VA

Comments: I manufactured spiinerbaits for many years and this is a great one. Excellant hook, decent skirt and blades. There are more expensive spinnerbaits but this one is truly a "Best Buy"

From: Ken: Orlando, FL

Comments: excellent spinner bait.!! sat. caught a 2 pound bass and a 3.5 pound largemouth.thank god the fishing is picking up and i feel this spinnerbait has a lot to do with it!!!

From: Bob: Kerrville, TX

Comments: Someone might want to see the bait in person before they write there review based soley on what they are reading in the description alone... It's a 1/2 oz spinnerbait the size of a 1/4 oz'r... Which means it's not only smaller but has downsized blades, a downsized skirt, and a downsized hook compared to a standard 1/2oz bait... What's not finesse about that?

From: Mike: NJ

Comments: Anything can be finesse, i could take a 2ounce jig and finnesse it, the baits skirt is finnese, it is a thinner silocone material thathas much more movement in the water...not to mention the great colors

From: Cutter: Paris, TX

Comments: This is the best spinnerbait out.I have the 1/2 ounce sexy shad and it is amazing. I put a 2/0 Strike King Tour Grade Trailer Hook on it. Everyone should go buy this spinnerbait.

From: Nick: Coral Springs, FL

Comments: there is nothing finesse about a half ounce spinnerbait

From: Mike: Timbuktu

***Note: If you have questions about this product or need assistance with an order please email your questions to info@tacklewarehouse.com