Strike King KVD Perfect Plastic Caffeine Shad 5" 8pk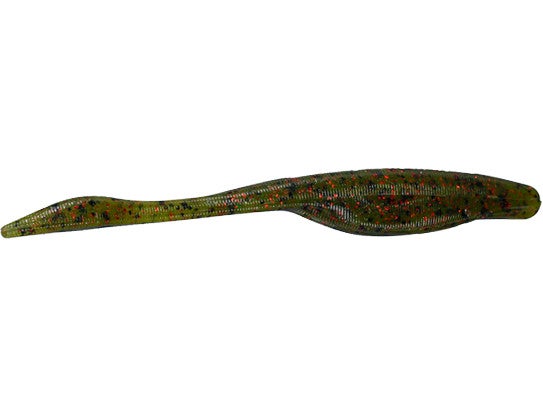 The Strike King Caffeine Shad has a unique bubble tail to give this topwater shad bait an action never seen before in a soft jerk bait. Use it weightless and twitch it for topwater bite and subsurface action. Fish the Caffeine Shad on a Carolina rig or jighead for that deep water bite. The new Caffeine Shad contains the worlds best blend of soft plastic ingredients! This allows the use of large amounts of salt yet keeps the bait soft and pliable. The coffee scent masks human scents and oils providing longer hold times and increasing your hook-up chances.
Click here to see some video on Strike King baits with Phil Marks at ICAST '08.
The Strike King Perfect Plastic Caffeine Shad was one the baits KVD used to secure his fifth Toyota Tundra Bassmaster Angler of the Year at the Evan Williams Bourbon Trophy Triumph on the Alabama River in Montgomery, Ala. Kevin VanDam's two-day total of 30-06 was almost 8 pounds better than second-place Tommy Biffle, giving KVD the AOY title by a mere six points over Skeet Reese.
"One of my very best places was a super-shallow hard spot. That's where I caught them yesterday. I threw a Strike King Series 1 XS (crankbait) and Strike King Caffeine Shad (soft jerkbait). Today I fished the midriver with a Strike King Series 6 in sexy shad, and caught a couple on a Strike King 3 1/2-inch Shadilicious (swimbait) on a jighead." -Kevin VanDam (2009 BASS Elite Series Angler of the Year)
14 Colors
More From Strike King Softbaits
Customer Reviews
Comments: Flat out awesome! This is my go when nothing else works & never lets me down; I always have a rod with one tied on. KVD Magic is my favorite but any "green" color works.
From: Paul: TX 3/23/16

Comments: One of the best baits I use, and I fish every day. I pair the Green Pumpkin Sapphire with the Terminator In Line Spinner (dump the grubs that come with it) and burn this down the shoreline over the weeds. Keeps it weedless and bass crush it in shallow water. Caught many 5-8 pounders this way
From: Rob: Boca Raton, FL 7/24/14

Comments: Ok heres the deal.. these are money. Problem is they will cost you money cause they rip so easy. I've torn the tip just lightly yanking it free from weeds and where are there no weeds around the lakes where bass live? My Yum flukes are almost as good but last alot longer. so yea these are great and the action is great but the reason for the action is cause they are so delicate. I'm still gonna use them tho just not around weeds.
From: Ric: NJ 6/13/14

Comments: Time and time again, during a hot fluke bite, I try this. Time and time again, it doesn't get bit. I tried them like a Senko, too, but I will stick to Senkos for that. Not sure what the deal is but it isn't just me.
From: Jay6: USA 4/22/14
Comments: How I use them I cast it out in kill it let fall watch your line take off I just started using this kvd jerkbait great hands down

From: Tav: columbia, .sc

Comments: this bait is awesome but its not that durable.

From: Luke: graham Texas U.S.A

Comments: White and baby bass colors are the best. I have fished them in Maine and had great success there. Most water there is stained red and the white and baby bass really stand out. The action is amazing. Can chuck them a country mile and the action on the fall is amazing. I like to work them like a worm on the bottom. Really mimics a bait fish feeding on the bottom. Throw them into cover and burn them out, and let it fall. That's when the fun begins.

From: Manny: Adairsville, Georgia, USA

Comments: These caffiene shads are awesome!! Me and my friend went fishing Saturday and it was only my third time going to this lake, I pulled out a caffiene shad and went to work!! I went through a whole pack in about 5 hours!! They tore em Up! I'd recommend this bait to anyone!!

From: Will: New Albany, MS

Comments: During these cold months I have only been getting bites on these caffeine shads! They Rock! I use them weightless on a 5/0 gamakatsu hook and I promise you they will get you hooked up to big fish! I have caught my biggest bass on this bait! They will not let you down! My favorite color is the watermelon red flake. The scent it strong and the durability is about a 7 on a scale from 1-10. The best jerk bait on the market!

From: Sydney: Valrico, FL

Comments: The caffeine shad is a good bait but you will find that the zoom flukes catch more fish. Producing fish when the caffeine shad will not. It might of been the way i was working them but the caffeine shad are not as productive as the flukes(i used them like a fluke). Maybe i will have to try swimming them. If i were to buy a bait that you swim i would rather go with the keitech shad impact(4"). The price difference is another reason i choose flukes. You pay about 35 cents per fluke, and you pay about 57 cents for the caffeine shad, which haven't been durable for me. I have had better experiences with the fluke which i am going to stay with.

From: TX
Comments: I am a Fluke fanatic, but the fluke has met its match. This bait is more versatile than the fluke in so many ways. It cast a mile, and if you are wanting that vertical fall, this thing is amazing. It also has so much action its unfair!!

From: Adrian: Dublin, GA

Comments: i bought the blue glimmer pearl belly and KVD magic both sensational baits i throw it on a 3/0 deep throat wide gap Gamakatsu and this past saturday wore them out on blue glimmer pearl belly. Im a zoom fluke kinda guy though but these out fish the zoom flukes by a long shot. LOVE THESE CAFFEINE SHAD AND WILL BE PURCHASING MORE IN THE TIME TO COME. WOW!

From: Davis: Hoover, AL

Comments: Great little jerk bait I like these better than a Zoom fluke dont get me wrong I still use my Zooms but these catch a little bit better IMHO.

From: Lance: Livingston, TX

Comments: The best soft jerk bait I've ever used.But I am a zoom fluke kinda guy but these all I can say AWSOME! I use the kvd magic and the blue glimmer pearl belly both sensation soft plastics. I rig them Texas style with a 3/0 Gamakatsu deep throat wide gap I have fished them topwater and on the fall and some of zoom custumer's might want to consider trying this.

From: Davis: Hoover

Comments: EXCELLENT Lure. It is very soft and has a lot of action as it sinks. Cast it near a laydown and wait as it slowly sinks. Any nearby bass will attak. The Caffeine Shad has a subtle quiver as it drops, which makes it look alive. However, you are trading durability for this soft composition. In my opinion, it is absolutely worth it! That's why I buy 3 or 4 packs at a time. Bass love them.

From: Walt: Maryland

Comments: I am not much of a fluke guy but my dad is and he was wearin me out with one of these and i gave it a try and this is now one of my go to baits great bait and the coffee scent is great.

From: Tristan: Hoover, AL

Comments: Fish these baits as you would a Senko AND a Fluke- I can work these just like a Fluke....When I stop my retrieve,(The suttle wiggle, waqging -tail fall) thats when things get interesting!

From: Rusty
Comments: You aren't supposed to fish these like your normal "zoom" flukes. They are actually meat to be fished top water and act like a fleeing shad. They really mimic that well and i have had some good bass caught on them that way. You gotta burn em and kill it though and the bass will hammer it once you kill it

Comments: Awesome baits!!! Especially the smoky shad color!

From: TX
Comments: terrible, i don't like these at all they aren't durable and sink like a rock and don't get bit like the zoom flukes i wont be buying more I'll stick with zoom

From: TX
Comments: I'm a zoom guy always have been, but I decided to try these anyway to see what all the fuss was about. Well I don't see why, they have so much salt in them they don't hold up at all, they started tearing just by twitching them in the water, and they were so dense they sank like a rock straight to the bottom, no chance for any shimmy on the fall or anything. And I like to fish my flukes in different ways, but in late fall, which it still is in central florida i like to twitch my flukes slow so they walk just below the surface, not really jumping or anything, well with these, no such luck, i thought with them being so dense they would do it better, but they jumped every twitch, and despite there extra weight, that the zoom flukes don't have the zoom flukes casted farther. I'm sticking with my zooms from now on, basically the same colors, but the zooms are cheaper, hold up better, and have better action on the fall and the twitch. You strike king guys can have all these you want I don't need them, zoom is still making the best plastics out there.

From: Ben: FL

Comments: Best fluke ever created. The action of these things are amazing. Long story short, if you like zoom flukes it's because you haven't tried these yet.

From: Brandon: Virginia, USA

Comments: Deadly soft jerk bait,best i've ever used.White and Baby Bass killed them this morning and cast like a rocket.I'm addicted.

From: Tony: West Chester, PA

Comments: As a proud Georgian, I was raised on Zoom Plastics, but I have to admit that Strike King Perfect Plastics are by far the best I've ever used and the Caffeine Shad is at the top of the list. It's super soft and the bulbous tail makes it walk, dart and twitch unlike any other fluke-type bait. When you kill it, it shimmies like a Senko. Deadly, deadly bait.

From: Alan: Calhoun, GA

Comments: Alright all i can say is that this is the best fluke on earth! These things are 100 times better than zoom flukes, the bait is so much softer than zoom flukes so you will get ALOT better action in the water. Since this bait is so soft if you cast it out weightless in will slowly sink, and while it sinks the tail floats up and the bass can not resist it. If you dont believe me just buy a pack in smokey shad and see what happens......

From: Matt: Minnesota, USA
Comments:Great bait, I just bought it in smokey shad color and have already caught three 5 pound bass on them. Just like the Zoom Fluke except a different tail.
From:Shane: Hinsdale, MA